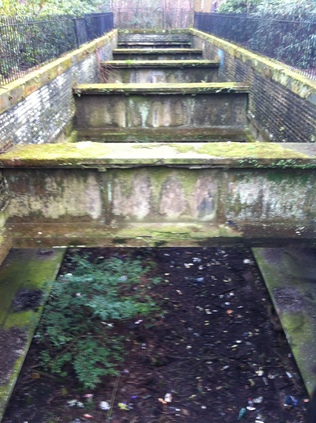 Posted in Railways on Thursday 16th February 2012 at 4:15pm
---
After yesterday's tourism, I decided that today I'd do something similarly adventurous but on the firmer turf of Glasgow. I'd thought of a couple of things I wanted to do whilst up here, alongside the usual round of music, relaxing and watching the city go by in which I usually indulge. One of these was to link together my wanderings with something I'd be reading about for years - the closed Botanic Gardens station. Setting out lazily late, I took a bus along Great Western Road and disembarked after Byres Road. A quick skip across the carriageway and into a side entrance to the gardens, and I was suddenly plunged into a quiet, green world. The sky was still pretty clear, but with swift-moving grey clouds which occasionally threatened a touch of rain.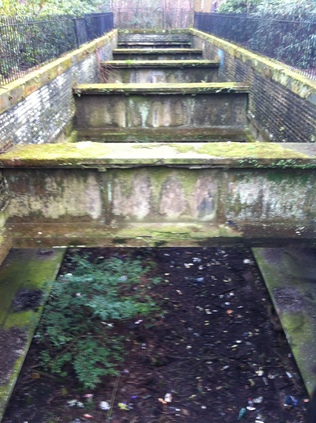 Stumbling around in the rose garden, I was ashamed to have to use the GPS on my 'phone to locate the station remains. Strangely enough, I must have passed by them many times before - either on the road outside or on my very occasional trips into the park over the years. In a dense thicket of trees, not far from the perimeter fence along Great Western Road are two rectangles of railings, with the station platforms still visible down below. A modest plaque confirms the station's fate. It had been mere feet away all along, but I always assumed it would take climbing gear or trespass to see it like this.
After a break for refreshment I set off on foot towards Kelvinbridge. The slog uphill around Hillhead took it's toll on my foot and my breath, and I paused a the top only to find myself surrounded by students. The aim here was where the Kelvin winds under the main road, and the remains of the railway can be seen clearly. I soon found my way to Otago Lane, with the strangely rural appearance oft the river, despite it's urban setting, still visible. It was a little wet here in these dilapidated but charming streets and I lingered a little longer than I meant to. The line of the railway along the river was clear, and as it disappeared under the road, I dashed expectantly to the other side. A high wall made it difficult to see, but sure enough there was the mouth of the tunnel which would, eventually lead to Botanic Gardens.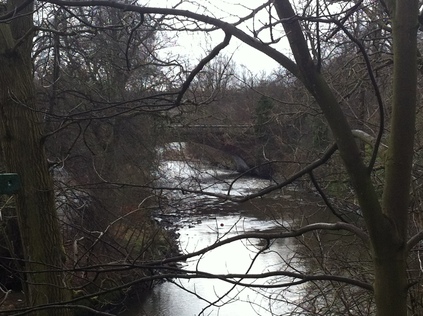 Heading back into the city, I contemplated that despite being a tourist, I was uncovering little bits of the city every time I visited. The secrets and things I'd only read about in books and articles were here to see. While I'm often ridiculed for my love affair with Glasgow, I don't think I'd want it any other way.
Lost::MikeGTN
I've had a home on the web for more years than I care to remember, and a few kind souls persuade me it's worth persisting with keeping it updated. This current incarnation of the site is centred around the blog posts which began back in 1999 as 'the daylog' and continued through my travels and tribulations during the following years.
I don't get out and about nearly as much these days, but I do try to record significant events and trips for posterity. You may also have arrived here by following the trail to my former music blog Songs Heard On Fast Trains. That content is preserved here too.
Navigate Lost::MikeGTN Find articles by category
Search Lost::MikeGTN
Other Places...