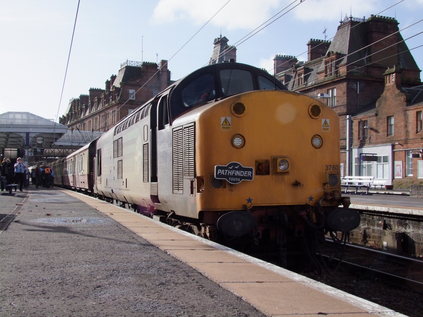 Posted in Railways on Saturday 12th February 2011 at 11:26pm
---
I've made a few early starts from Glasgow Central over the years, and just like always there was only one place open for coffee this morning. After a walk along a surprisingly dry Argyle Street to the station, I joined the snake of people straggling back from Cafe Ritazza in the hope of an early caffeine fix, with one eye on the clock. It always amazes me when Pathfinder run these bi-annual Scottish tours that so many of the usual faces make the trip north. For me of course, it's never been an issue - just another excuse to be in Glasgow. After last night's gig at The Captain's Rest though, I was feeling perhaps just a little more sluggish than usual - and this kept me in the queue for as long as it took, before dashing over to platform 10 where 37601 and 37607 were rumbling away on our short train.
As ever on these trips, the main attraction was the track. After the visit back in 2007 for the McBuffer Puffer and one or two trips since, there is very little track I needed in the Glasgow area. This tour however focused on points south and west of the city, including some very unusual bits of the once complex network of colliery related lines in Ayrshire and Galloway. After a swift reversal alongside Shields Depot, we reversed via the Burma Road and headed for Kilmarnock where we picked up additional passengers. After a brief break, we proceeded south through the station and left the mainline to head west to Riccarton. The vegetation on this and other branches was pretty overgrown and clearly made of pretty solid stuff as it thwacked it's way along the coaching stock. We pressed on to the Network Rail limit on the line, before reversing and heading back to Kilmarnock for a few passengers who's plans had altered after the confirmed timings for this trip came back much earlier than planned. With everyone on board, we headed off once more, taking the curve towards Barassie.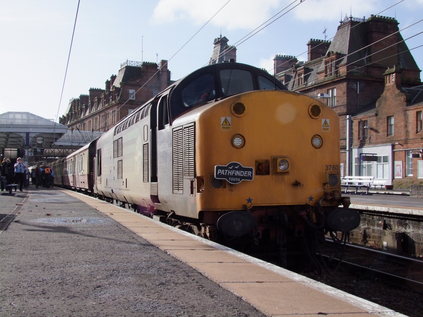 As we headed for the coast, I was surprised to see the sun coming out. As it goes, my customary February trips to Scotland have often had decent weather - but as we passed through Falkland Yard on one of the reception lines I was struck that today promised to be pretty special. After a brief wait for time we headed through Ayr and took the branch towards Mauchline. I've wanted to cover this track for some time, and was foiled recently when another tour covered it. However today we only made our way along around half of it's length to Annbank, where we headed south onto the twisting line to Killoch Washery. A swift reversal here took us back through Ayr and into Falkland Down Goods Loop where we again reversed. Retracing our steps through Ayr we headed a little further south before again heading east onto the long curving branch to Waterside. Here, a small preservation group own a stretch of the formerly extensive network, and we were greeted by their industrial loco shuttling back and forth alongside our train on their short section of track.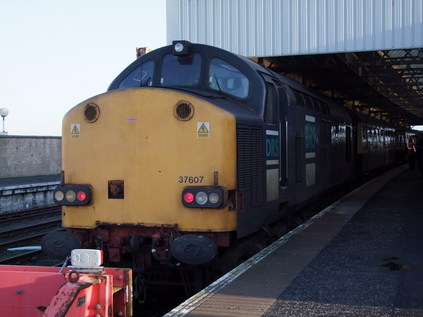 Back to Ayr for a slightly longer break in the now surprisingly strong sunshine. Took the opportunity to get some pictures and to get a decent coffee, whilst the normal punters marvelled at the odd train in the platform. Soon off again, as far as Girvan where we waited to pass another service. Another break here, and the chance to watch a little local football as Girvan took on Ashfield beside the line! One brave passenger dashed down to purchase a programme, to claim the field for their attempt to visit all of them! Off again, for a long but absolutely stunning trip to the extremity of the network at Stranraer. With remarkable views both out to sea and across the lowlands, I was spoiled for choice, and the gradients truly tested the locomotives. As we arrived, the sun was just beginning to sink and a golden glow fell across the bay. Wandered around chatting and getting some pictures of the train and the station, before boarding again for the final leg of the trip. This took us north again into the Glasgow suburbs, and using the connections around Shields Junction, we surfaced on the Cathcart Circle, following it anti-clockwise, then taking the line to Newton and on to the Hamilton Circle. Crossing the mainline at Motherwell, we headed north to Whifflet, using the connection at Langloan Junction to regain the mainline and head back into Central Station, arriving pretty much bang on time.
A quick shot of the loco on the blocks took me back to 2007 and the first of these now regular tours. A lot had changed since then - not least my take on the city. It was good to be back, and great to be on the rails around one of my favourite places once again. The weather had helped in making a very special trip even better, and as I plodded back to my digs, I couldn't imagine how I'd rather have spent a day in Glasgow.