Posted in London on Saturday 14th August 2010 at 6:08pm
---
I left Milton Keynes early. I would probably have left earlier, but the prospect of trying to check out of the hotel and get to the station for the 04:35 wasn't pleasant. Even at a little before 07:00 the broad boulevards were empty, this part of the town apparently barely awake. In an act of defiance, I strode across the wide streets rather than using the underpasses, a hollow gesture since there were no cars around anyway, and almost no-one to witness my rebellion. However, the station was showing some signs of life, and I soon found myself heading for London on a Southern service. I dozed fitfully for much of the journey, having had little sleep and confusing dreams. I wasn't sorry to leave Milton Keynes at all, and whether it was the place, the odd situation I found myself in this weekend or a combination of the two I'm not sure - but I'm certain I don't look forward to revisiting. With the Wolverton Works Open Day cancelled, the issue of what to do this weekend had been pushed to the side of my mind by stranger events elsewhere. Given a booked trip home on the 19:00 from Paddington, a day in London seemed sensible - and given a chance to listen to the latest Hackney Podcast I was keen to head east again. So, managed to wake up enough to disembark at a deserted and chilly Kensington Olympia, and waited for what seemed like an age for a train to Willesden Junction whilst stamping my feet to wake up my legs from the crushing they'd received in the unit. At Willesden I was tantalisingly close to my first good coffee of the day from the platform kiosk, but with the next train due in a couple of minutes, decided against it. Onboard, and mercifully failure free given the recent record on this line, headed east towards Hackney Wick.
The loose plan was to get a much required and decent coffee at one of the cafes mentioned in the podcast, then to make a general progress west, through South Hackney and onwards towards Stoke Newington. I'd not planned this, and without walking boots I realised that I'd soon be experiencing some pain. However, I set out first for a quick circuit of Hackney Wick, a place in many ways in thrall of the Olympic development. The Hackney Pearl wasn't open yet and The Wick was teeming with builders, so I flagged them both feeling disconnect and unwilling to engage too much with people. Still no sign of coffee then, as I pressed on over the Eastway and briefly into Tower Hamlets, the borough which is responsible for the entirety of Victoria Park. I'd wanted to visit the park for some time - it's history appealed to me, and it is credited with some significance in the mythology of the East End too. There is however, a less formal strand of history based around the people who live near and use the park, and I hoped to get a sense of that. Things started well, and in the somewhat neglected eastern section of the park I passed a number of people who voluntarily wished me good morning in a multiplicity of accents and dialects. However, as I zigzagged roughly west, the tone of the space changed. Joggers replaced walkers, some running in packs and gossiping breathlessly while they padded the tidy, well-kept tracks in expensive sportswear. Organised exercise groups poured in through the park gates, and military orders were barked at them - I noted a perfectly pretty but rather plump young woman apparently blinking back tears at the ferocity of the verbal she'd received. I felt pity until I remembered she'd probably paid for this privilege - maybe even recommended by a friend? Pressing on, I stopped briefly at a kiosk which appeared to have been enterprisingly turned into a fully-fledged cafe offering a range of food. However, the thought of a fat man reclining with a coffee whilst around him the pretty people of East London toiled and sweated away wasn't appealing. I'd either be lynched or laughed at. So once again, I passed on the coffee.
My feet were hurting a little in my tight work shoes, and I wondered if I should really be doing this? However, I wanted to sleep tonight - and being physically tired seemed like a good way to combat the insomnia which has stalked me lately. Thinking of an uninterrupted night of sleep brought on by gentle exercise and deep lungfuls of Olympic dust was appealing, so I pressed on out of the park, and towards thundering and steaming Mare Street. A brief diversion here took me to Broadway Market. I'd not visited at a weekend before, and I wasn't quite prepared for the assault on the senses! Rich, exotic food smells mingled with expensive perfume, and hosts of young, clever and well-dressed people snaked in and out of stalls selling artisan breads, ripe cheeses and obscure dishes. The cafes spilled out onto the pavement, and an accordian was playing woozily. I caught snippets of conversations - ill-advised sexual liaisons, stealing from work, amateur art criticism, how hammered we'd be getting later - all topics for the cafe queue. Having seen this well-kept street with its row of time-burnished yellow bricks and low garrett-above-the-shop accommodation on a non-market day, this just seemed to exploit the idea of a market. Like one of the strange touring Christmas markets which are popular nowadays, but this destined to run and run as long as people wanted to browse these wares and take "time out on a weekend morning". I wanted purposeful, grubby Ridley Road, not this.
With my badly chosen shoes beginning to hurt my feet, I hopped on a bus here. The 106 was cool and quiet, and sped me through the confused jumble of Hackney Central. I'd hoped to walk this part, but given my wish to get away from Broadway Market swiftly the bus seemed like a compromise. The route meandered, along Amhurst Road to the station, then into Clapton and over the Lea Bridge Roundabout with it's deserted nightclubs and bus depot. I was on uncharted territory here, and enjoyed watching unfamiliar streets pass by. Hopped off just before the bus reached Stoke Newington High Street - it's always important to enter a new street on foot at least on the first occasion I think - and made for the first coffee shop I could find. I got lucky here, the establishment was cool, quiet and run by an open-faced and smiling waitress who chatted happily to everyone who came in. The coffee was great and cheap, and made me feel guilt for my open support for the brand leaders in the market. I wish I felt more communicative and could have struck up a talk about the area, but with the mornings exertions preying on my feet and rather turbulent and confused thoughts I wanted to get down on paper, I was content to sit and write. I was also considering my next move.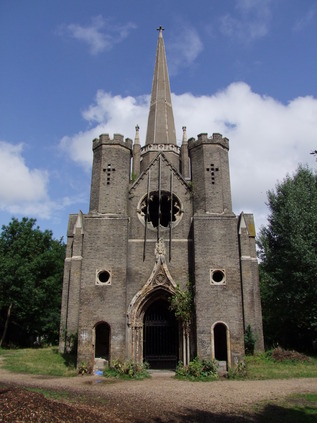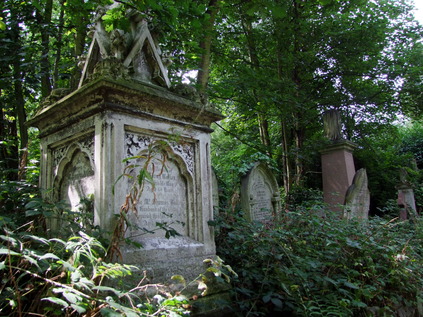 I'm ashamed I'd never visited Abney Park Cemetery. I'd read lots about it, and understood it's origins and importance - but it was on a list of 'get there eventually' locations. Today though, was the day - and as I walked north on the High Street, I was surprised by the sudden opening out of a small courtyard, with the famous egyptian pillars set back a few yards from the busy road. There is always the awkward moment when entering a burial yard - particularly a closed one - is it seemly to take pictures? Should one browse like at an art gallery? My approach is to wander aimlessly and see where I end up - and in fairness this has worked from Bunhill Fields to the Glasgow Necropolis, so I aimed for the same. Oddly though, Abney Park is strangely informal. Small groups of people enjoying a short burst of sunshine on the otherwise dull morning sat chatting, people used the space to walk, exercise - a dedicated woman using the hidden war memorial as a venue for circuit training. There was a sense that the community and the cemetery were at peace - mutually appreciative. Unlike many such places, Abney Park felt safe - it was patrolled, used well and despite its warren-like density of routes, it was impossible to be wholly alone here. I passed a mum and her young child, who begged her to only use the "big paths" and assured her that they "wouldn't see any deads". I saw his point, the tangle of tiny paths between the jumbled, leaning graves must have seemed impossibly horrible to him! I took one, to reassure myself, and found a strange, quiet and cool world under the trees. There was no traffic noise, despite the site being surrounded on three sides by busy London thoroughfares. Just warm, green silence and cold marble memorials.
I spent a little longer than planned at Abney Park, because it was a welcoming and open place where wandering was the norm and not a strange or suspicious activity. The natural environment seemed like a fitting burial place - more so than the ordered and crimped cemeteries which are the norm nowadays. I pondered this back to Liverpool Street on the train, and sat for a while in yet another a coffee shop - this time one which has recently opened in an impressively panelled room in the former Great Eastern Railway station buildings. I also thought I should do this more often - these walks lift my spirits, even the gloom which Milton Keynes seemingly dispelled. I also planned a lazy circuit back west - firstly heading east into familiar territory, then south of the river. The plan was to walk to the new Shoreditch High Street station on the East London Line. I accomplished this via a fraught crossing of Bishopsgate, then a dash down Brushfield Street. The familiar outline of awe-inspiring Christ Church loomed over a range of new boutiques and stalls in the revitalised but partially-destroy Spitalfields Market. Then, along Hanbury Street and into Brick Lane, the sudden pulse of life coinciding with a brief shower of rain. I didn't let it worry me, and watched people scurrying into shops and under the new railway bridge as I pressed on. The walk here is always so inspiring and diverting I barely noticed how wet I was as I turned into Sclater Street - the remnants of the market now a couple of rough stalls on a car park and some remarkably well-stock vintage clothes shops tucked into the old railway arches. The sign for the old Spitalfields Station still in the condition I found it two years ago, bent back on its pole and pointing the wrong way to a long-deleted terminus. The new station, a concrete and glass box - but with some impressive views over the former goods yard, was cool and pleasant to wait in despite the rather narrow platforms!
And so, via Brunel's tunnel under the Thames and a change of trains at the ever impressive Crystal Palace station, I made my way back to Victoria with a little time to spare. Parking myself in a convenient coffee shop I jotted notes about my strange weekend and watched the comings and goings around the station. It had been a frustrating and surprising weekend in equal measure. Now I had to deal with more immediate issues, and rather unusually spirits beckoned! A visit to London is never wise for helping one be objective.
You can see more pictures from the walk here.