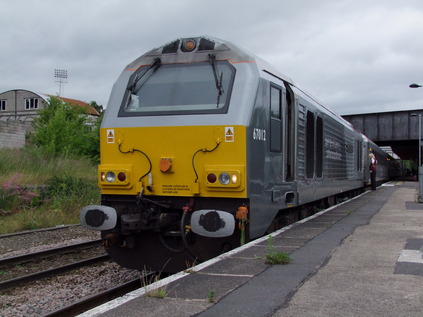 Posted in Railways on Saturday 24th July 2010 at 10:12pm
---
It had been a really odd week - a mess of stressful events and strangely incongruous interludes. Thus, I was really looking forward to today's escape. It started like many other trips - with the first train to Bristol and the 07:00 to Birmingham. The only complication this time was that the 07:00 wasn't sitting in the platform where I'd normally expect it to be when I arrived. I'd also noticed the unusual chap who sometimes competes for my chosen (and usually pre-booked I'd hasten to add!) seat hanging around the platform while we all waited as the clock ticked towards departure time. In fact, I don't think I'd be exaggerating to say he glowered at me as I stood there waiting. Eventually, the stock rolled into the platform in reverse formation. Since this fellow only likes that seat when it's facing the direction of travel, he stumbled on board muttering obscenities to himself and clenching his fists. I heard recently he'd been 'removed' from the West Somerset Railway for similar behaviour in fact. In any case, I was relieved not to have to start my day with confrontation, and settled into my seat in the quiet coach - only to find the door behind me was grinding along it's runners noisily, but the Catering Staff kindly locked it open for me. My peaceful start to the day assured, I dozed and listened to music as we dashed in and out of black clouds and bright sunshine alternately.
I had time for a coffee at New Street before heading down to the platforms, but with the stall short-staffed and the queue moving very slowly, I found an alternative place to sit and ended up downstairs earlier than planned. Strolled out into the sunshine and awaited the Holyhead train. This arrived as two units coupled, but would divide at Shrewsbury. Found my way to the front, so I didn't have to make any changes on route - though others didn't seem to pick up on this message straight away, which meant a mad dash to the front later. A fairly uneventful ride out via Wolverhampton and Telford, but somehow we managed to pick up a few minutes delay - not least perhaps because there was quite a crush in the front unit now. This intensified after Shrewsbury where the remainder of the passengers from the rear until squashed in too. Relatively healthy crowds at the intermediate stations of Ruabon, Chirk and Gobowen added to this - and by the time we made Wrexham General around five minutes down, I had to push and struggle to reach the doors. Noting the Wrexham and Shropshire train waiting at the opposite platform, I crossed over and took a picture whilst the staff prepared for departure. Marvelled at the refurbishment job done on the Mk.3 coaches, which - particularly in First Class - looked fantastic. Settled in comfortably for the long jaunt down to Marylebone.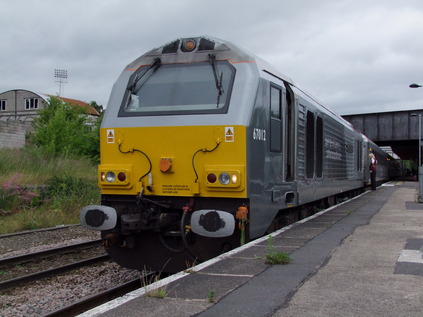 My last jaunt on these services
was hampered by late running and had to be cut short, so it was good to see things running smoothly today. The route initially retraced today's steps as far as Wolverhampton, picking up at some of the smaller stations on route, and then diverged at Crane Street Junction to take the line passing a surprisingly quiet Bescot Depot. Next, we turned east and headed for Stetchford where we joined the mainline once again, heading non-stop for Coventry and the Kenilworth line. Somewhere around here, lunch was served. I'd read a little about the catering on Wrexham and Shropshire, but wasn't quite prepared for this! Even the china cups, individual coffee pots and faultlessly polite staff hadn't signalled quite the quality we'd get. Two courses were free - with a third available for a small fee. Opted for two, taking a main and a dessert, both of which were well-prepared, generous and served with genuine attention to detail. Importantly, an endless supply of free coffee was included! As I sat, full of fine food and admiring the views over the Chilterns, I reflected that for a similar ticket price on First Great Western, I got a free cup of instant coffee and a biscuit. Whilst Wrexham and Shropshire offer a somewhat longer journey than might be possible by changing trains, the convenience of a direct service along with this kind of catering experience is bound to keep the trains filled.
By now we were entering the suburbs of London, and I started to think through the remainder of the day. With plenty of railway interest along this stretch of line I rarely use, I didn't even notice a bit of slow running resulting from an earlier bridge strike and the driver having to inspect the line as we edged over the structure. Arrival at Marylebone was also an interesting experience. It's not a station I've often used - and more often for leaving than arriving - so it was good to see the impressive and expanding station in fine shape and developing into a really important transport hub after its decline in the 1980s. Explored a bit before hitting the buses and heading up to Finchley Road and Frognal station - the plan was to pick up where last week went so horribly wrong, and to hunt down one of the new Class 172s working between Gospel Oak and Barking. The bus journey was interesting in itself - taking in Swiss Cottage, Lords and then a short stretch of Finchley Road before arriving at a nondescript overbridge which a huge orange 'London Overground' sign luckily visible from a distance. Descended with a minute or so before a train to Stratford was due. Perfect timing.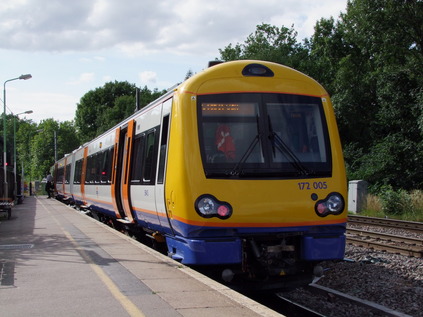 This was always going to be series of insect leaps, as the troubles of my last visit were still fresh in my mind and I didn't particularly want the hassle again. So, a couple of stops east to Gospel Oak first, and some disappointment as I noted an ex-Silverlink 150 in the bay platform. Decided to take this for a couple of stops, as this would pass an incoming unit and I'd see what else was working. So, waited in what had become very warm sunshine for departure, heading as far as Upper Holloway. A quick change of platforms, and noting a photographer waiting with camera ready, some hope that things would work out today. The train was around five late already, but by my calculations the usual move home would work provided there were no failures. Eventually, the raised lens of the photographer across the track signalled my attention and 172005 began to slow for the stop. Mission accomplished!
From my very brief hop back to Gospel Oak, the units seem fairly basic and clean. The seats are fairly basic and firm, and the air-conditioning appears to be set as aggressively as that in the 378s, which is fine for me but cold, I'd suspect for many. Soon back into Gospel Oak for a quick photograph - which always feels a little ill-advised and risky in London - and then time to wander over to the westbound platform for a train to Willesden. Things went well as far as Hampstead Heath, where we prepared to leave, the doors closed and we moved a matter of inches before they opened again. This continued for around ten minutes before the driver admitted he was having problems which he couldn't easily fix. Some quick investigation indicated a possible bus route, so dashed out of the station, heading the opposite way from previous trips to Parliament Hill, and found myself in a pleasant little urban oasis of shops and green space. It occurred to me I'd made probably hundreds of journeys through the cuttings and tunnels around here and barely surfaced at many of the stations at all. Found the stop for the No.46, and waited for what seemed like ages for one to turn up. A quiet single decker was soon full to bursting with refugees from the stricken train. The route went uphill and northwards, into Hampstead, then turned south and briefly retraced my earlier steps along Finchley Road and around Swiss Cottage, before diving west into Maida Vale. Rather suddenly, spotted the Grand Union Canal beside us and realised I was approaching 'Little Venice' from an unfamiliar angle. The curve of the roof spans of Paddington could be seen, and a quick swing under the Westway and over Bishops Bridge brought me into Eastbourne Terrace.
Once again, a failure on the Overground had caused a tricky situation, but this time - fending only for myself and with a little time on my side, I'd made it back in good time. Shopped a little, had a coffee and boarded the train back home. It had been a long, varied and relaxing day which had seen me right a couple of wrongs - doing a Wrexham and Shropshire service for the full length of the route, and getting a brief ride on the new Class 172 units. As I plough into another week of uncertainty and mixed messages, it's days like this which keep things ticking over.