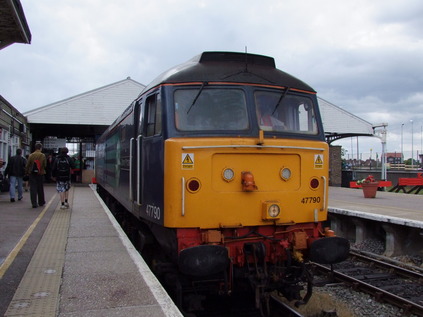 Posted in Railways on Saturday 17th July 2010 at 11:34pm
---
Today should have been simple - every summer a couple of trains each Saturday go all the way from Liverpool Street to Great Yarmouth. Along the way, at Norwich, a diesel engine normally reserved for working freight trains is attached to the front. This drags the train along the non-electrified twenty miles between Norwich and Great Yarmouth. The Yarmouth Drags have become a bit of a magnet for enthusiasts over the last few years, and I'd finally found a free weekend at the right time to have a spin myself. Of course, any trip out to East Anglia is a bit of a trek - so it meant a start on the retimed 05:59 to Weston. Oddly, many more people were waiting than when it was the 05:48. Have those ten minutes cause a psychological shift from the "five something" to the "six o'clock" which has persuaded more users? In any case, it still made a decent connection with the 06:24 from Weston to Paddington, and meant breakfast could be enjoyed in relative quiet before the train busied up a little on route. Had a very relaxing journey, in turn enjoying bright sunshine and threatening black clouds. Got some listening done, and amassed a new list of bands to investigate - and also had a fair bit of catch-up sleep which I must have needed.
At Paddington, with the Circle out of action for one of it's regular weekends of engineering work, some quick footwork was needed to get onto a 205 bus and underway for the trip to Liverpool Street as soon as possible. After seconds at the stop, one sailed up and we were heading along Euston Road in pleasant morning sunshine. Fairly confident that the 10:00 connection would be made easily, I was able to sit back and watch the city pass by, a favourite passtime. At Liverpool Street, made a beeline for coffee and then straight onto the waiting train. Found a seat right at the end of the train next to the locomotive. As 90006 was pushing as far as Norwich, the Class 47 would be added to the rear of the train and we'd get the full effect of it's noise and smoke as we headed for the seaside. It's the little things you see! We were soon off, and thundering through Bethnal Green and into Essex, watching unfamiliar local trains passing by. This journey has always been a quiet and rather relaxing one, so sat back and enjoyed the views as we entered Suffolk and passed through the small towns which dot the map here. It didn't seem long before we were creeping into Norwich, with 47790 waiting to join the train. Lots of enthusiast activity here and a bit of an exodus into First Class too. Right on time, the 47 roared into life and produced a huge cloud of black smoke as we took the curve around the back of Crown Point depot and headed for Great Yarmouth. I've done both routes into Yarmouth before on local units, but this was a rather special way of making the trip. We soon diverged, taking the line via Reedham rather than Acle - though I'm told the later dragged train does use the other route. This meant passing the incredibly remote Berney Arms station, subject of some legend - as it seems only to serve a pub and a windmill!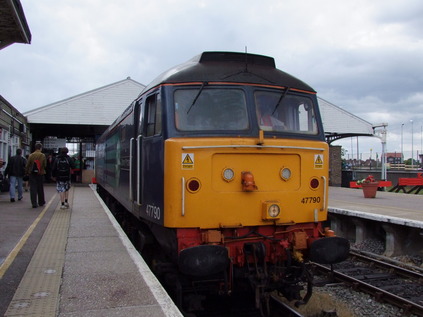 Our first farce of the day occurred on arrival at Yarmouth. The driver slammed on the brakes as we entered the long platforms, and we stopped rather short. The Train Manager seemed to think we'd be pulling up further and the doors remained locked. Then we heard 47790 fire up and draw forward. After some time, they let us out onto the platform with a half-hour layover reduced by a good few minutes. The marooned 90006 and coaches were well back from the buffers, and a bunch of orange-jackets seemed to be tugging the points of the shunt-release line by hand to let 47790 run around! Watched and grabbed some rather poor shots - partly because the sunshine had disappeared behind black clouds, and partly because some fellow enthusiasts seemed to be incapable of avoiding my attempts to get a picture. Finally gave up and headed onto the concourse. No time to make the walk into town, so sampled the fairly good burger van which sits in the station building. Ate whilst queuing to get onto the return working of the train, which 47790 had pushed back into the station a little way. Soon into the same seats we'd used on the run up, and able to watch 47790 clagging around the curve out of the station, looking not unlike a steam engine!
Another timely departure from Norwich once 47790 was detached, and we began retracing our steps to London. Somewhere during this journey a plan was hatched which was to be our undoing. Having noted that c2c services were departing from Liverpool Street as Fenchurch Street was closed, I suggested we could take one as far as Barking which would cover the unusual track from Forest Gate Junction to Woodgrange Park Junction and the flyover at Barking. This became an even more ambitious undertaking when it was also noted that new unit 172004 was undertaking it's first trips in passenger service today - the first for the entire class in fact. If we could possibly get a Barking to Gospel Oak service we might just encounter it. Did some calculations and there were a couple of options - one solid connection involving a quick dash on arrival at Liverpool Street, and one later one which left little margin for error. With renewed interest in the day's events, we pressed onward towards London. Somewhere around Colchester, things began to unravel a little. Some slow running, seemingly because the driver was inspecting either the line or the overhead line equipment, left us running about ten late. Throughout the journey we made up a little and lost a little more. The early option wasn't lost though if we made a set-down only stop at Stratford as many expresses do....but not, alas, this one. We sped through, arriving at Liverpool Street with about ten minutes to make the slightly later option - so we dashed for platform 18 and boarded the busy Class 357 - a rare visitor to this station aside from a couple of late night workings. Set off on time, and as planned used the Forest Gate to Woodgrange Park line. Just before we traversed the flyover at Barking, we paused. As we waited to get into the station, 172004 chugged past in the opposite direction. Had all gone to plan, we'd have easily made it! Cursed myself, and the bumbling idiots who meandered about as I tried to get over the bridge for the next Gospel Oak train, a shuddering, filthy and close-to-expiry 150148.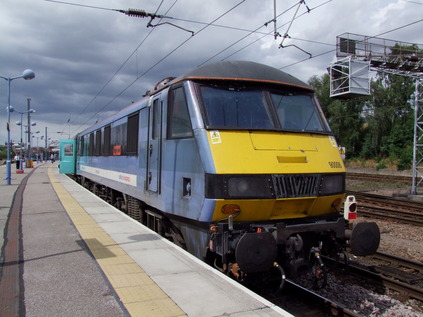 Still, the line is one of my favourites and I was happy enough scudding over the rooftops of Leyton and Walthamstow. We were making good time, and should - at a push - get back onto the earlier (and safer) schedule via a +5 at Gospel Oak. All again went well, until a little before the curve into Gospel Oak station we came to a halt. Checking the journey planner revealed that the 172 was very late getting in. We waited around six minutes to let it clear the platform before heading in ourselves. As we headed back to the main station from the outlying platform 3, we saw our train arrive - leaving just as we made the steps for the platform. Now near incandescent with even more pathetic behaviour at the station, I propped myself against a pillar and watched the Barking platform close as the service ended to let engineering take over once again as I waited for the next service to Willesden Junction. This arrived bang on time, and the connection into a Clapham Junction train worked flawlessly too. The Overground is becoming a fairly reliable workhorse, and building on the useful North London Line with thankfully more capacity and frequency. At West Brompton, switched onto the District Line platforms with a Paddington train due in three minutes. It had been tight, but we should make the 19:00 booked train home without problems.
And then it all went wrong...
First, the driver announced that due to a points failure and signalling problems, the service was going to terminate at High Street Kensington. Some quick re-planning indicated we could get a No.27 bus from the station front. Of course the first challenge was getting out of the station - as we'd terminated in platform 4 which has the tiniest, single width staircase. A whole train unloading, along with some fools trying to get down the stairs pointlessly as the train had terminated, made for a very slow exit indeed. Told fellow travellers they were on their own from here...I couldn't keep doing the 'responsible adult bit' as my own plans unravelled. Found the stop, flagged a first packed double-decker, and got a seat on a near empty one following. The connection now looked unlikely, but it was worth a shot! Until we came to a halt behind the packed bus I'd just flagged somewhere in Notting Hill. A drunken passenger had been taken ill, so the entire contents of the bus decanted into ours taking precious minutes, and making stops much longer as people struggled to get on and off. We passed the ambulance heading for the bus as we headed towards Westbourne Grove and I silently cursed the unfortunate drunk. Finally made it into Paddington about 10 minutes after the 19:00 had left.
A minor battle followed with the Ticket Office staff who just couldn't comprehend my Oyster Card record. Eventually found one who understood that I'd boarded the bus at 18:24 because I'd been booted off the train, and not because I'd left it too late to get to my train. With permission to travel on the 19:30, I slumped into my cool, comfortable seat and relaxed. It meant a longer break at Bristol - but it could have been worse! Got a coffee, listened to more music, wrote a little and enjoyed a fantastic sunset over Wiltshire as we sped westwards. Spent the break at Bristol people-watching, always a fascinating pass-time at a railway station - and moreso in the evenings perhaps, when a really unusual mix of people can be found on the platforms! My woes weren't over though, as not only was the 21:55 unit home late arriving, it also managed to get stuck at Uphill Junction awaiting engineers attention to a points failure. Finally struggled off the train at 23:10, tired, still rather agitated, but having had a strangely entertaining day out!
Of course, things don't always go to plan on the real railway. You'd think that, given the many thousands of miles I do, I'd encounter more trouble than most - but I can honestly say I don't run into much in the way of peturbation. However, today it seems that lots of little incidents conspired to cause an incredibly frustrating situation. I managed to keep my temper - just about - when all around me seemed to be turning into gibbering idiots. Lets hope this has used up my quota of frustration for a while!