Posted in Railways on Saturday 13th March 2010 at 11:03pm
---
Today was all a bit of a luxury really compared to some of the endurance tests I willingly undertake - firstly, having a weekend off between tours meant needing to decide where to go. First Great Western helped here by running their 'Take A Mate' promotion for season ticket holders once again. Realising that this was the one week during the promotion I'd be able to take advantage of a £20 First Class return on the FGW network, I booked a trip to Paddington, regardless of not having any mates to take on this particular occasion! This also meant that after a late night last evening, I didn't have to disappear from home in the dark on the earliest possible train - and so I decided on the 07:13 direct from Highbridge to Paddington. It was very good to be settled with breakfast, coffee and bright sunshine before arriving at Weston, and I was content to watch the scenery pass lazily and catch up on the week's podcasts as we thundered through Bristol and onwards towards London.
Having had an ill-fated attempt at getting around London for work purposes earlier in the week, I'd given up on planning much for my day today. A look at the Weekend update from Gensheet had confirmed lots happening tomorrow and some fun with WSMR services out of Marylebone - but with their first stop at Tame Bridge Parkway and no advance fares, I needed something cheaper if equally diverting. Instead decided on a quick trip out east (picking up long due Oyster refunds at last at the ticket gates on the way). Firstly, over to Liverpool Street and then, via Clapton to Tottenham Hale. This positioned me for a very pleasant coffee in the sunshine and a chance to watch the fairly intensive service here before heading back to Stratford via one of the direct services. A crawl around Temple Mills gave excellent views of both the Olympic site and the Eurostar depot, before we arrived at the curving platform 12 at the far edge of the station, now dwarfed by the fast developing Westfield Stratford City shopping complex. Right now its extremely hard to imagine how this area will look in a couple of years time - but it will certainly have changed a great deal. Wandered out to the station front for a taste of a rather older, less sanitised Straford, before heading back to the platforms to watch a couple of freight trains pass while awaiting my train to Liverpool Street.
Another idea which had occurred was a visit to the southern end of the East London Line where new units were lurking! Squeezed onto a 149 bus to London Bridge and then, after dodging both Millwall and Charlton fans, onto a train to New Cross Gate. Got a glimpse of the depot as we passed, completely built now and sporting a clutch of shiny new 378/1 'Capitalstar' EMUs! Rather surprisingly as we came to a halt, I found one sitting in the platform beside us awaiting the signal for a test run south towards West Croydon. Took the opportunity to get a quick shot before heading for the neighbouring supermarket for greeting cards!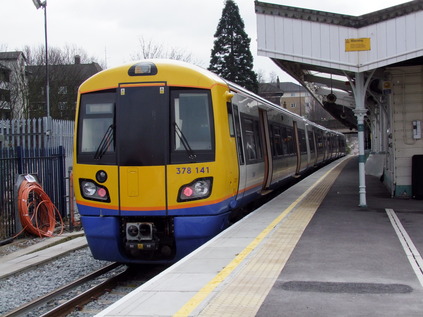 Whilst waiting for my train back to the city, another 378 passed through the platform, with several confused passengers having a crack at boarding before it whirred quietly off to the depot. Once on a London-bound unit I had another fly-past of the depot, wryly noting other platform enders with similar ideas to me, before arriving once again at London Bridge. Waited time here for a departure to Victoria via Crystal Palace, which I meant to take as far as Clapham Junction. More football related silliness going on as we left for the spin around Streatham Hill and Balham into the vast, busy turmoil of Clapham Junction. Found a little newly-built but roofless shelter where a lot of enthusiasts has clustered around the end of the platform - so joined them for a pleasant hour in the sunshine noting the passing tide of units. Once the same ones started heading back, I bade them goodbye and headed for platform 2 which was already getting busy for the next departure to Willesden Junction. I've used this shuffle via West Brompton and the District Line to get home many times, but the opening of Westfield at Sheppherds Bush has really boosted usage and the trains were incredibly busy once again. Hopped off at West Brompton thinking I might get home early...
However, I'd not thought about the Chelsea vs. West Ham game going on nearby. As train after train of District stock filled to crush loadings passed by, it became almost amusing - not least the large party of French students who skittered from one end of the platform to the other and back each time an equally wedge set arrived. Once final bunch of fans were brought down - possibly the noisiest, drunkest or just plain least appealing to the general public - and squashed onto a train by a copious amount of Met and BTP officers. A minor escape attempt led to a bit of brute force being deployed and the train was soon off. Happily the next one had room for everyone waiting - including the hapless French students!
After a relaxing coffee watching the station go about it's business I boarded the 19:00 from Paddington heading all the way back to Highbridge. In many ways it had been a quiet day - but there was, as always, plenty to see and hear in London so I was more than happy with my wandering. Sometimes it's not about epic mileages or elaborate itineraries, but just a good old fashioned wander around the railway network, watching people as much as trains.