Posted in Railways on Saturday 30th January 2010 at 9:06pm
---
I used to be able to do late nights followed by early starts - but those days had very clearly passed as I stumbled wearily down to the station this morning feeling the effects of a friend's birthday celebration last evening. Today's jaunt was really conceived to plug a gap in what has been a rather strange January schedule - the one event of note falling awkwardly in the middle of the snowy early weeks, and the rest of the time being spent in some rather reflective wanderings around places I'd not seen in some time. Today was more of the same really - heading north and west after a couple of weeks of finding myself eastward bound - taking in Manchester and Liverpool. It was a leisurely enough schedule, and it was good to settle down and enjoy the lazy ride northwards from Bristol. The train stayed fairly quiet as we headed first for The Midlands and then pushed on via Stoke-on-Trent towards Manchester. Just beginning to feel a little more human when I received a message that my cousin was in Manchester having just arrived at Piccadilly too. So my hour in Manchester was spent in a pleasant family catch-up session on the terrace outside the station, drinking coffee to keep warm! Despite the cold, the day was clear and bright and it was good to be out and about watching the city bustle beneath. Not sure my cousin and her intended quite grasped why I was in Manchester or why I'd be heading elsewhere soon - but nonetheless it was good to catch up on unusual territory!
Took my leave and headed onto the through-platforms at Piccadilly via the moving walkway. Despite hating escalators with a searing passion, I have a childish love of their flat, stepless sibling and I enjoyed my little zoom up to the concourse perhaps a bit too much. People were certainly looking at the fat grinning loon who arrived at the top very strangely. Flagged a jammed Northern Trains unit for my Transpennine Express 185. Boarded to find first class jammed with noisy and frankly rude Spanish students. Extricated one from my reserved seat via the international language of pointing at the numbers, gesturing elsewhere in the carriage and looking angry. It worked, but secured me the scowls of the moody group of female students travelling with the former occupier of my seat. Managed to tune out the hissed, Spanish incantations and enjoyed an easy, quiet run via Warrington Central in still brighter weather as we headed for Lime Street.
My earliest memories of Liverpool are from the mid 1990s - the city was waking up from a grim recession and the paralysis inflicted by a corrupt council. It felt good, positive and forward looking. Lots was happening, and a wave of redevelopment was sweeping from the docks into the City Centre, albeit missing some areas of chronic and desperate deprivation on the way. Then, a decade or so later things began to grind to a halt. Even Richard and Judy had deserted the Albert Dock and the regeneration settled uneasily on the city centre, churning out small and poor quality shopping areas which never really seemed to open fully before they'd closed for redesign or refurbishment. So, I was surprised to find, especially in the current climate, that things have slowly begun to move again. I stepped out of Lime Street station, directed to a side exit due to works, and found view much changed. No more greasy spoon cafe, and the parade of shops from the front of the station gone (including the world's coldest second hand bookshop - which is perhaps something of a loss). The station I noticed was standing proud of the street and around it a stepped plaza was developing . The great glass sweep of the roof was suddenly fully visible, and the subtle point of the frontage now clear to see. Lime Street is a stunning station, and it was great to see it being afforded the status it deserves.
Eventually moving on after poking my camera through the fence here and there, I found myself watching a demonstration wind its way into St George's Hall. As my political views have developed and changed over the years, I found my patience for Trade Unions has suffered - but I still love to see the banners and the various public service workers unions gathered here had put on a fine display. Given my interest in this area, I decided to stay and listen to some of the speakers. A fairly high-ranking bunch of union officials had been drafted in to talk to the modest crowd about the looming election and the dark days beyond. The approach varied from simply, heartfelt pleas to protect jobs and services to full-scale assaults on Western capitalism! At one point a tiny woman carrying endless bags shambled across the square. She stopped and turned to the crowd and began to shout back in possibly the loudest Jamaican voice I've ever heard. She pointed out that none of the people up there had done anything to help her and her friends. She also pointed out that no-one speaking or watching the rally was paid as little as her, and that every single one of them was white and middle class. She was spot on in fact, and the fact proved so uncomfortable that a couple of the hi-vis vested organisers persuade the Police to move her on. She didn't go quietly but as the police women who gently escorted her past me said soothingly "You don't have to convince me love, they're a bunch of pompous windbags and you've got it right". It's hard to know whether this was a genuine sentiment or an attempt to calm down the situation, but it hit the nail right on the head this time.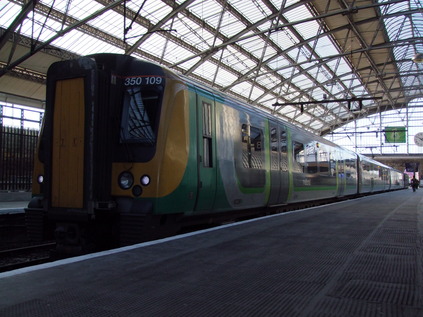 Decided on a brief walk before my journey back, avoiding descending into the crowded city centre which didn't appeal much today. Soon found myself back at Lime Street with the sun streaming through the roof. Settled in for a pleasant hour watching and listening to the station going about its business. I was feeling pretty tired and still a bit fuzzy so it was good to relax here in a spot which has served me well for this purpose over the years. Soon onto 350109 which was waiting to head back to Birmingham via Crewe. Another pleasant, bright journey - but amazed to find how much colder it was in the depths of New Street where the sun can't reach. A quick change onto the 1642 which reverses in the bleak extremity of platform 1a - possibly the coldest part of the station, and a sleepy ride back to Bristol in the warm Voyager. Today was a satisfying return to basics - a wander around the country observing - travelling for the sake of it. As the year gears up and tours and events start getting organised (and probably cancelled at short notice too) I'll end up doing less of this - but perhaps this is something to look forward to in the quiet dark days of Winter?