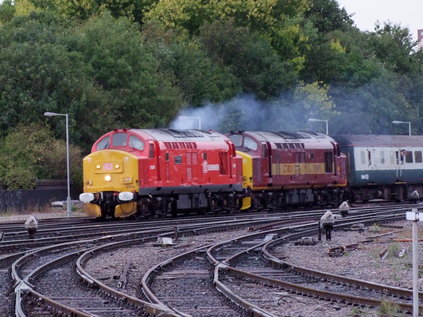 Posted in Railways on Saturday 5th September 2009 at 10:30pm
---
Some readers may recall my attempt to cover the last stretch of the West Coast Mainline towards the end of 2008. Since then people have often asked me if that's all I have left to cover of the UK network. Well, absolutely not - because I do try to cover freight lines, and there are still the odd corners of the country I've never quite managed to get to - not least Pwlhelli - but that's mostly because I'm a bit embarrassed to say it wrong when I buy the ticket. However, the ten or so miles of line between Colwich Junction and Stone is somewhat symbolic, as it's the last bit of proper mainline railway I haven't covered. It's also an absurdly easy bit to cover - served regularly by London-Manchester expresses and a vital link in Virgin's Very High Frequency timetable. So, having figured out the service pattern, with the WCML upgrade reportedly complete and with a spare weekend - I decided it was time to try again.
Things started well, but with pangs of uncertainty. This weekend marked another "last ever" (so they say) in that the summer-only locomotive hauled Weymouth train was to run for the last time. Since Weymouth is one of my least favourite journeys, and because most right-thinking people didn't really expect DB Schenker to produce two working class 37s in time, I'd stuck to my original plan. So, there was a little regret as my London-bound train passed Barton Hill depot and the sight of 37670 and 37401 burbling away merrily at the head of the stock. Then I thought of the interminable journey between Castle Cary and Dorchester and didn't feel quite so bad. Instead, settled in for a snooze, waking up in time for the interesting bits of the journey to London. Couldn't shift a nagging headache, which a dash around the Circle line to Euston Square just seemed to exacerbate - so grabbed Ibuprofen and coffee and soon felt better. Watched the crowds at Euston, and assisted a gaggle of older women from Birmingham who couldn't find the Underground despite the very large sign explaining it was a few feet away. Cue much screeching and cackling laughter which actually made me feel worryingly at home! Soon onto a Pendolino (fittingly 053 - the last one at present) and gathering speed out into the suburbs.
With three trains an hour and being one of the quieter weekends of the year, the train was almost deserted. Virgin's Saturday service in First Class isn't quite what it manages in the week - but still provides a much better environment than the horrible standard class in these trains. Sipped my complimentary drinks, and began reading Stuart Maconie's "Pies and Prejudice". A friend lent this to me as I complained I'd run out of things to read at present. It seemed fitting to read a book about 'the north' as I headed that way. Hard not to compare it (as indeed Maconie does) to Charles Jennings' rather sarcastic effort "Up North" which I'd read a good few years back and seemed to be the work of someone gripping Bill Bryson's coattails rather tightly. Maconie had the disadvantage of finding me a much more seasoned traveller - with a southerner's eye view of many of the places he mentions - Crewe, Warrington, Bury etc. However, soon found myself zipping speedily through Lichfield Trent Valley and turned my attention back to the rails. I actually began to get rather nervous at this point - a lot of things seem to be spinning out of control just now, but surely I of all people can figure out the right train to get on?
I needn't have worried. We began to slow, then lurched to the right over pointwork - beside me was Colwich Memorial Garden - planted and cared for until his death by a local man, Alf Taylor in honour of Driver Eric Goode, the victim of a terrible crash here in 1986. As we began to speed away from the junction I felt rather pleased things had worked out at last. The line itself wasn't inspiring - there are no stations on this stretch anymore, and indeed never were more than a couple. The scenery is rather dull too. But the important point is that this was mission accomplished at last. As we curved gracefully through Stone station, now reopened after years of being abandoned during the WCML upgrade, I felt pretty content. I was relaxing, reading and out on the rails - can there be many better pursuits? Enjoyed the rest of my journey to Manchester and soon arrived in Piccadilly under brooding stormy skies. Decided to take a walk into the city centre - not something I do often. After a browse around a couple of shops, came across the Metrolink works - still no trams and huge sections of the busy pedestrianised centre fenced off and churned up. This squeezes the crowds into two channels at each side of the street, so I plodded along with them, and found myself outside the Arndale Centre. Since I needed to purchase stationery, I wandered in. Needless to say, I didn't like it. Cavernous and mostly full of sportswear, this echoing retail horror is everything I dislike about modern city centres. The weird ambience of the places alone makes me feel prone to panic attacks. Dived into WH Smiths, complained about them having no A5 casebound 'Black and Red' notebooks and dashed out as quickly as possible into Exchange Square. Watched the obligatory 'Manchester Wheel' which it seems all cities must have now, before plunging back into the crowds and making my way back to the station via a circuitous route taking in some of the lesser visited bits of the city centre.
After a break and a chance to answer some email which had piled up during the past couple of busy weeks, boarded the 16:07 back to Bristol. A quiet journey, with noticably fewer passengers around than have been evident in recent weeks. Read, listened to a couple of podcasts and generally enjoyed the chance for a quiet trip back. As we approached Bristol, I was pleased to note we were pretty much on time, because my plan was to intercept the Weymouth train as it arrived back into Temple Meads. As soon as we stopped, headed back up platform 7 to get the usual shot of the train arriving. Then, a quick dash back under the subway onto platform three where a huge crowd had developed around the locos. A real sense of occasion, as a number of familiar faces arrived including the Spitfire team and some 37 bashers I haven't seen out in a good while. The staff at Temple Meads seemed just a little concerned at the developing crowd - but mostly it was a good natured gathering. This might be the last scheduled service train to be 37 worked, which made things somewhat bittersweet but didn't detract from the atmosphere as the trainshed filled with diesel fumes!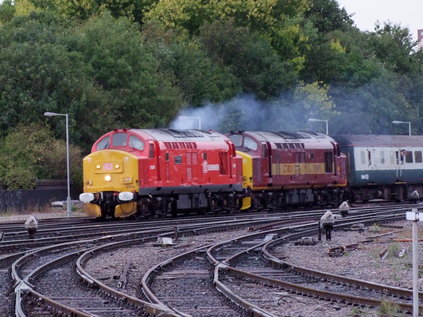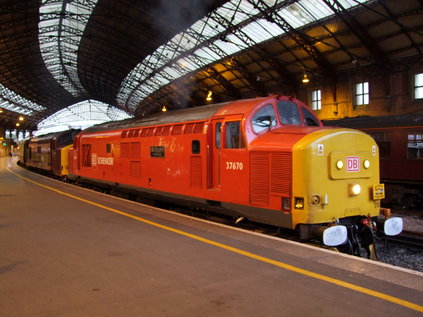 So a strange day, with lots of endings in some ways. However, more reminders of why I find myself returning to the rails while things seem to get ever more confusing and complicated around me.