Posted in Railways on Saturday 23rd May 2009 at 8:05pm
---
After what seemed a fallow period for Depot Open Days, the last year or so has produced some interesting events - in particular, Tyseley and Carnforth last summer. With Eastleigh Works officially closing a while back, it seemed that a centenary here would be marked only symbolically in 2009. However, the amazing turn around which Knights Rail Services have performed at Eastleigh meant that this weekend's event was very much an open day at an open depot. Having anticipated crowds, I'd stayed in the area yesterday evening. Arriving at the site early today this was proved to be a sensible approach, with Campbell Road bridge creaking under what had become an impromptu viewing gallery for the aftermath of a minor derailment of an intermodal service a little outside the station. 66181 and around eight of it's container flats sat a little south of the station, while a group of orange suited staff prodded at the rest of the train. To add to the disruption that the loss of a platform was causing, a fatality at Bradford-on-Avon was severely delaying services from Bristol. As the sun rose high above the site, I predicted a pink face and thanked my foresight which for once appeared to be working.
It was a relief to get into the site - traffic management on the narrow road was a little hit and miss, and we managed to get in a little early due to these concerns. Once through the largely pointless bag search, we had the run of the outskirts of the site until 10:00 when the barriers came down. This allowed some shots of the locos lined up outside the sheds in relative calm. The stewarding staff inside the even proving to be much more helpful and sensible than the security types outside. The first priority was to make a swift reconnaissance trip to see what was around and get pictures before the inevitable wait for people to wander out of shot began. Overall though, the placement of the exhibits was excellent - a lot of thought had gone into allowing space to move around the site, to take pictures, and into some very photogenic line-ups of locomotives.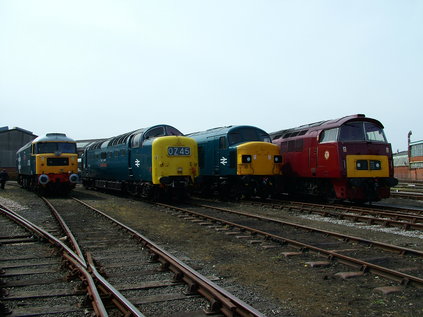 As the Bristol trains started running and
Spitfire
's tour arrived, the site began to get very busy - but still there appeared to be plenty of space. Managed to sustain a bit of camera damage in a 'friendly fire' incident, but this didn't affect things too much thankfully. The organisers must be congratulated on the range and quality of stalls too, with lots to see and spend money on. Contented myself with a chat with the Spitfire folks while sheltering from the now extreme heat outdoors. Back out in time to watch 50135 being rededicated as 'Ark Royal' by the Captain of it's namesake ship. The loco looked splendid in Load Haul black and orange, but there are sure to be purists who won't agree! A few units also in evidence in the yard, representing almost every phase of the Southern story. Also much in evidence were Class 73s, with no less than five examples on site.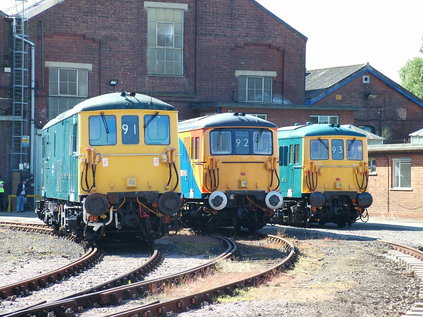 Finally managed to get over to the steam area, with a fair number of Southern Region locos fired up and making plenty of noise. Lots of interest in these too. Heard a few grumblings about no Freightliner locos and some missing guests, but having followed the efforts to get this weekend organised, these were very small and apparently unavoidable omissions. With the site still busy, and people apparently still arriving, we left a little before 15:00 to explore possible views outside the station and to head back into Southampton for our homeward connection, taking us via Reading back to Bristol. The station was still busy with enthusiasts, much as it had been yesterday evening too. Great to see people of all ages, behaving relatively sensibly and enjoying what can be a sociable enough hobby at times like these. While the exhibits might have invoked nostalgia in many, it was great to see the younger visitors really enjoying the chance to see these locos up close. Overall a fantastic day out and hopefully a success for the charities involved.
Settled down on to a bench at Southampton to watch people and trains whilst resting my feet, aching from walking on ballast for hours. Things don't get much better than this!