Posted in Railways on Saturday 4th April 2009 at 9:04pm
---
Due to the frenzied mileage gathering start to my year alongside a fairly busy schedule of railtours, I've not made it to a couple of interesting diesel galas in the first months of the year. But with the line closed between here and Bristol, getting anywhere was going to be an interesting experience. Decided to stay local, and finally pay a visit to the Gloucestershire & Warwickshire Railway after many years of promising to do so and never quite making it. Set out on the 07:20 bus to Bristol, which stuck to timings and arrived at Temple Meads bang on time in promisingly bright sunshine. A quick dash through the arches to platform 11, an unusual place for a Crosscountry service to depart from, no doubt due to the route via Westbury with a reversal here. Found a seat, despite the service being busy due to an earlier cancellation. A short ride up to Cheltenham, where I stumbled out of the station right into the correct bus stop. A short wait, almost feeling uncomfortably warm for the first time this year, for the bus. I'm not sure why I'd always imagined it would be hard to get to the G&WR - as the bus from the station travels direct to the Racecourse Park and Ride, where a short walk over the hill brought me to Cheltenham Racecourse station. It was easy to slip back into Diesel Gala mode - 47105 was just arriving to run around the train. So, with camera out, I was prepared for a day hopping up and down what promised to be an interesting line.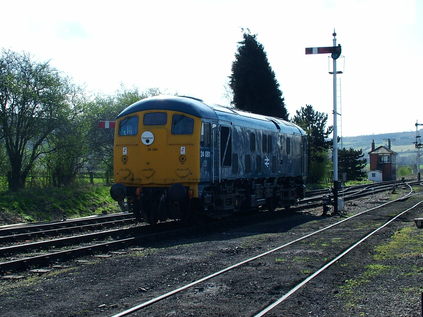 Decided to take the first train all the way to Toddington to see the whole line, and to give me an idea of how to select trains for the rest of the day. Passed D8163 at Winchcombe and didn't see much more of this loco given the diagrams - it always seems there is one I don't manage to get to see at these events. Oddly, it's been a Class 20 on more than one occasion too. As we headed into Toddington spotted 24081 stabled outside, with 37324 (also known as 099) outside the station. 37215 was waiting to drop onto our train after a short turn around and a chance to wander about the station site. Took 37215 the short distance back to Winchcombe where a quick platform change allowed me to head back to Toddington with 31162. Time for some pictures here, including a couple of engines on static display including 92203 'Black Prince' and 47376. Good to see increasing crowds at this end of the line too, with lots of families in evidence - something some railways claim doesn't happen at diesel events. Jacket off now, time for refreshments before enjoying a noisy trip with 24081 all the way back to the Racecourse.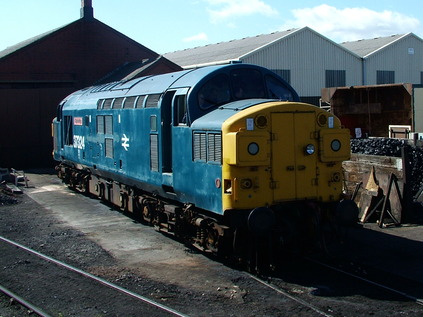 Deciding to maximise my chances to travel behind each loco, I decided to do a series of moves to Winchcombe and back. This meant heading back with 31162, and making a fairly quick dash over the bridge for a slightly delayed 37324 back to the Racecourse. The amazing weather provided wonderful views from the railway with the Malvern Hills in clear sight, along with Tewkesbury Abbey shining golden in the foreground. Another swift change of ends for 37215 back to Winchcombe, and an opportunity to watch 47105 arriving. A last trip down to the Racecourse fittingly with the first engine of the day.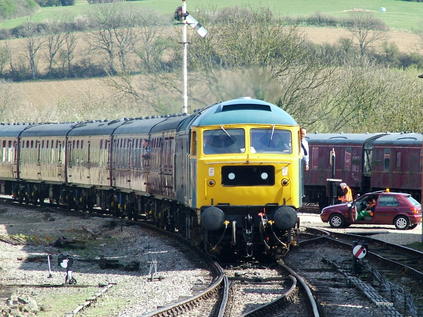 Made the short walk and bus ride back to Cheltenham Spa feeling content with my day out but slightly apprehensive about the Rail Replacement Bus home. Then I made a silly train choice, deciding to hop aboard a late-running Weymouth stopper instead of waiting for the following Crosscountry service. I'd had some fleeting notion that it would be much quieter - which is probably true - but of course a (none too rushed) reversal at Gloucester made it even later than planned into Temple Meads, while the Crosscountry train zipped by on the mainline! Resigned myself to the fact I'd be getting a later bus home, as we rolled into Temple Meads almost exactly when the bus should be leaving. Decided to head for the arches anyway to see if the next Weston bus was any use to me. As it happened, a driver running out of hours and a vehicle swap had delayed the Taunton service, so I made the bus as planned and was soon heading home only a few minutes later than planned. Glad to have finally visited this fine railway, and to have managed to get out and about despite the blockade. The first Gala or Open Day of the season makes it feel like Spring too. A few more of my never very artistic pictures are here.