Posted in Railways on Saturday 8th November 2008 at 7:35pm
---
Recently I was asked which of the many preserved railways around the country was my favourite. It wasn't an easy question to answer - I've by no means visited all of them, and each has its own merits. I'm often expected, as a Somerset man, to plump for the West Somerset Railway, and while I agree it is long, picturesque and well-organised the apparent policy on diesel traction and galas means there's not much for me to enjoy there on a regular basis. While mulling over the question I overlooked entirely the South Devon Railway. This stretch of the former GWR branch to Ashburton clocks in at just under seven miles, but manages to incorporate some fantastic scenery, some testing climbs for the locomotives and a loop at Bishops Bridge which adds operational interest. Best of all though, with two active diesel preservation groups and six locomotives based on the railway, there's plenty for the likes of me to enjoy.
With the blockade between Taunton and Exeter meaning buses, Mr Spinks kindly elected to drive. The solidly wedged rail replacement services we passed confirmed the trip wouldn't have been fun by rail. After a surprisingly quick and easy trip down we set about getting as much mileage as daylight would allow. Once booked and onto Buckfastleigh station we were treated to the sight of 20110 starting noisily and smokily in the yard, before D7612 detached from the line of locos and joined our train. This first, noisy trip down to Totnes with the Class 25 was a highlight for me as it's not a locomotive type I've experienced a great deal, and with surprisingly decent weather it was possible to open the windows and listen to the pleasant racket from the front. Somehow Mr Spinks managed to get injured by the buffet counter during this trip, but luckily there were no lasting effects!
A change of ends at the platform at Totnes Littlehempston which sits beside the mainline, and has a useful footpath link to the station for visitors coming by rail. We stayed with D7162 back to Staverton where after a brief wait for our train to clear the loop, an interesting lash up of two Class 20s and DMU stock arrived. Always good to see 20118 in its unusual Railfreight livery, and 20110 in classic blue was equally impressive in my view. Returned to Totnes, where 20118 headed to the front of the train and took us back up the line to Buckfastleigh with the relatively unusual sight of a 20 working nose-first in top and tain configuration! Lots of noise in the front coach too.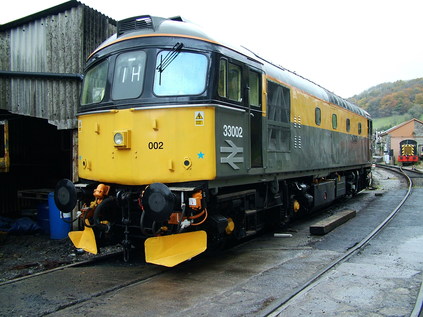 Alighted at Buckfastleigh to head for the excellent cafe facilities where a fine breakfast was enjoyed whilst sheltering from a sudden shower. Had a wander and spent some money in the huge on-site shop too, before heading back to the platform for the arrival of D6737 (otherwise known as 37037). I don't think that all-over green suits this loco at all - and I don't think it's ever looked better than when it appeared at the 2005 gala here. However the loco was in excellent condition and we enjoyed a spin all the way to Totnes and back in the hauled DMU once again. The trains were getting a little busier too, and it was good to see that even in November the railway could persuade a good few visitors to come out to support the restoration of 'gronk' 09002. On our arrival back at Buckfastleigh we had a quick wander around the yard to get some pictures of heavily restored 33002 which had unfortunately been put out of the running today by an air-leak. The resident Class 50 'Superb' was hidden in the shed for attention to it's bodywork - but these were minor disappointments.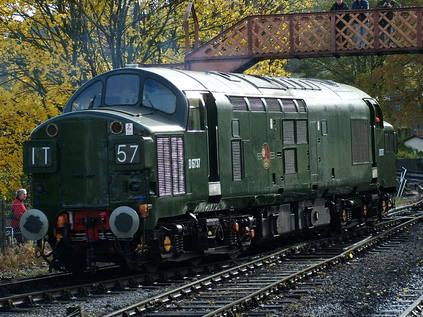 A final run down to Totnes and back with D7612 and with the crowds thinning and weather closing in, we decided to head home via a brief stop in the strangely quiet town of Buckfastleigh. The weather forecaster's prediction of rain coming on later in the afternoon was eerily spot-on and we just about managed to out run what appeared to be a fairly sizeable storm. Another excellent day out on the South Devon, which is certainly one of my favourite preserved lines.