Posted in Railways on Saturday 9th August 2008 at 11:08pm
---
In the absence of any plan today I decided to take advantage of First Great Western's 'Take A Mate' offer for season ticket holders. This meant I could get anywhere I wanted on the FGW network (and back) for £20 travelling first class. A second passenger could get the same offer too, but having no mates to take today, I settled for a return to London Paddington with a loose plan to explore the Croydon Tramlink network and to see where I ended up afterwards. There are a few tell-tale white spaces in my Baker atlas around south east London, and if time was available I should be able to fill some of this in. So, feeling much better than this time last week I left on the early train in a surprisingly bright sunrise, changing onto the London bound HST at Weston and settling in for a quiet and smooth journey to the capital.
Negotiated the busy concourse at Paddington and wandered down to the the District Line platforms, flagging a couple of trains before a direct service to Wimbledon arrived. Again a nice easy journey in warm, bright sun once we were out of the tunnels and heading south over the Thames. At Wimbledon, attempted to negotiate the transfer between Underground and Tramlink using an Oyster Card. I consider myself to be a seasoned user of public transport and have been fairly successful in negotiating my way around cities around the world - but the mess of different readers to touch in or out at made things totally unclear. Made my best effort including an attempt to get the reader on the platform to notice my card, and boarded the waiting tram for New Addington in my quest to cover the whole of the system.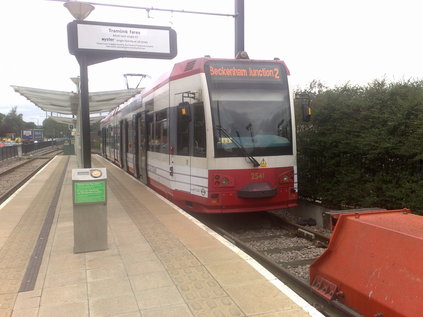 The line from Wimbledon follows the alignment of former British Rail metals to Mitcham Junction where it leapfrogs the heavy rail line and heads into Croydon town centre where the line swings northwards to come alongside the railway again at West Croydon where interchange is possible. Here a revenue inspector came on board and told me in no uncertain terms that my attempts to validate my Oyster Card had failed and that I was technically due to pay a penalty fair. Haven't felt quite so foolish since a similar incident in St Louis in 1994 - but at least this time the RPI wasn't carrying a firearm. Pleaded utter confusion and ignorance and kindly, he relented, stepped out and validated the card at West Croydon and told me always to touch in - even when I changed tram. Good advice - as I planned a fair few changes. Proceeded through the centre, past the busy frontage of East Croydon station and eventually out into the suburbs and the seemingly pleasant village centre at New Addington. After agonising about whether I should touch out - and correctly figuring out I shouldn't despite no clear advice on the signage, found a much needed drink and waited for the next tram back to Wandle Park which covered the other side of the circuit around the town centre and deposited me in a sudden rainstorm.
Switched platforms here and made the short leap back to Reeves Corner, then walked to the nearby Church Street stop. This allowed me to change lines and get a tram back around the town centre loop covering the third side of the triangle here, and out to Beckenham Junction passing the former alignment of the Addiscombe branch on the way. So another Tramlink terminus and a chance to change for the Crystal Palace train. This bit of track remains unmarked in my Baker, but stayed with the plan and doubled back on the tram to Arena with a minute to spare before the short hop to Elmers End, the final Tramlink branch to cover. Deposited in a bay on the National Rail station, found myself in an excellent position to cover the 12:07 to Hayes on this equally untravelled branch line. Rebooked, and caught the almost empty eight-car train to Hayes, amazed at how well the times were working out.
Back to London Bridge, covering the rest of this quiet (at least on a Saturday morning) backwater using the Ladywell Loop and the New Cross Spur which is carried on its own viaduct as the lines approach London Bridge. Here there was a choice - I hoped to cover the Caterham and Tattenham Corner branches, and now had the added possibility of the Beckenham Junction service. Instead, and despite the now fairly heavy rain, set off for Tattenham Corner on a trip I'd thought of doing a number of times. The premise was simple - train from London Bridge to Tattenham Corner, a brisk walk to Epsom Downs and a train back to Victoria. Unpacked my coat as the rain was now steady and unrelenting and set off via East Croydon, peeling off the mainline south of Purley and curving west and north to the station on the edge of the downs and close to the impressively large and surprisingly uneven Epsom Racecourse. Here, with only a vague idea of the route I became almost instantly confused. There were roads, but few paths aside from those worn into the grass of the downs. All seemed quiet, rural and desolate. Struck out in what I hoped was the right direction, wishing my GPS would find a signal!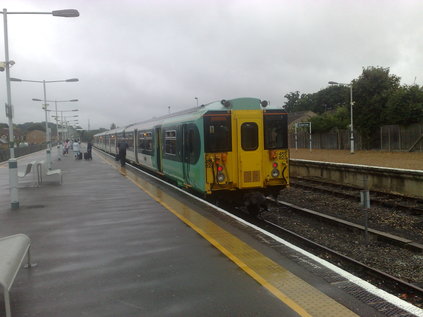 I was getting increasingly wet as I trudged along the deep ruts. I realised this wasn't working well - my stride was wider than the ruts and I resorted to walking through the long grass. Despite being wet, cold and very confused I was actually enjoying this. I haven't been lost for a long time, and the feeling of being out of my depth in countryside in the midst of a massive city was appealing. Crossed a road which led back to the racecourse grandstand and struck out on a rough path beside a golf course. My GPS kicked in just in time to tell me I was near the turning into what seemed to be a fairly innocuous housing development. Clambered back onto the road and plunged into a jungle of a different kind - one of outwardly pleasant but horribly silent, large houses. Two or three cars outside each and not a soul in site. I trudged, soaked and covered in grass, through the tiny cul-de-sac serving all these houses and at the end of the road, found my goal - Epsom Downs station with a train in the platform. Made a dash and got on with seconds to spare before the 14:35 departure. A good thing as the service appeared to be only hourly on weekends. Dried out as I passed on a fairly indirect route via West Croydon, Selhurst and Clapham Junction.
Via a packed Circle Line back from Victoria to Paddington and time for coffee before a relaxing run on the 17:00 to Bristol with a few odd glances at my grass stains and damp ankles in first class! A fine old day of travelling new lines, with a few left for a future trip. The fact that £20 and a travelcard covered the lot is even better.