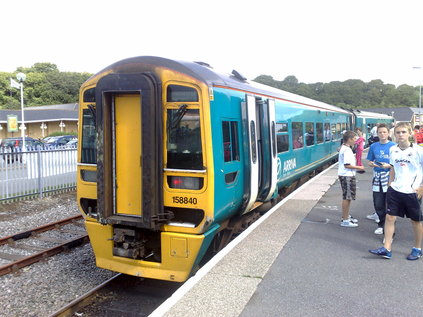 Posted in Railways on Saturday 2nd August 2008 at 9:14pm
---
If all goes to plan, August promises to be a busy old month. So, a fairly gentle plan for the first week - a jaunt around untravelled branch lines in South Wales. Woke feeling dreadful - a nasty case of the wrong beer, the wrong food and the wrong time of day to be getting up. Struggled down to the station and half-dozed my way as far as Bristol. Felt much brighter after the customary breakfast and settled in on the 06:58 to Swansea. This train has been intriguing me for weeks now - ever since the timetable change necessitated getting the 05:50 to Bristol in order to get anywhere useful I've watched this service arrive and depart near-empty. So, good to be settled into a nice first class seat, feeling much better and confirming Mr Spinks suspicion that the train would reverse at Bristol Parkway - it did, in platform 4 to be exact.
So, as the weather brightened up we sped westwards into South Wales. A fair bit of activity and a good few locos out and about, perhaps surprisingly for a Saturday. Noticed we'd lost a fair few minutes - seemingly due to the unloading of bikes from the rear power car which is proving a time-consuming exercise on all of the HST routes since the changes in operating practice associated with the fitting of Selective Door Opening on First Great Western. Concerned about what should have been a comfortable 12 minute connection into the 09:00 to Milford Haven. Need not have worried - 158840 which we'd noted lurking around at Cardiff Central rolled in a little after us, delayed by our train in fact. A swift step to the other side of the platform and we were soon aboard and climbing the bank to Cockett, with Landore depot beside the line.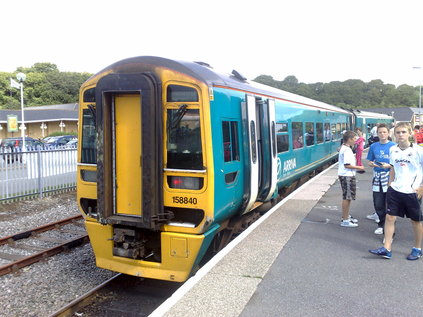 I hadn't covered the first part of this route for some time as the locomotive-hauled Fishguard trips (and indeed the unit substitutes when the loco didn't show) used the Swansea District Line as far as Llanelli. Soon on familiar ground though, and reminded of the last trip to Carmarthen - a good few years back. Reversed here and covered the first bit of new track for me today - the western leg of the triangle which sets Carmarthen off the mainline, on the stub of the former route to Lampeter and Aberystwyth. At Clarbeston Road, we took the southern fork in the single line, through the busy town of Haverfordwest. Passing the junctions for the fairly extensive network of oil refineries and storage sites, we finally arrived in Milford Haven. The platform was busy with Swansea City fans (heading for a testimonial match against West Brom) and a hen party, decked out in fancy dress and awaiting the return working of our unit, bound eventually for Manchester Piccadilly via the Welsh Marches! Stopped here long enough to get a picture of the busy scene to contribute to my collection of 'units at terminal stations' before boarding again to the surprise of the guard who exclaimed "you didn't stay long!". He couldn't confirm if we'd missed much, as I don't think he'd ever set foot outside the platform either!
The unit filled up with football fans as we headed back to the mainline, and it was good to get a breath of air at Carmarthen. Wandered a little, getting some lunch and enjoying views of the Afon Towy and the former route of the railway, before heading back to the station and waiting in the sun for our next train - First Great Western's summer only HST to Pembroke Dock. Once the hordes had disembarked with their luggage, boarded the oddly quiet train for what turned out to be a very pleasant trip but incredibly slow trip along another new branch. Retraced our steps to Whitland before curving south once again and heading into Tenby where we waited for the local unit to cross. Continued our lazy process, having a chance for a brief chat with the guard and confirming our plans to upgrade to First Class on the return leg. He was happy for us to do so, but couldn't issue a ticket because he didn't carry a machine, so we'd have to wait for the next Train Manager to board at Swansea. Eventually, after numerous unbarriered crossings and a descent through a deep cutting and a tunnel, arrived at Pembroke Dock station. The place seemed abandoned, a fine old canopy over the decaying platform, the building now a pub. At the end of the disused second platform what appeared to be a ramp for loading Motorail wagons. There was a strange and quiet atmosphere in the baking midafternoon sunshine here...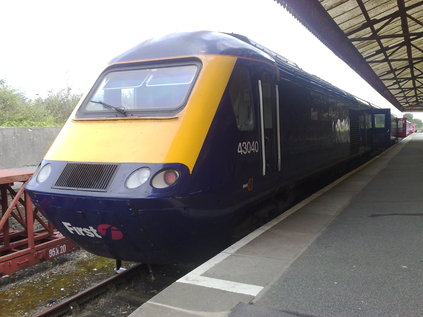 We wandered into the town which seemed near abandoned. There was bunting flying in the street to greet us, but few people around. It was truly odd - the street had all the trappings of a High Street - Woolworths, Specsavers, Boots....but there was almost no-one around. A dangerous looking drunk staggered from a pub behind us for a few steps before disappearing up an alley, and a pretty dark-haired assistant hid in the doorway of a bakery, twisting a plastic bag around her wrist. We pressed on down the hill and found the continuation of the street was mainly hotels. Doubling back we walked through an almost silent shopping arcade which ended abruptly in a deleted car park - both it's entrances blocked with huge boulders. There was life at least in the local Asda, and we brought provisions for the trip home before scuttling back to the station - me utterly bewildered and oddly disturbed by Pembroke Dock, and Mr Spinks more concerned about my wibbling about psychogeography!
Back onto the return working of the HST to find the staff having lunch and lazing in the sun. Found a seat in first and did a crossword in a found newspaper while we waited to crawl back up the branch away from this strange town. This out and back circuit is a long trip by any standards, but was once again well used from Carmarthen eastwards. Following reversals at Swansea and Carmarthen and a chance to attempt to see what was stored at Margam and ADJ, we bailed at Newport to catch a local unit directly home. We didn't ever see a member of staff to pay for our upgrade. A fine day with miles of new track and some interesting sights despite it's strange start. I wonder if I'll ever go back to find out if we really had seen all there was to see at Pembroke Dock?