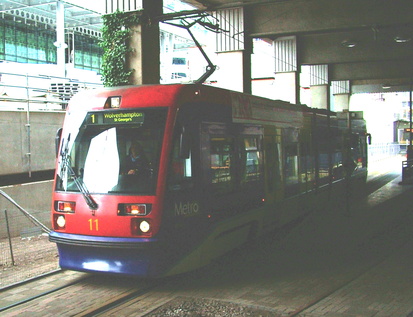 Posted in Railways on Saturday 12th July 2008 at 5:50pm
---
Decided to head for London today, with the intention of covering one of the shuttle services to Birmingham International which Virgin Trains are providing during the extended blockade on the West Coast Main Line. So, down to the station for the familiar 05:50 departure which was uncharacteristically late. This meant a swift change at Weston, and an ever quicker dash for Mr Spinks who needed to collect tickets from the machines and had expected to have about 20 minutes to do so. On board and in a quiet First Class coach with moments to spare. Surprising amount of activity along the route, with a fair number of locomotives out and about. Having planned to get the 10:00 departure from Euston, no great need to rush or worry about time - so finding the Circle Line closed was no great worry. Onto the Hammersmith and City, and since the entire ticket gate system seemed to be out of action, a free ride to Euston Square. Had a wander around Euston on arriving, with The Chief's Trainset led by 90028 in Platform 17, along with a Thunderbird and the Caledonian Sleeper with 90019 on the front. Network Rail staff proved a bit sniffy on the photography rules, but no major problems.
Joined the pair of Voyagers for the 10:00 with a surprising amount of other passengers. Had heard these services were quiet a couple of weeks back, but certainly didn't seem so today. Virgin, ever trying to turn setbacks into advantages, had provided a clever little leaflet entitled 'Where are we going?' which explained the reasons for the diversion, why the train was different, and gave a fairly full description of the route onto the Chiltern Line. People seemed to respond fairly positively to the efforts to keep them informed by the staff, and we received the usual Virgin good service. A shame there were no Advance fares for these trains though, as the full First Class service was on offer! Soon off, with little of the extended stopping which had been mentioned in previous weeks. Slow running certainly, as we took the line to Acton Wells Junction, then onto the Great Western Main Line where we'd come into London. Then, via Greenford and a short section of the Wycombe Single to South Ruislip where we joined the Chiltern route proper. A mixture of comfortable running and crawling behind local units, but no delays and no outright stops as such. Decent weather seemed to be the order of the day as we progressed north, taking the line via Kenilworth to reach our destination at Birmingham International.
A swift change onto a Glasgow-bound Pendolino here, missing a passing Class 92 hauled freight in my efforts to check we weren't going to scoot directly up the WCML to Preston or something! Would dearly love to have stayed on board for a longer trip, but today it was just a short hop to New Street and a fairly quick change for a Stafford-bound semi-fast service passing Bescot and calling at Walsall. Bescot now appears to be little more than a dumping ground for a host of aging locomotives. However, a bit of activity with a Class 08 with a cut-down cab, and a gaggle of 66s at the north end of the depot. At Walsall, got confused by the horrible shopping centre on top of the platform, and ended up missing the train to Wolverhampton. This meant an hour long fester in Walsall. Not a happy moment for me as I trudged through the town feeling gloomy, getting annoyed at the locals and finally settling for a fairly good pint of Banks' while I waited patiently for the next service.
The reason for the wait when I could of course very easily gone back to New Street, was the need to cover the curve back to Pleck Junction which I'm certain I've never done - a combination of 170 and 153 turned up and duly covered the required track, arriving at a rather windy Wolverhampton a few minutes later. Since we had some time to spare, and since Mr Spinks had yet to cover the Midland Metro line to Snow Hill, we decided to take the tram back to Birmingham. Passed a bunch of youngsters beating the crap out of each other one the way to the tram terminus at St. Georges, as a reminder that we were in the West Midlands. Nice. Not sorry to leave Wolverhampton and Walsall, having had memories stirred of a very miserable long wait for the cancelled Electric Scot Farewell tour back in December!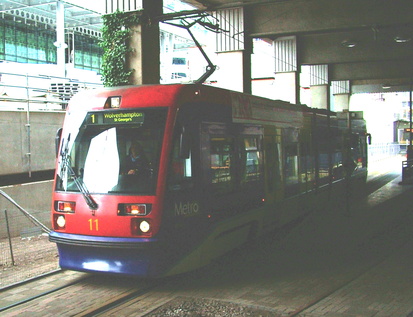 Had a camera disaster resulting in the dingy image above, and generally began to write my day off as not one of the best, despite some interesting journeys. Mr. Spinks however insisted it was his lucky day, and things did seem to start working out rather surprisingly well on arrival back at Birmingham. After a wander down to New Street, noted that 1V63 was about 40 late from Newcastle and showing as cancelled south of Birmingham. However the screens said 'On Time', and a curious train had appeared on the Live Departure Boards timed a few minutes later than the 16:40 and marked 'Starts Here'. The crew turned up, and were equally surprised to see an empty Voyager set roll in. Soon away, the only passengers in First Class on a replacement unit - with the rest of 1V63 still somewhere north of Derby as we sped south down the Lickey! The strange turn of events continued as we arrived back in the south west. We laughingly speculated about a delay meaning we could grab the 17:53 instead of waiting for the 18:53. On checking, indeed it did seem to be delayed by a few minutes. On arrival though, things were going very badly for most folks at Temple Meads. Lineside equipment failure had knocked back all the Severn Tunnel traffic, and our train was 40 minutes down at least. We chatted over various possibilities for recovering the service, including First Great Western's latest favourite tricks, turning the service at Weston (bad for us) or running fast to Weston (possibly better!). In the end, in a rather surprising move, the train ran around 50 late with the first stop at Highbridge. Tried not to grin too much as we wandered past disgruntled Westonians and boarded the unit, meeting a gent who'd been on the first train out with us for what we dubbed 'The Highbridge Express'.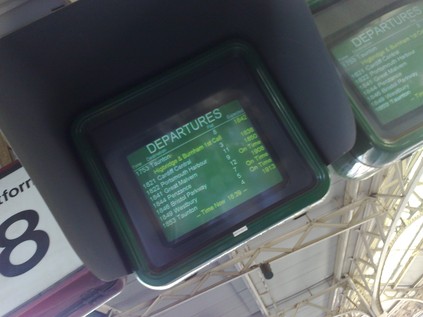 The driver took full advantage of a non-stop run, and by a rough calculation we covered the 27 miles or so in around 26 minutes, averaging close to 60mph in the rather lively 143621! So, a strange and varied days with some unusual turns of luck. A good trip, an interesting route and a quick ride home.