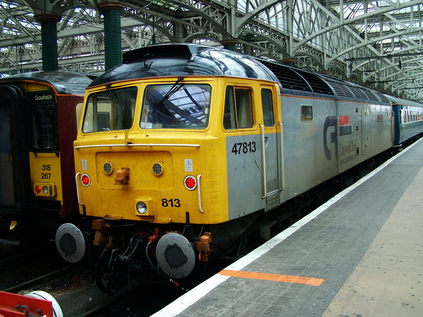 Posted in Railways on Saturday 18th August 2007 at 11:25pm
---
Regular readers will recall the saga of 16th June 2007. Originally it was meant to be a Pathfinder tour along the Cumbrian Coast to rather nicely mark the end of my week on the rails. Following the cancellation of this, I switched to a Heartland trip to Glasgow - mainly just to sample this company and again to use my week fully. The first bad weather of the summer soon put paid to this. Later in the summer, this trip once again succumbed to the weather. But finally, today I managed to undertake one of the planned trips - exorcising the troublesome ghost of 16th June 2007 at last!
Had the original plan worked in June I would have been in a hotel next to New Street, and this would have been a relative lie-in. Instead, stumbled to Redditch station for the 06:27 to Birmingham feeling sleepy. Snoozed for much of the way in, feeling rather odd and distracted. Grabbed a little breakfast and enquired as to the platform for the tour as it wasn't on the screens at all. Shuffled off to platform 7 and soon heard 47813 rumbling into the station hauling the Blue Pullman stock. Found my seat in the beautifully neat and tidy First Class coach, envying those who'd forked out for Silver Service dining and noted how much better this stock was compared to that offered by Riviera on recent trips. Immediately served coffee and pastries. Settled into the quiet and rather lightly loaded coach and daydreamed my way northwards.
There's been a lot going on around here lately, and I've been somewhat distracted - to the point of forgetting half the things I meant to bring with me, to charge my camera batteries, my MP3 player and a whole host of other things left undone or uncollected. This theme persisted, as I looked up to find myself heading for Bushbury Junction having left New Street via Aston. Realising that I'd missed probably the only rare routing of the day, took comfort from having done it on a previous tour and settled back into my ponderings. As we headed north we passed through a patch of relatively clear weather around Crewe, but this didn't last and we were soon speeding through driving rain again. Despite my distraction, I couldn't help but enjoy the journey, and the rugged country in Cumbria was somehow more forbidding in the gloom and mist.
As we entered the Glasgow suburbs I managed to snap out of my reverie somewhat and couldn't wait to get my feet onto the city's pavements once again! Practically leapt from the train and scurried for a quick shot of the locomotive on the blocks...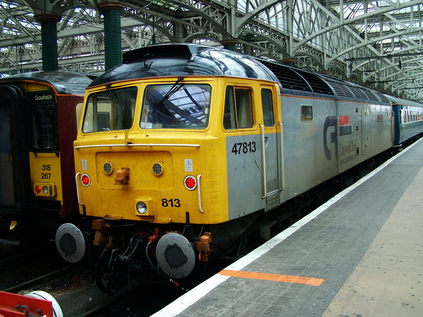 ... and with picture safely taken, set a purposeful pace out into Renfield Street. The rain was hurtling down on me and I was sodden by the time I passed my usual coffee stop. The lights seemed to work against me at every crossing, and I soon lost count of how many umbrellas had nearly blinded me. I was on a mission - albeit a fairly silly, self-indulgent one. It's simple - in every city I frequent I love to discover new things - but there is a frame of familiarity I need to hang things on in order to understand and contextualise the place. Over the course of my fleeting visits to Glasgow I've developed the same set of almost ritualistic visits and activities which I mix in with my voyages into the unknown whenever I can. This time, given all that's happening to me at present, I wanted to revisit the lookout on Garnethill - a place to which I've attributed undue significance over the years - mostly because it's always been a useful place to clear the head, punctuate events and refocus. So, left into Renfrew Street, the ground rising slowly - not as steep as the usual route. Right into Hope Street and past the Theatre Royal. Left again onto Cowcaddens Road, remembered from a bus route, over the lights and onto Buccleuch Street, the ground rising markedly now. Familiar territory despite not having been here for four years or so. Realising I've gone a little too far north, up the sharp hill of Garnet Street onto the brow of Garnethill, and finally to my destination. The view of the M8 motorway, the university spires, the suburban towerblocks and the distant Campsie Fells is recorded elsewhere. Stood, getting even more drenched and taking in the view and recovering from the lung-shattering last climb. Elated to have made the dash once again. Eventually, shuffled off on blistered feet, assisted a group of tourists towards the Tenement House, and took baby-steps down the terrifyingly steep Scott Street to reach the safety of Sauciehall Street, thronged with Saturday shoppers. Out of my personal Glasgow and into the communal city once again. Retreated for coffee on Renfield Street, realising I'd forgotten my notebook along with everything else this weekend!
Back to the station, thinking others had probably done very different things with the short time the trip allowed in Glasgow. Shopped for provisions and wandered the station, enjoying the atmosphere and watching people. Felt a little less dizzy and unfocused now, and even managed to chat with some fellow enthusiasts who were waiting for our train to return and to take a few shots before my camera batteries failed completely. Naturally, I'd forgotten to bring the spare set.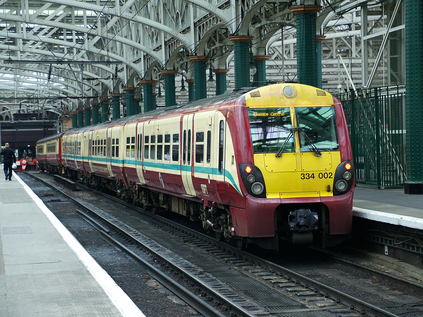 Eventually, after a little delay caused by a late departure from the depot and the usual First Scotrail reluctance to deal with Charter Trains, we were away over the Clyde. Another all too short visit to Glasgow finished. As we thundered south with 47828 in charge (as the driver announced "an excellent engine") took an opportunity to hang out of the window, getting a face full of sea-spray and rain near Hest Bank while watching the loco spout black clag as it accelerated away from a signal stop at the level crossing.
A strange, disconnected day - but one which cleared the decks for stranger times ahead maybe?