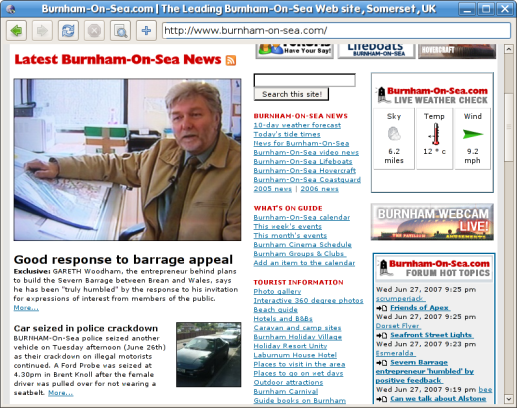 Posted in Computers on Wednesday 27th June 2007 at 9:36pm
---
Many years ago, as part of a project to make lots of tiny applications, I wrote a web browser. It linked with the Gecko rendering engine from Mozilla and even though you had to have a whacking Mozilla install around, it was a quick and useful way to view URLs from chat programs and suchlike. FuzzyTheBear loved it, and spoke highly of Denzil far and wide - and a fair number of people downloaded it and used it for simple, quick tasks. The source code has lived on this webserver ever since, and I've dutifully moved it when hardware has changed or the site has been updated - but it's fair to say I haven't thought about Denzil for a long time!
Last night, I wandered into the #lemmings chatroom on Freenode to see which of my old friends was around. It's been a while, and following a few turbulent times lately I felt like I needed to catch up and relax a little. It was good to see some old faces around, and I was welcomed back into the fold like I hadn't been away. Later, when I was happily chatting and completely off-guard Fuzzy posed the question:
Could Denzil be compiled against a modern Firefox or Mozilla installation?
I'll confess I've wondered myself in the past - and even experimented a bit, and I shared my thoughts on how it would work. We even managed to get it building and running - but things had changed a little and it crashed on https:// URLs. We also talked about how the configure ought to try to check for Firefox or Mozilla and proceed accordingly. After agreeing this would make someone a great project, and remarking on how I'd used mental muscles which hadn't been flexed for years, I slipped off to bed happy to have chatted with friends again.
Well, a curse on FuzzyTheBear because I think he knows that once he'd woken me up and placed the trap, I'd fall right in! I never could resist a challenge, and tonight in an unguarded moment I set about figuring out why Denzil crashed on secure sites. I soon cottoned on to it being something to do with the Firefox and Mozilla profile system, and found a neat fix by looking for a user profile in .denzil. If it wasn't there, the libs were smart enough to set things up. Great! Next I tried to fix up the configure script. This was tougher, and the arcane syntax took awhile to resurface from the depths of my mind. After a bit of playing, tweaking and research I got the application to check for either Mozilla or Firefox, but always to prefer Firefox - because it just seems lighter and neater to do so. Inspired by this success, I fixed a bunch of warnings and complaints caused by building an ancient package, and even got the .desktop file installing correctly into the Applications menu.
Soon, not noticing how much time had passed since I sat down to 'just see if I could fix that bit...' I found myself bumping the version number, writing up my ChangeLog entry and doing make dist...
...and that's how Denzil managed to get it's first release since 15th July 2003!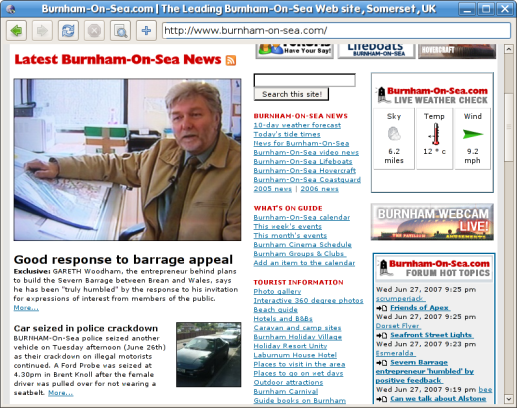 Denzil still does what it always did, still has its funny 'self-contained' bookmark system, and still relies on wget to download things because I still haven't managed to figure out a smarter way. Best of all though, the stripped binary is still less than 20Kb in size! I'm sure that there are still lots of ways to break it too, and I'd be interested to hear of them - but for now it seems to work well enough.
You can download the source code for denzil here:
If you find it useful, I'm glad to be of service...and don't forget to thank FuzzyTheBear for knowing just which buttons to push to get me working!