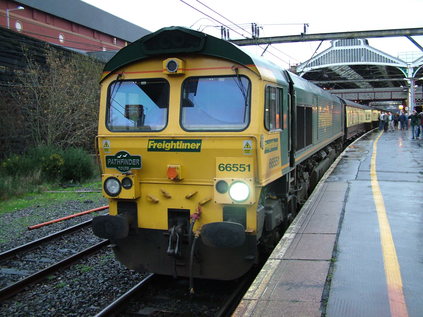 Posted in Railways on Friday 29th December 2006 at 11:55pm
---
Swindon does not look it's best at 5am. Checked out of the hotel and struggled up a windswept street littered with the remains of what seemed to have been hundreds of kebabs. There was evidence of petty vandalism everywhere, including a telephone box entirely stripped of its glass. Turned the corner onto Station Street and met a keen wind full in my face. There is little glamour in my hobby, and on mornings like this even I struggle to see the attraction! Things on the station were just beginning to get ready for the day ahead, so no hope of early coffee or any kind of breakfast. A couple of familiar faces had already arrived, and soon afterwards the stock trundled quietly in from Old Oak Common behind 66120.
The first part of the tour saw us getting fairly close to home, travelling via Bath Spa and around the Rhubarb Curve to avoid Bristol Temple Meads. I haven't done this curve for years, and the recently cut First Great Western service from Bath to Filton Abbey Wood runs at times guaranteed to see it stuffed with people - so despite being on my doorstep, this isn't a bit of track I cover often. From here, up to Bristol Parkway. I'd considered boarding the tour here, but it was still an ungodly hour with no rail connections from home, and I didn't feel cheeky enough to try to get anyone to give me a lift out here during the holiday season! Familiar track now to Birmingham via Camp Hill, and a chance to snooze between frequent and almost futile attempts to mop condensation from the windows of one of Riviera's 'flagship' coaches!
Out of Birmingham to Bescot for our first locomotive change. DRS's 37194 and 37229 were suspected to be our traction yesterday, and indeed both of these fine locomotives produced. As a couple of the planned locos were not available (namely the DRS 47 and 66) this was one of the day's highlights. Off Bescot with impressive ease, and via Wolverhampton to Shrewsbury for a brief crew change. Took the Wrexham line from here, and made impressive progress, remaining bang on time most of the way despite a pointless check at a level crossing at Gobowen. First bit of new track for me next - after joining the Chester-Holyhead line at Saltney Junction, we swung left onto the Chester South Junction to Chester North Junction curve. OK, it was mere yards, but it matters to me! A short thrash along the southern reaches of the Merseyrail network, and into the impossibly long siding at Hooton where 66551 was waiting to join the rear of our train.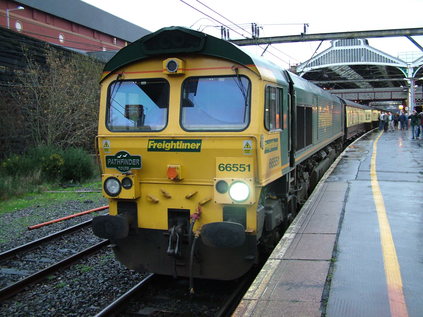 The next part of our itinerary was a bit of an oddity - more new track for me, including the poorly served Ellesmere Port to Helsby line, but then a rather tiresome trudge down the Kirby branch and back. True, this is unusual territory for loco hauled trains, but there was a feeling that the time might have been better spent elsewhere or on a photostop during the precious daylight hours available. I wasn't too concerned, despite visiting Kirby early in the year. The route produced some interesting movements including Parkside Junction to Golborne Junction near Newton-le-Willows, the goods lines under the WCML at Bamfurlong and the connection between the WCML and Wigan Wallgate to name a few. A long 'operational stop' at Rainford to let the hourly unit leave the token section to Kirby, with the DMU driver hooting repeatedly as he passed - not entirely sure if he was saluting the presence of real traction on the branch, or desperately trying to persuade a train full of impatient bashers to get their heads back in the window. A very brief stop at Kirby to revese, with the 37s now leading again back to Wigan South Junction, where we took the line through platform 1 at Wigan North Western, then crossed onto the fast for a quick run into Preston behind 66551 again.
Tried to get a few shots at Preston, but on a very grim December afternoon with failing light, didn't have much success. Went in search of food instead and watched the parade of Transpennine 185s passing by. Also noted pet Duff 47826 thundering through northwards. Watched 66551 disappear Crewe-wards with the 37s in tow, and saw 60030 backing onto the train. All my 60 haulage during the year has been fun, and this was no exception as the driver notched up the power in rapid explosive jerks making coffee drinking near impossible! Branched towards Bolton, and got rather bogged down in some slow running as far as a booked operational stop at Moses Gate Up Loop. Away on time though, with a slow and noisy thrash under Manchester Victoria and as far as Ashton Moss North where things started to get very slow indeed. Crawled onwards to Denton Junction, and then made fairly good progress to Stockport. Only a couple of minutes down through Wilmslow, with no sign of the usual hour or so of late running which railtours seem to produce! Things took a turn for the silly at Crewe however, where an earlier fire had led to delays and congestion. Sat outside the station for what seemed like ages before being allowed into platform 5. At least our occupation of the main North-South platform meant that our loco change here was accomplished very quickly, and we were soon off carrying around a 27 minute delay.
Any hope of catching this up was dashed by following a unit via Alsager to Stoke. Where he could, the driver used 86614 to its best abilities and we were making impressive progress. The need to take the slow link to the Grand Junction line at Bushbury slowed us further, and we arrived at New Street around 35 late with another locomotive change to be completed. Debated whether to bail out here or enjoy a few minutes behind the last loco of the day to Barnt Green. With the time a little after 2100 and the loco change taking what seemed like ages, I was in a quandry. I needed to get the 2115 to Redditch - either here, or at 2139 from Barnt Green. There was also the question of a Bristol train due out at 2110 - would the signaller be brave enough to send the tour out first? A kind soul pointed out that the Redditch was 10 late, so I'd likely make the connection at Barnt Green. Stayed on, and with 66120 ready to go, surprisingly the signaller let us go ahead of the Voyager. Enjoyed a last few minutes of haulage before wandering down the train to a coach which would be on the short platform at my destination.
Disembarked at a very wet and windy Barnt Green about sixteen hours after I set out from Swindon. Whilst crossing the bridge, noted with some satisfaction the lights of the Voyager stopped at a signal behind our train. Need not have worried about the connection as I ended up waiting for 15 minutes in the rain for the Redditch train. Much needed beer and food provided on my arrival in my home town, courtesy of my uncle who uses my visits as his excuse to spend an evening in the pub, waiting for me to finally arrive. Overall, another cracking day out - all the better for being my first journey of any significant length for a very long time. The only improvement would have been more photo stops and more daylight - but that in fairness is a little beyond Pathfinder's control!