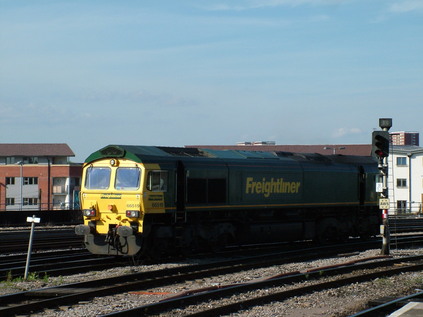 Posted in Railways on Saturday 3rd June 2006 at 9:01pm
---
Eager to get out and about today to enjoy the weather. Settled on the usual start - 2M02 to Weston and then 1S42 northwards - to get me into position for some further new track in Merseyside. I've noticed a strange pattern in my wanderings - last year I was intent on picking off bits of the network in Yorkshire and The Pennines. This year so far seems to have seen a tendency to the other great vacancy in my Baker - the Merseyrail system and associated branches.
A less than comfortable ride from Bristol onwards on our Voyager, as stocks for the shop were sparse and once again I'd foolished travelled in the direction of an important football match. The groups of England supporters who made it down to the quiet coach were, well - not quiet at all! A fairly good natured bunch overall however. They bailed at Warrington, joining a fairly large crowd already gathered. I'm pleased not to have been on the following Arriva Trains Wales service into Piccadily!
Arrived at Preston in fantastic weather. Memories of wandering this station many years ago, waiting for a train to Blackpool North and marvelling at the variety of different locomotives passing by. Today, it's all a little different, but there is still a sense of excitement about the place. A real railway station, lots of platforms, a great glass canopy and a constant stream of trains calling. Passengers heading for Manchester for the football were equalled in numbers by those heading for Blackpool to make the best of the sunshine. Noted my own need to finish the job in Blackpool by making the journey to Blackpool South sometime.
On to an unrefurbished Northern Trains Class 142 unit for the ride to Ormskirk. Once out of Preston, and over the complex trackwork at Farrington Curve Junction, we made fairly swift - if a little bumpy - progress along the single line. Noted on my travels a couple of weeks back how flat this part of Lancashire is as it approaches the coast. The line seemed to be on an elevated dyke running fairly high across the surrounding fields. Crossed the line from Wigan Wallgate at Burscough Junction. From this vantage point, it was easy to see the alignments of the former junction lines here. Spotted a little more of the village too which is not so evident from the Wigan line. Seems a nice little spot.
Ormskirk, like Kirby is the boundary of the electrified Merseyrail system, and also has the same arrangement where a buffer stop interrupts what would otherwise be a continuous route into Liverpool. Not quite as desolate as Kirby however, with a neat little station building not far from what seems to be a bustling town centre. Rebooked at the ticket machine and boarded an already busy Class 508 for Liverpool Central. The short journey took us via Aintree, where building works seem to be underway to construct a huge grandstand at the racecourse.
Eventually, all of the Northern Line branches funnelled into one, and south of Sandhills we plunged into the tunnel which takes the line under the city. Alighted at Central station, and finally found an escalator free route to the surface. Found myself in the midst of a shopping complex. Exited and tried to find the remains of the station buildings here, which I'm sure I remembered from years ago. Must have been either mistaken, or too late as there was little to see except the glass roof of the shopping centre. Reminded that Liverpool was a developing city, which never stood still for long. A short walk through the busy city centre to Lime Street station - and once again I'd arrived in Liverpool on a parade day! This time it was the Lord Mayor who was making his way through, accompanied presumably by the floats I'd seen lined up on the outskirts of town just before we plunged into the Northern Line tunnel.
Found some lunch, then booked my onward journey to Wigan North Western, travelling via St. Helen's Central, and clearing up another bit of track. Onto another 142 - this time a slightly tidier Merseyrail example, and out through the deep cutting to Edge Hill East and Huyton Junctions. New track from here, with lots of stops at well used local stations. Soon enough we creaked and squealed around the tight curve and rejoined the mainline a little south of Wigan. After a brief venture into town, decided to sit in the now extremely warm sunshine and wait for 1V61 back to Bristol which arrived only a few minutes down.
A farce seemed to be in progress back in the south west however, as we arrived to find a Weston stopper cancelled and several services from London running late. The 1800 Paddington languished at platform 13 with no guard or driver, and a terminating service was blocking our platform. Watched 1C50 get later and later. Still no movement on the 1800 service, with plenty of hot and bothered passengers on board. Wandered out onto the end of the platform and watched 66519 manoeuvring.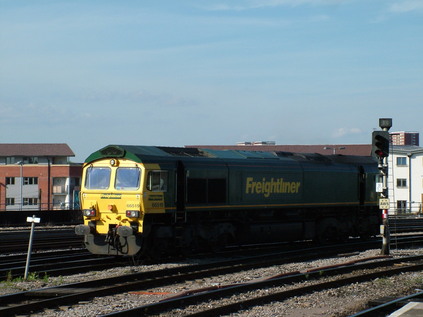 Finally crew were found, trains were dispatched and things started moving again. About 20 down we left on the final leg of my journey back to Highbridge. Another successful mission into Merseyside complete.