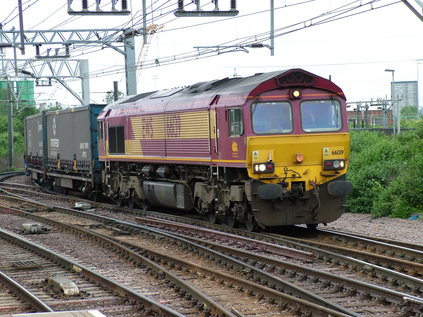 Posted in Railways on Saturday 27th May 2006 at 9:00pm
---
Up and out a little earlier than usual today, with road transport provided as far as Weston by a friend to pick up the first train of the day - the 0630 to London Paddington. There wasn't really a plan beyond heading for Stratford and seeing what developed. It was never going to be exceptionally busy with freight on a Saturday, but today was a chance to explore a bit for future reference at a station I normally zip through at high speed! The weather wasn't promising as we boarded at Weston, and deteriorated still further as we sped towards London. A fairly uneventful couple of hours later we arrived at Paddington, and took the Circle Line to Liverpool Street. There is an excellent service from here into Stratford so we didn't rush and watched the arrivals. Lots of variety and quite a few unfamiliar electric units around in a mixed bag of liveries. Photography in Central London stations is now virtually impossible, so we boarded the 09:34 Southend Victoria service for the short ride to Stratford.
It was still overcast on arriving, but dry and fairly warm once out of the breeze, so we set up camp on Platform 10 nearest to the junctions with the freight lines. This paid off soon after our arrival with a pair of EWS Class 66s passing on Transfesa trains between Dagenham and the Channel Tunnel.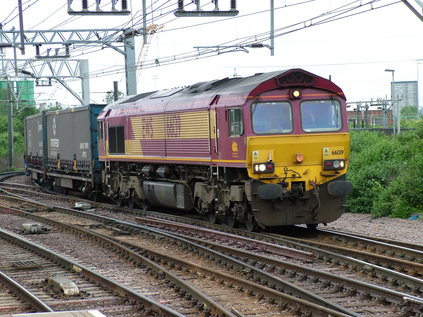 The passing trains settled into a pattern now of ONE stoppers and longer distance units, with the occasional Intercity service in the hands of a Class 90. These services are now using refurbished Mk 3 coaching stock, and externally look fantastic. Hard to see if much has changed inside since I last travelled on this line.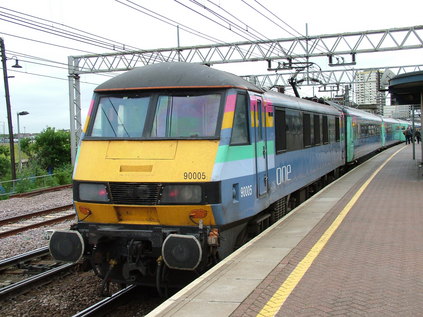 Decided to move on, but waited a while on the advice of a fellow enthusiast and just caught 66578 on a Freightliner working before heading downstairs into the impressive new station buildings to the North London Line. My companion on this trip had done very little travelling in this part of the world, so with the rain setting in for the day, and Stratford rather quiet decided to head for Willesden Junction. The train became very busy after West Hampstead - mainly with Twickenham bound Leicester fans changing for Richmond. Off at Willesden Junction, and along the well-trodden route to the Metal Bridge. Noted immediately that all was not well, and soon realised that the southern end of the WCML was closed for engineering works today, with only a shuttle service to Hemel Hempstead in operation. Spend a little while checking what was on the shed, before heading back to the station.
The original plan had been to travel back to Euston from here, but with that not an option decided to take a few steps back to West Hampstead and then the former-Thameslink service to Kings Cross. By now, the rain was fairly heavy and clearly not going away, so a whistle-stop tour of North London terminii for my colleague seemed like a good idea. After a wet wait at West Hampstead, surfaced on Pentonville Road and dashed over to Kings Cross. A quiet afternoon here too, with Virgin staff deployed to redirect travellers to Scotland displaced from Euston onto GNER services. A short trip from here, via the Suburban Platforms to St. Pancras. Again quiet, with more long-suffering Virgin types this time dealing with East Midlands travellers. In fact, the only place we didn't seem to be besieged by Virgin staff was at their own station, Euston. A quick walk along Euston Road in the rain brought us to the quiet terminus. A fair few bits and bobs stabled in the platforms but nothing moving at all due to the blockade. The next leg was to travel by Underground to Baker Street, for the short walk to Marylebone. Today the usually rather quiet station was packed with travellers looking for alternative routes to Birmingham. This remains a pleasant little station to visit, and I made a mental note to include a refresher trip along this line next time I plan a Rover.
Just a short tube ride from Baker Street to Paddington, then a chance to dry off and relax with a pint before catching the 16:30 all the way back to Weston. On the way home, we heard the shocking news concerning a murder occuring on a Virgin service near Oxenholme. It's far to early to speculate on what happened, but it sounds from early reports that staff on the train did an amazing job of handling an impossible situation and keeping passengers safe. Sobering stuff, not least for the staff on our train who were visibly troubled by the news.
So, all in all a busy and active day, which was actually a lot of fun despite not being hugely productive in some ways. Next time, all the Southern terminii perhaps?