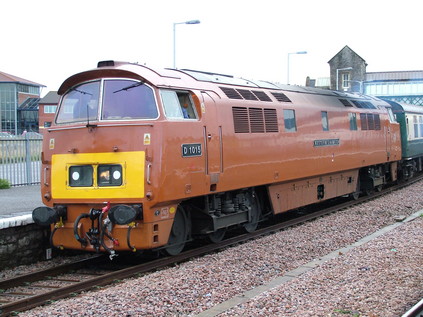 Posted in Railways on Friday 2nd December 2005 at 10:51pm
---
Once again, managed to slip out of work for a while for one of D1015s now almost regular visits to Weston. Arrived a little after 1100 to find Western Champion awaiting the departure of a unit from platform 2. A chance to get some shots, despite poor light and bleak skies. A fair turn out of enthusiasts for a weekday morning too. The 'Dunster by Candlelight' tour has become an interesting annual event now, but today was perhaps not quite the event which last year produced!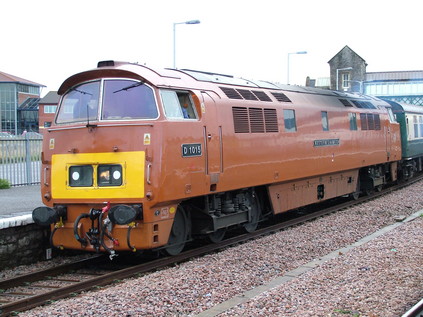 Bang on 11:11 D1015 thundered out of the station, leaving a trail of clag in its wake. Exhilarating stuff, and a reminder of why I go out in the cold when I could be safely tucked into my warm office! Other rail users have not been quite so lucky today.
Later, after another delayed Wessex journey home, I was wandering back from the Coopers Arms when I heard the tell-tale sounds of the Western passing on it's return trip. If I'd planned my times better I could have watched it pass Highbridge at speed. Still lots to get used to in my new location.
Lost::MikeGTN
I've had a home on the web for more years than I care to remember, and a few kind souls persuade me it's worth persisting with keeping it updated. This current incarnation of the site is centred around the blog posts which began back in 1999 as 'the daylog' and continued through my travels and tribulations during the following years.
I don't get out and about nearly as much these days, but I do try to record significant events and trips for posterity. You may also have arrived here by following the trail to my former music blog Songs Heard On Fast Trains. That content is preserved here too.
Navigate Lost::MikeGTN Find articles by category
Search Lost::MikeGTN
Other Places...