Posted in Railways on Saturday 27th August 2011 at 10:47pm
---
My attitude to Kent has changed a lot of the years. Originally put off by the dull dash through the flat, featureless centre of the county, it took the serious attempt to cover all of the UK lines, along with an All Line Rover years back to start to dispel the image. Since then, when I've had weeks to spare for my own self-organised travels, I've made a number of jaunts out into Kent. Not least because it means part of a day in London if I want to come back early too. This time though, I decided I wanted to visit Margate. Not sure why or what might have spurred this, but I realised that on my many trips this way I'd never stopped off here. Add to that the fascination I have with seaside places, and the dim knowledge of artistic links with Tracey Emin and the like, and I suppose I got rather curious. I'd mentioned it to a number of people at work and they'd all remembered Dreamland. A turn-of-the-last century attempt to import the theme park concept and add a little twist of Britishness. I was intrigued by this, and set-off with an explorer's enthusiasm this morning.
The trip went smoothly enough...customary switch at Weston, breakfast and a pleasantly quiet run up to London. A quick spin on the Circle Line to St.Pancras, and time to get a coffee and head for the platform where Javelin No.8 was waiting to whisky us along HS1 and into Kent. Soon, off and speeding under London as a noisy family settled into the seats beside me. Put it out of my mind and enjoyed the sense of speed as we dashed through North Kent and down to Ashford. Here things slowed to what felt like a crawl as we progressed on old fashioned third-rail tracks via Canterbury West and onto the coast at Ramsgate. The weather had varied dramatically as I sped east - dark rolling clouds, some short showers, but now surprisingly bright sunshine. I finally stepped out into Margate for the first time, having no real idea what to expect. As it happened things were going to get rather eventful...
After taking a look at the impressive station building, I walked down the slope near a strangely inviting Premier Inn onto the prom. Nearby, all of the shops in a strange concrete arcade were shuttered and things seemed closed. Towering from the top of the arcade was a huge, oddly corrugated looking towerblock. It still seemed to be lived in, just about. Turning the corner, the remains of a shopping arcade tunnelled deeper into the concrete. Blocked off at the end by a steel pallisade fence which was sprouting vegetation, only a couple of shops seemed active - a fairly run-down looking cafe and a joke shop which had been provisionally amended to be a 'Bong Shop'. I shuffled on, passing some blue hoardings of the kind beloved by stalled developers. Looking at the aspirational images pasted onto them I realised that this was, in fact, dreamland. Almost entirely gone now, the posters promised a new Dreamland, saved from the jaws of residential development with Sea Change and Heritage Lottery Fund money, a new 'heritage' theme park would rise here. Some day.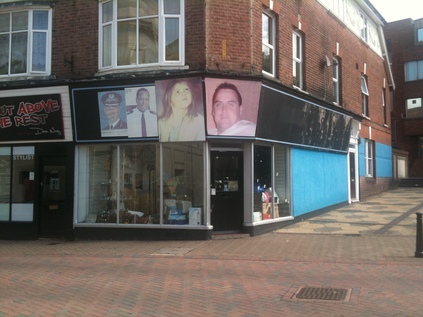 Passing the front of Wetherspoons, the first open business I'd seen, I noted the shuddering early drinkers fumbling with tobacco and watching traffic on the prom. A gentle rise brought me to the High Street, a narrow pedestrianised affair, jammed with lower rent national chains, such as Wimpy - which I only seem to find in Kent these days. At the top, opposite a nameless junkshop which featured pictures of leading policemen and odd portraits instead of a name, I saw a view down a steep hill into a massive vacant area littered with twisted metal and broken stone. A little mental geography made me realise that this was the remains of Dreamland. Stumbled down the hilly street to the pallisade fence which seems to be everywhere here, and pressed my camera through the bars.
I felt a presence nearby as I took some shots of the place, zooming in on an abandoned, peeling arcade and a collapsing rollercoaster. I thought nothing of it - people pointing cameras are always fair game for passing voyeurs - more to see what they're looking at than as subjects themselves. However, a tap on the shoulder and the presence of an unmarked white van confirmed my worst fears - security. After a brief altercation during which my camera was manhandled, and the Police were briefly involved - much to their disdain - the security guard, a square, pale-faced and haunted looking character, finally asked me in his esturine accent "So, why was you takin' pictures 'ere then?". I thought a bit about what might be least annoying or incriminating and replied "Well, it's just interesting I suppose". He looked at me first with disbelief and then with unfettered disgust. He spat the words "Fuckin' pervert" as he got back in his van and left. The bored Policeman watched him go silently, and to quell the awkwardness I said "Well, I might take some pictures then!". "Better not push it" he replied, and disappeared off into what was sure to be a busy Bank Holiday weekend.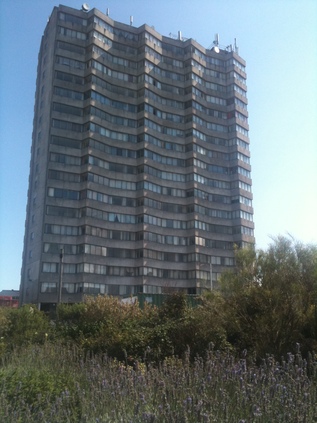 The rest of my visit was less eventful - descending the High Street I entered a strange zone of clubs, alternative clothing and semi-legal stimulant shops. The street was directly above and behind the promenade here, and some of the stores had ground floor entrances there too, including a vast Primark branch. At the end of the High Street though was the Old Town. A mixed up neighbourhood of old squares, impressively unchanged buildings and painfully cultural boutique businesses. A pleasant area, flanked by the monstrosity of Morrisons which must have destroyed more of this landscape when it was parachuted into town, likely in the 1980s. I decided to head back to the railway station, via the preparations for a vast performance artwork tonight - Blink Margate which promised to re-imagine the seafront. After taking a few shots around the concrete monstrosity of Arlington House where I came in, I pondered Margate from the "Standing Stones" sculpture between station and sea, as bits of conversations drifted by "she said I was on drugs...well, that's Margate". I read too, that Tesco had purchased the rear of Arlington House, beyond the pallisade fence the illogical and forbidding carpark, a concrete maze, was being transformed. Locals bickered about the store - good for town, bad for locals. Hard to say. I saw plenty of my home town's troubles here too.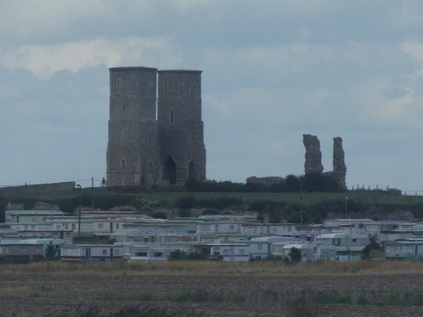 Back on the train, I took the slower, traditional route back to London Victoria. A sleepy, warm trip - despite a flash of very heavy, tropical rain on the coast. Black, tumbling clouds rolled over the cliffs and framed Reculver Abbey, subject of recent reading. I took snaps of the towers through the dirty windows. I wished I'd had the energy and drive to get out to them on a bus or something, but the urban exploration had left me curiously tired and rather forlorn. Work pressure hemmed me in, I was worrying again. Maybe a good sign after an impassive and uncaring summer? The ruined abbey was oddly comforting. I decided on arrival to take a bus across central London, to pop into Euston again. As I left, another bus back to Paddington, another sudden tropical storm lashed down, despite clear blue skies south of the river. It had been a very strange day, but an eventful and interesting one. I read and pondered my way home in a curious and thoughtful frame of mind...
Movebook Link
---
Posted in Railways on Saturday 20th August 2011 at 10:51pm
---
I'm beginning to see how this strange hobby of mine goes in cycles. Last week saw me needing to turn lost days and cancelled trips into something of a coherent journey. It didn't work hugely well, and there were times when the need to be somewhere else without purpose made me pretty miserable. But this week, I'm back to the idea of being somewhere else without purpose for fun. When travelling, and the experiences and thoughts it throws up are the backdrop to pretty much everything I do, perhaps I should just embrace these periods of strangely dull eventlessness, and enjoy the strange opportunities they engender?
Take this week for an example. A trip without a destination as such - setting off early, a pleasant wait at Temple Meads for a train to Salisbury. The route less travelled onto the Southern as it's usually so busy, but pleasantly bearable at 07:23 on a Summer Saturday. A quick switch at Salisbury onto a London-bound unit, and again the route less travelled via Andover to Waterloo. I doze, listen and read - it's bright and sunny out, and it's nice just to be going in a direction I don't often travel nowadays. Once, when it was the cheapest way to get to London I used it a lot, and accepted the shorter day I'd get in the capital. Even today, oddly, the first class fare was cheaper than the standard. Zooming through Woking and the suburbs reminded me of a railtour to come, and got me pondering where to head on arrival.
On getting to Waterloo I made something of an error and headed for the bus far too early. I should have hung around the busy station a little longer. Instead, hoped onto a Euston bound service - but thought better of it at Tavistock Square and alighted to get coffee in the same spot I'd visited a week or two back. Quiet, and frequented by Spanish tourists who tumbled out of the cheap and cheerful hotels around the area, this was an odd, high-windowed spot where people watching was confined to indoors. Wrote and thought a bit, getting myself a little down in the process. Was this strange pointless dash what I was now confined to? Would the next few weeks be just as oddly lacking in direction? Decided to stroll into the area I've grown to love around Judd Street and up to the Euston Road. Could happily have gone further, but decided that it was time to visit the station. Shopped a bit, finding a new convenience store into the bargain, then headed down to the platform to see the London Midland service to Crewe arriving.
These slow services on the West Coast have intrigued me for years. In Silverlink days they were split into two separate services at Northampton, with few travelling through to Birmingham directly. Now there is a more interesting pattern, with units being uncoupled and heading for Birmingham, while the rest of the train heads along the Trent Valley, calling at smaller stops before taking in Stafford, Stoke and the loop back to Crewe via Alsager. The new, fairly nippy Class 350s are comfortable enough - but begin to get a little hard on the back after a couple of hours. Nevertheless, had a lazy run along the coast, seeing scenery I miss from a Pendolino porthole. Arrived at Stafford to find it quiet, but heavily Policed - later realising this was due to the Weston Park arm of the double-venued V Festival. Did something I've never done before, but which these less focused trips facilitate, and wandered into Stafford. Greeted by a beautifully well-kept public park surrounding the canal with an ornate bridge, then a walk between impressive civic buildings, a church and overhanging black-and-white town houses into the pedestrian area. Little there to distinguish it from other places, but a pleasantly busy town nonetheless. Wandered a little and thought about stopping for coffee, but I only had an hour - so the station seemed a better bet. Arrived to find the coffee machine broken, so ended up nursing a hot, weak cup of tea and listening in to the Police chatting about the festival.
The train home arrived on time and surprisingly quiet. Found my seat and settled in for the journey home, early than usual. The clouds closed in a little which created some spectacular sunset scenes as we headed into the golden glow over the West Country. On reflection, it had been an interesting and relaxing day. Isn't that, after all, what it's all about?
Movebook Link
---
Posted in Railways on Sunday 14th August 2011 at 2:27pm
---
Regular readers, should any remain now the music stuff has headed elsewhere, may recall the 'Lost Weekend' series. Occasions when planned trips didn't happen but advance fares and hotel bookings had to be used. In fairness, I've had some fairly interesting trips in the past off the back of these happenings, and I've rarely let things get me down after the initial frustration of cancellations. This one was however a bit different - the plan had been a Crewe-Fort William trip with the Deltic on Wednesday and a Preston-Edinburgh run with Class 50s on Saturday. Two interesting and much looked-forwarded to trips which were annoyingly cancelled only a matter of a couple of weeks before they were due to run, ostensibly down to a lack of available stock from WCRC. With the politics out of the way, and the difficult realisation that booking on the re-runs would be difficult given how much I'd invested in this week, I turned to working out what to do now. Having thought that returning home between Wednesday and Saturday wasn't necessary I'd committed to a whole week away.
One target had been obvious from my first base of Crewe - a dash up to Glasgow on the 05:57. So, Wednesday morning saw me bleary eyed and troubled having watched a night of unbelievable rioting occuring in London and beginning to kick-off around the country. Scotland, from the perspective of Twitter and Facebook friends, seemed unaffected - indeed there was a degree of curiosity and amusement about what was happening here - until the news broke about the Sony Distribution Depot being destroyed, and many small record labels stock with it. The trip was gloomy and tense, and the skies dark to match the mood. It had been raining non-stop in Glasgow for days and was supposed to be this way all week, with warnings all over the place about floods. I stepped off the train at Central, feeling a hint of the old enthusiasm right away, but then saw the rain and dashed for the coffee shop. I skipped from shop to shop all day, watching Glasgow getting drenched. I've been soaked through here many, many times - but this was a little too much for even the seasoned locals, with street-corner smokers staying indoors. I wasn't sorry to head back onto my train for a thoughtful dash home. I felt rough, felt like I'd missed an opportunity to be in my favourite city because of the rain and a lack of planning, and was thinking grimly of the week ahead...
Thursday would have been a very sleepy day in the original plan, as the Fort William trip was due back at around 00:30 had it run. Instead, I had another restless night in front of 24 hour news and still managed to be up earlier than I needed to. The main trip today was the relative short relocation to Preston for the rest of the week. Decided to head into Manchester and to use the time to cover one of the Northern Rail Class 180 diagrams. Breakfast and then into Piccadilly for coffee and lounging about watching people. A tram across town revealed some evidence of damage from rioting, but it didn't seem to be keeping people away from the shops. On this evidence a thought I'd had about returning here later in the week didn't seem so bad. At Victoria, I waited time for the service to Blackpool North, deciding to take it all the way to the coast. As booked, a 180 turned up and I settled in for the run, picking the same coach as the loudest and most abusive family I've ever come across - and that's in years of being associated with Children's Social Care. Considered reporting them somehow, but realised that this bunch were actually taking their kids to the seaside so couldn't in fact be all bad despite appearances. Put away my prejudices in order to entertain the usual ones at Blackpool. Didn't even exit the ticket gates this time, waiting for the 180's run back to Preston without facing the grim-visaged Northern staff at the ticket line. At Preston I quickly found the hotel and checked in, heading straight out to find food. Realised oddly that I remembered a lot of the walk from looking carefully at the pavement on my last very slippery and icy December visit to the city! Realised too that Preston practically closes down at 5:30pm. Eventually found a Tesco Metro and during my shop mentioned how surprised I was that one of Britain's newest cities was shut up so early. The young lady gave a nervous chuckle before speaking - and I realised later that most locals do the same before talking about their town. Still, a brand new Premier Inn meant a comfortable night ahead.
Friday dawned a little clearer, and I enjoyed a late start by visiting Starbucks and watching Preston wake up. Down to the station for one of the first off-peak stopping trains to Manchester - a pretty rickety Class 142, full of OAPs who I understand get some sort of concession on rail services in Lancashire? Once into Manchester, descended to the Tram Stop and waited the first service out to the short MediaCity UK extension. I'd tried to do this once before during it's uncertain first days of operation, but today managed to get to the terminus among the smart new BBC offices and the growing knot of businesses in the area. Couldn't manage the Eccles-bound side of the triangle in off-peak service though, so returned to Cornbrook and waited what seemed like ages for a tram to St.Werburgh's Road - the stub of what will be the Airport line eventually. Noted the former rail alignment heading off into the distance beyond the stop, and reasoned that it's a damn good thing that this light rail scheme has prevailed here over guided busways and cycle routes. Look forward to returning to cover the rest of the line when it's built. With new track covered for the first time in a while, headed back to Victoria to take the Class 180 back to Preston again. A short day out, but at least I'd managed to find a productive purpose to what could have been a very dull day. Headed out to see some bands later, which was an experience in itself. Preston is a strange city...
I'd desperately tried to book a variety of things to fill my week, but given I had only a matter of days to sort things out as decent fares were disappearing fast, things had been a little hit and miss. I'd thought of a trip to Edinburgh - but completely forgot that the festival was on, and both accommodation and tickets were at a premium. So, I'd ended up booking a second dash up to Glasgow today - managing to stick around for a bit longer too. I'd thought about heading for Edinburgh once I got there, but having practically written off my trip earlier in the week I decided to stick around the city a bit. The early run up began irritatingly as the Train Manager refused to open the rear set where my reservation was at Preston. Given a crowd of other folks with seats there pestering him, he did so at Lancaster necessitating a dash back down to the unit. Ended up in a nice, empty coach as a result though - and enjoyed the trip immensely. With the weather comparatively fine, had a wander around the city and visited the record shops. Explored some places around the river which I'd not visited for years too, noting how they'd changed - and the passive provision for a future light rail scheme. A day in Glasgow is always a bit unrewarding though now - I want to be around for music in the evening, or have the chance to wander further afield. Felt this acutely today, having felt like I'd wasted a week - and certainly one of my days up here. So, rather miserably set off back to Preston, despite an amusing journey were a drunken Celtic fan bet me I couldn't correctly guess which side the platform would be at each station!
Movebook Link
---
Posted in Railways on Saturday 6th August 2011 at 10:53pm
---
After my comment about the 'feast or famine' nature of the railtour market last week, things took a turn for the absurd. A total of three tours cancelled or redated, with the attendant costs of non-refundable accommodation and travel has left me seriously out of pocket, and unable to do the tours when they are rescheduled. This leaves me for the first time in years with nothing booked with my tour operator of choice at all - a strange feeling and one that left me thinking that perhaps it was all getting too expensive and complicated now anyway? In the midst of this, trying to reorganise things for a now pointless week away and to book things ahead of time, it was a relief to remember I had the second week of my 'drags' to distract me. So, today would repeat an oft-rehearsed trip to the North Wales coast. In the old days, this just wasn't possible in a day - but now it's pretty comfortably so. Having said that, I was of course on the first train of the day once again. A change at Bristol and onto a very lightly loaded Crosscountry service heading north, the odd chap who competes for my seat successfully avoided. A swift change at Stafford and into Crewe early enough to enjoy a coffee in the weak sunshine at the platform end.
It's hard to say how long this loco-hauled service will continue now Virgin have an additional Pendolino at their disposal. A vestige of the old system of swapping locos for the Coast, it was comforting to see Arriva-liveried 57315 trundling into Platform 12 to await the service from London. Noted that this loco had hauled me to Holyhead once before when Arriva were short of units. That day, in packed and overheating Mk.2 stock seemed an awful long time ago as 390023 crawled into Platform 12 to attach to the loco. I found a seat in a surprisingly busy First Class carriage and settled in for the ride.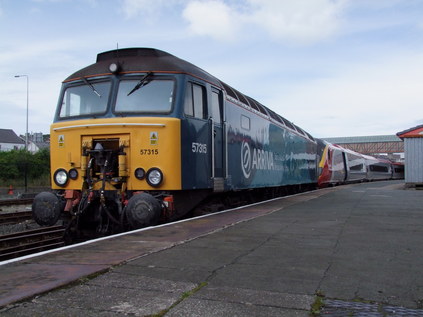 The coast didn't disappoint, and despite reports of torrential rain and flooding elsewhere in the UK, I saw only a few spots of rain before things brightened and warmed up considerably. Having elected to head back on the loco-hauled service too, I had a little longer in Holyhead than I've had for years, so I decided to retrace my steps from years back out to Newry Beach. Found it much the same as ever, the rocks I'd perched on to read my Sunday paper busy with trippers on what seemed a surprisingly busy summer day for the town. Certainly an improvment on the windswept chill I've encountered here on my last few trips. Took some pictures of the beach and the ships before tracing the road around by the port and back to Town. It was good to be back in some ways - remembering what a haven of peace this had been back in the mid-nineties - when I could have a decent train ride, a cheap B&B and a weekend of solitude here.
Snapped out of my reverie to head back to the station. Another quiet and relaxing ride back, with the sun still strong over the seashore. There is more exploring to be done around here I'm sure, despite the rail routes having been mostly covered - save for the extensive narrow-gauge network in North Wales. Heading into my 'lost week' I hope I can find other moments of calm and quiet like this on my travels.
Movebook Link
---