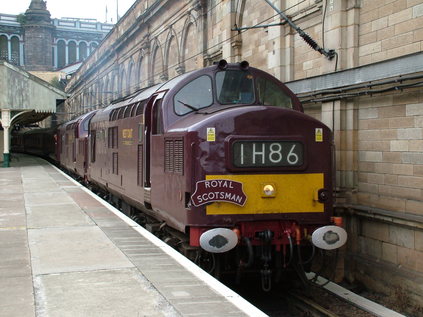 Posted in Railways on Sunday 31st July 2005 at 2:55pm
---
Feeling very sleepy after a long but entertaining weekend. Straight from work on Friday to Bristol. Checked in at the Holiday Inn and wandered into town. Fish and chips at Pellegrinos then a pint or two at the Old Fish Market, before retiring early to prepare for Saturday's early start.
Checked out a little after 04:00 and after a hurried breakfast, across the street to Temple Meads to find 67030 awaiting our 05:00 departure for Edinburgh. Just before our departure, 37401 and 37427 arrived to take the 'Snowdonian II' tour up to Pwhelli. Nowhere near enough light under the roof at Temple Meads for a picture. Off on time, with 67030 in apparently fine form. Quite a bit of confusion with the normals and excursionists with two tours arriving at stations en route a matter of minutes apart. Despite lots of clear announcements, at least one gentleman in our carriage managed to get haulage behind both the 67 and the 37s!
Last pickup at Birmingham, now in daylight. Our end of the buffet carriage became quite sociable from here, with some fellow enthusiasts and a pleasant couple from Birmingham off to shop for model locomotives and jewellery. Some spirited running on the way up to Edinburgh, with notable sightings including a quartet of Thunderbirds at Crewe. With a team effort, managed to work out quite a bit of what remains abandoned at Springs Branch too.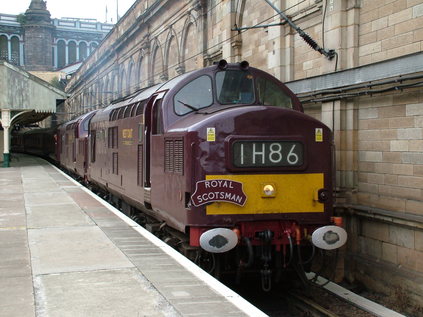 On arrival made a quick survey of the oddly shaped Waverley station complex. Headed out into town, but noted from a bridge what appeared to be a 37 arriving. An ill-advised high speed dash down a slippery staircase and into Waverley in time to see 37261 backing onto 37197 and the stock of the Royal Scotsman. Waited to see this incredibly opulent train depart, with the verandah of its observation car already packed with inebriated looking posh passengers.
Spent the few hours we had available wandering the town, people watching on Princes Street and watching activity at the station. First Scotrail staff varied between the extremely friendly and the downright hostile, but generally had a productive afternoon including a quick spin out to Haymarket just for fun. Back to Platform 20 in time for the return of our stock, again headed by 67030.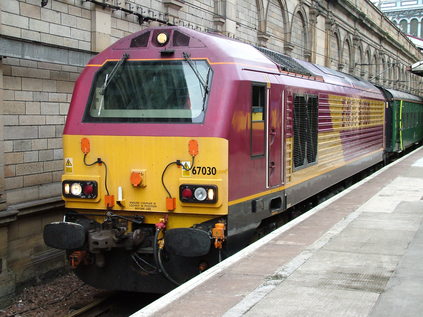 Some very quick running on the return. Settled down to enjoy the company and since we were at the back of the buffet car, handy supplies of Spitfire and Bishop's Finger. Amazingly however, I can confirm that no alcohol at all was consumed by the two people in the following picture: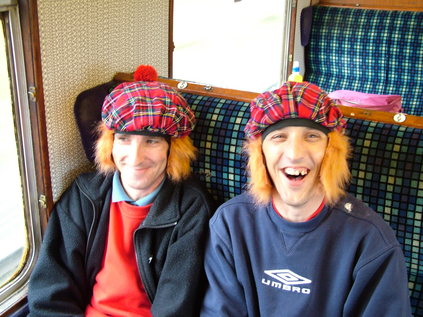 Enjoyed the day so much that I decided to book on a similar excursion to York at the end of August. Once again this one calls at Weston, so I feel duty bound to book and support it. Arrived back at Temple Meads a few minutes early, to find the station reverberating to the sound of the tractors which had successfully completed their jaunt to the Cambrian Coast. A sleepy lift home to my parents place thanks to my father. A fun day among pleasant people.