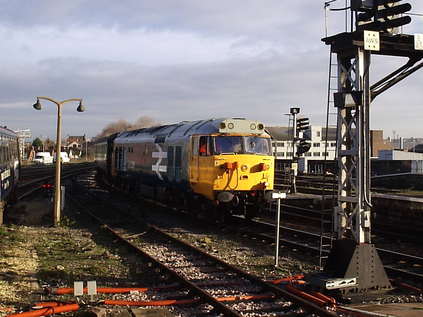 Posted in Railways on Saturday 18th December 2004 at 10:26pm
---
Woke to a damp, cold, December scene. Plan today was to go out for the Class 50 hauled circular dinner excursion from Bristol Temple Meads. After a long, rather trying week when after lots of tribulations, things balanced out on the better side rather than the worse, decided I wanted to get a bit further afield. So, set out on the curiously still timetabled 1Z29 Voyager to Bristol.

On arriving headed straight to the usual spot on platform 7. A quiet morning, with a steady flow of the usual sightings. One notable exception was 158786, now with South West Trains but remaining in Central colours. Slowly, a large bunch of cranks began to develop at the London end of the station for the arriving Class 50s. Remarkably, the sun also managed to come out.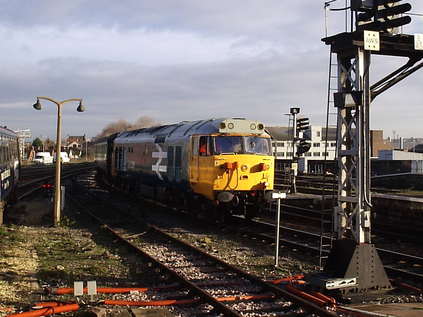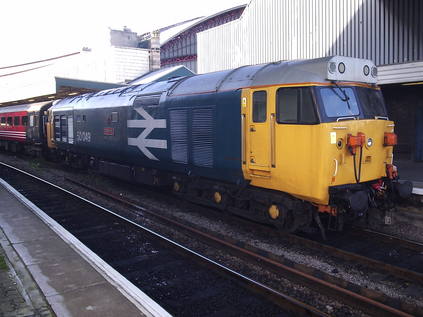 After the tour departed, boarded the 1130 Paddington service as far as Didcot. Had thought about a trip to Reading, but spotting lots of 66s in the yard, decided to spend some time here. Quite a bit going on, including a 'Thomas the Tank Engine' weekend at the Railway Centre with a usually more stately 'Earl Bathurst' running back and forth wearing a 'face'! A couple of Freightliners too, one needing to crawl slowly through drifting smoke from 'Thomas'.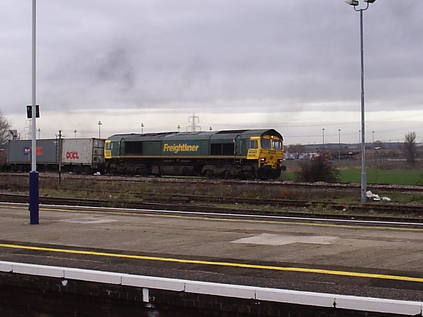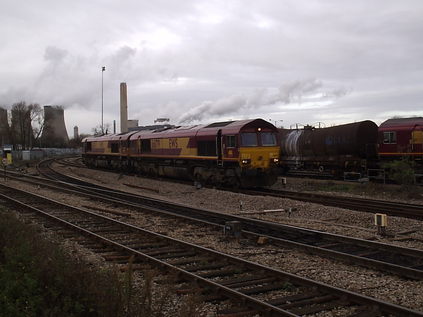 Waited around a little longer, enjoying the busy atmosphere and watching goings on in the yard. Eventually, the 50s arrived heading West at terrific pace on their return journey to Bristol. Quite a few photographers out for this one too.
Settled in for a good talk with others who'd turned out for the event. Amazed at the excellent performance of a rather cheap new vacuum flask purchased yesterday too - keeping me supplied with much needed hot tea throughout the day!
Headed back towards home on the 1512, feeling very sleepy after a long week and an interesting day at Didcot.
Lost::MikeGTN
I've had a home on the web for more years than I care to remember, and a few kind souls persuade me it's worth persisting with keeping it updated. This current incarnation of the site is centred around the blog posts which began back in 1999 as 'the daylog' and continued through my travels and tribulations during the following years.
I don't get out and about nearly as much these days, but I do try to record significant events and trips for posterity. You may also have arrived here by following the trail to my former music blog Songs Heard On Fast Trains. That content is preserved here too.
Navigate Lost::MikeGTN Find articles by category
Search Lost::MikeGTN
Other Places...