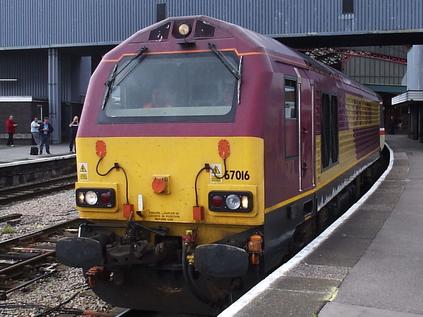 Posted in Railways on Saturday 28th August 2004 at 9:06pm
---
Set out on an initially almost identical mission to last week. Having received the allocations this morning, realised that I only needed one of the 67's out today. 67016 was on 1E99 which I could have picked up later at Weston, but decided instead to head south and board at Exeter. All went smoothly, with a change at Taunton on what was shaping up to be a bright but chilly morning. After finally working out the optimum spot to stand to get the number of an approaching Voyager, myself and other waiting enthusiasts were perplexed to find one with no number at all, even in the usual awkward spot! Took the name instead to check up later. Arrived at Exeter St. Davids in time to watch 67018 depart on 1M89.

67016 set off promisingly, but began to get checked at signals between Tiverton and Whiteball. Very slow running in places for much of the journey. Despite the incredibly slack timings of this train, we arrived late at Weston and had managed to mop up most of the huge amount of standing time at Bristol too! Got customary pictures, then went in search of much needed refreshments.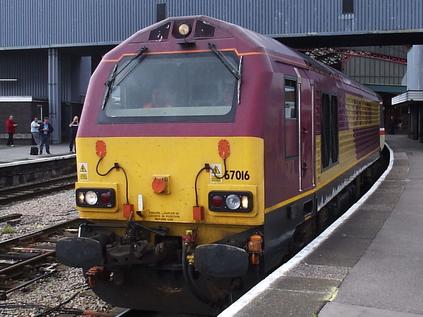 67003 arrived in plenty of time on 1V15. Boarded and found a pleasant seat on the correct side for the sea as I'd not yet decided whether to see this one through to Paignton or not today. Quick running again as far as Whiteball, where it seemed all was not well, signalling-wise today! Having examined the timetable, decided that since I'd seen enough of Paignton and as 1V19 wasn't a required locomotive (being 67015 today) I would have a spin on the resurrected Virgin HST. These HSTs, not required since the all-Voyager timetable arrived have been rescued from an
MoD
storage site and pressed back into service for the summer, albeit in some slightly odd formations. So, boarded the only slightly busy 1M78 (hauled by 43153 and 43098) at Exeter and decided on a longer trip as far as Cheltenham. Must have done hundreds of undocumented miles on these CrossCountry HST sets back in the mid 1990s when I had a Young Person's Railcard - pleasant to be back on one, even if the air conditioning seemed to have failed.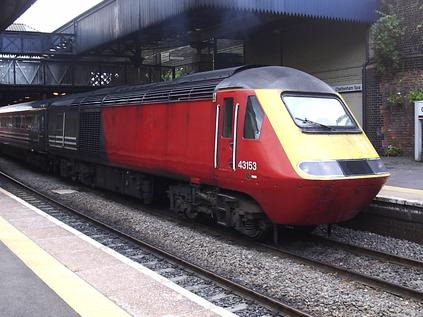 Plan for a speedy Voyager off Cheltenham went wrong, as the Penzance service was running late. Coffee time, then opted for a Wessex stopper back to Bristol, formed of ex-Central Trains 158782. On arriving back at Bristol, found the 1800 to Weston fortunately running 11 late. Home in time to watch
British Transport Police
attending Weston station, as the usual crowds of daytrippers stumbled drunkenly back to the station. Welcome home.
Lost::MikeGTN
I've had a home on the web for more years than I care to remember, and a few kind souls persuade me it's worth persisting with keeping it updated. This current incarnation of the site is centred around the blog posts which began back in 1999 as 'the daylog' and continued through my travels and tribulations during the following years.
I don't get out and about nearly as much these days, but I do try to record significant events and trips for posterity. You may also have arrived here by following the trail to my former music blog Songs Heard On Fast Trains. That content is preserved here too.
Navigate Lost::MikeGTN Find articles by category
Search Lost::MikeGTN
Other Places...