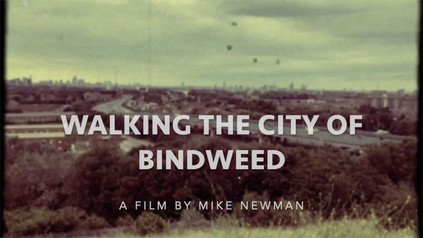 Posted in Film on Thursday 18th July 2019 at 6:07am
---
Walking anywhere in suburban England at this time of year will lead to an encounter with convolvulus arvensis - Field Bindweed. It has become the signature plant of my walks around London's periphery, and especially of the North Circular Road which during the summer months is like a white garland around the shoulders of the wheezing pollen and pollutant hazed city. I knew that this pervasive, irrepressible plant would wind its way into my writing at some point - but I was surprised to find it becoming something of an inspiration for a video project. This is marking time: a diversion where I planned to write, but messing around with shaky walker's-eye-view footage felt more productive.
So here is twelve minutes of me schlepping around the edges of the Capital, underscored by a soothing and unlicensed soundtrack and punctuated by howls of traffic, snatches of poetry and lots of strangely soporific footfalls. It's had one review of sorts from the ever precise Wizard Ho Ho himself: Iain Blair Witch Sinclair. I'll take that one, with thanks...
I still plan somehow to pull together some writing around this theme, but for now this captures the source: a series of simulated Super 8 prototypes for something far more ponderous and overheated to come.
Lost::MikeGTN
I've had a home on the web for more years than I care to remember, and a few kind souls persuade me it's worth persisting with keeping it updated. This current incarnation of the site is centred around the blog posts which began back in 1999 as 'the daylog' and continued through my travels and tribulations during the following years.
I don't get out and about nearly as much these days, but I do try to record significant events and trips for posterity. You may also have arrived here by following the trail to my former music blog Songs Heard On Fast Trains. That content is preserved here too.
Navigate Lost::MikeGTN Find articles by category
Search Lost::MikeGTN
Other Places...