Posted in SHOFT on Thursday 18th August 2011 at 8:08am
---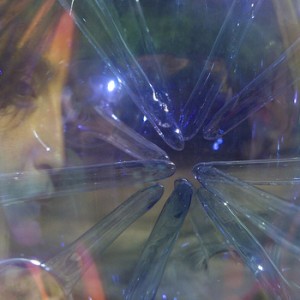 I'm afraid these tired old bones can only managed one festival each year, and thus regular readers will have seen me tireless rant on about Homegame during the summer. I can only apologise, but in my defence I'd point out that just that one fateful afternoon in the Erskine Hall has led me to artists who have produced some of the most interesting and exciting releases of the year - with Rachel Sermanni and Mercury-nominated King Creosote and Jon Hopkins alongside Martin John Henry who is shortly to release his solo record. The other artist who played that afternoon, and whom I've waxed lyrically about often and to anyone who will listen, is Iona Marshall. Iona's voice originally reached me via Glasgow PodcArt, who've championed her gently lyrical, Caledonian take on ambient folk for some time. However, it's not always been easy to track down recordings until now, as Iona is a fiercely independent spirit, and is genuinely taking a do-it-yourself approach to music via a series of collaborations, home-made CD-R's and playing anywhere and everywhere she can it seems. The digital release of this EP makes her music more widely accessible and will, I'd hope enable her to reach new ears.
Opening the record, "Aquamarine" is of surprisingly straightforward folky construction with plenty of space for Iona's voice. At first, this is deployed in it's purest form - beautifully clear, capable of wineglass-shattering high notes and sounding like it just rolled in from the Perthshire hillside. Later in the song though, her voice becomes an additional instrument, looped and duplicated. Far from destroying the curiously ancient, nautical atmosphere, this in fact strangely enhances the sense of dark rooms and creaking beams. The sea, it seems, is never far from Marshall's music. "I Music" increases the pace and volume only slightly. Deftly picked on an electric guitar, this grapples with the motivation for artistic creation. While listening to these songs, it's easy to forget that this is an entirely self-released project recorded in a Glasgow living room - and this song perhaps goes some way towards outlining her approach to music and musicianship. An uplifting, infectious chorus which wouldn't be out of place on a big hit single follows, but Iona's voice never fails to tie the song to its traditional roots.
The breadth of Iona's songwriting vision becomes evident on "Hail Madonna". Overall this is a much more complex and dense work, using lots of electronic trickery to support a simple and fragile tune. Meanwhile Marshall sings about clinging to the frail edges of sanity, negotiating the pitfalls of modern life, and seeking a talisman to see you through the horror of what to others is probably just another day. On the surface, it's a technically clever, engaging tune - but looking deeper into the lyrics this becomes a far braver and more impressive feat, dealing with subject matter rarely tackled successfully in my experience. However via Iona's sensitive approach this comes across as honest, heartfelt and triumphant. Meanwhile, "Storm Queen" returns things to a more domestic scale despite beginning with otherworldy whispers. Sparse instrumentation supports Iona's voice which carries the galloping melody through the humdrum city streets to the waters edge and once again out to sea. Her ear for a neat phrase is ever apparent, and surely it's impossible not to be delighted by observations like "the eye of the cockerel on the cornflakes stares me out"? Things come to a close via "Touch Down", an expansive piano-led piece which switches tempo and skips through endless electronic loops and skittering beats on its complicated journey. Once again, the lyrics reflect the landscape - hillsides, canals and rivers negotiated as Marshall's voice soars above the map. It's a fitting ending for a record which is deeply anchored in its place of origin.
The five songs on "I Music" illustrate that Iona Marshall has the uncommon ability to exist in many worlds at once, with the traditional sitting comfortably alongside more experimental approaches - and not least the knack of inserting fantastically catchy pop sensibilities in the brew too. This EP manages to take me back to that quiet, spellbinding afternoon in Anstruther, when we were gently coaxed out of our hung-over states only to be intoxicated again by Iona's songs, and her incredibly versatile voice. Along with her fairly recent De-Fence Records release this forms part of a growing testament to genuine hard graft, commitment and the ability to write damn fine songs.
The "I Music" EP can be purchased from Bandcamp.

Iona Marshall - Hail Madonna