Posted in SHOFT on Monday 4th July 2011 at 10:07pm
---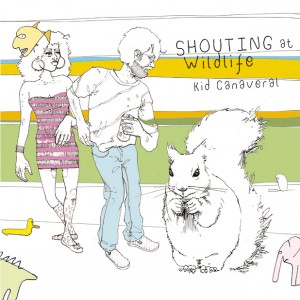 Before I started writing here in earnest, there were a number of things which seemed to urge me to shout about how great they were in the hope of convincing others, just like old times. In some ways, you can probably blame several of those records for making me want to express my thoughts enough to start Songs Heard On Fast Trains, which may or may not be a good thing depending on your viewpoint. Not least of these was this very record, the release of which somewhere in the middle of 2010 heralded something of an indie-pop awakening for me after a number of years in the wilderness. Now, with the album being re-released on Fence I have a perfect excuse to wax lyrical about it here at last. Looking back, I initially struggled a little with "SHOUTING at Wildlife" partly because a fair number of the songs were familiar before the album arrived which made it feel like something of a 'greatest hits' collection at first listen. However, seeing Kid Canaveral play these songs in a variety of places, and growing steadily more familiar with the rest of the record as a result made me appreciate just what a varied collection it was, and pretty soon every week produced a new favourite. Fast forward to Homegame, and an incendiary performance in Anstruther Town Hall, and it all made perfect sense.
But what gave this record it's coveted placing on Songs Heard on Fast Trains's 2010 list - and indeed what merits this mention of the reissue? Well, for starters its pretty near the most perfect collection of fuzzy, regret-tinged pop music that last year produced. The scratchy, urgent call-to-arms of "Good Morning" launches the album, piling layer after layer of chiming guitars and thunderous drums onto a breathless, vocal. It's clear from the off that this is going to be an interesting journey as an impromptu choir and stabs of keyboard usher in "You Only Went Out To Get Drunk Last Night" - in some ways a strange proposition of a song with it's choral breakdowns and cowbells - but ultimately a slinky pop number is thinly disguised here. Little slashes of guitar underscore David MacGregor's exasperated vocal as it winds things up towards an epic ending, duetting with the choir and slinging responses back to their insistent refrain. Indeed Kid Canaveral delight in several fine vocalists, and the charming but uncompromising "Left and Right" with it fuzzy dash through confusing city streets allows Kate Lazda to showcase her own knack of switching seamlessly between a rapid-fire punky delivery and soaring pop choruses while guitars keen around her. It was an early favourite and remains one now.
But its not all about noise and bluster - as "Quiet Things Are Quiet Now" lives up to its name, as a gentle acoustic tune embellished with warbling keyboards. A simple but surprisingly frank lyric about absence and change takes the foreground, Kate almost whispering the final verses. Things become more complex with current single "And Another Thing!" which adds layers of carefully constructed guitar over a simple and wonderfully jangly pop tune, building it into something much, much bigger. By the end, with the insistent chorus echoing around, the sweep of a violin through the song takes things swirling off to another level. Here, if they haven't already done so, Kid Canaveral manage to tap into that rich vein of somewhat emotionally bruised but triumphant Scottish pop music which has inspired so many fine acts down the years. Along the way David sings "I'm busy doing nothing/there's no skill and no knack to it" - which can't possibly apply to something as carefully constructed and damn near perfect as "SHOUTING at Wildlife". Ultimately, there are just too many highlights to work through without beginning to sound even more sycophantic, so I'll settle for a final mention of "Her Hair Hangs Down". This was always a curious moment on the record - but it all fell into place when it was used to soundtrack an exquisitely filmed video of Fence's Awaygame on The Isle of Eigg. A subdued, folk-tinged lament with domestic-scale lyrics. MacGregor intoning the words painstakingly and with restraint, trilling on the 'r' sound in "three long weeks". It's brief, beautiful and incredibly touching. I'm never sure quite why it's so affecting - perhaps its the curious documentary quality of the lyrics, with their brief window into a relationship at what might or might not be a pivotal moment?
Reappraising "SHOUTING at Wildlife" now reminds me just what a fine record it is and how much it deserves to be heard by lots of people. It's good to see Kid Canaveral finding their spiritual home at Fence, and whilst the uncompromising DIY ethic in the East Neuk won't perhaps result in immediate widespread exposure of the kind which they will undoubtedly eventually achieve, the music will certainly be allowed to speak for itself there in a way it perhaps couldn't elsewhere. Most importantly this release ensures that a whole new audience get to hear this fantastic record, fall in love with it and share the next step of the band's journey. I can't help but feel this is the beginning of something big...
"Shouting At Wildlife" is re-relased on 25th July, via Fence Records who are offering a fantastic pre-release package based around the vinyl LP, which is just about the only way to get hold of their splendid cover of King Creosote's "Missionary". Meanwhile the band feature in a BBC2 Scotland documentary on SXSW to be screened on Tuesday 5th July (Sky Channel 990/Freesat 970) and no doubt on YouTube soon after.

Kid Canaveral - And Another Thing!