Posted in SHOFT on Tuesday 19th April 2011 at 7:04am
---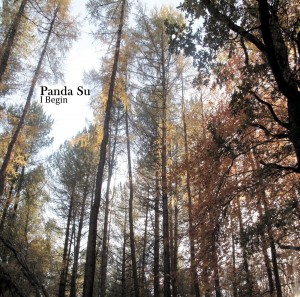 Living pretty remotely from where most of the music I enjoy emanates is no new thing for me. Having spent the early 1990s voraciously collecting North American 7" singles, the few trips I could make to the USA and Canada became very precious indeed. Even though I find myself in Scotland far, far more often these days, any attempt to time my visit to coincide with shows by bands I've appreciated from afar is usually pretty futile. One act I've desperately wanted to see for a long time now is Panda Su, not least because despite the lure of near-instant delivery of music to listeners which the internet offers, Su has been sparing in her releases - apparently preferring quality over quantity. The self released "Sticks and Bricks EP" providing a tantalisingly tiny glimpse into just what was possible in the world of Panda Su.
This new EP moves things on dramatically - and just as it's always easier to spot the new haircut of a friend you don't see everyday, the changes are at first very obvious. Firstly the songs appear to have grown in scope and stature - where the first EP seemed all about uncomfortable claustrophobia with just Su Shaw's haunting and laconic vocals to keep the listener from the ever encroaching edge, this record is about spaces and the wider world. But enough remains familiar to draw you deep into these four new songs, not least that wonderfully exotic, half-spoken and half-sung delivery which seems to allow sometimes dark, often challenging lyrics to be presented in a disarmingly simple and innocent way.
Opener "The Bee Song" perfectly illustrates this strange interplay of innocence and violence, with a lyric which is much more complex than the surface initially betrays. With a simple picked guitar melody and clockwork percussion, the song develops it's own lazy shuffle which creates an appropriately summery atmosphere. Droning organ notes and occasional multi-tracked vocal interludes change the atmosphere of the song, bringing it back onto a more personal scale as Su sings "I am lost in a world that fits inside the palm of your hand". Next up, "I Begin" marks a different approach to songcraft from Panda Su with a much more organised narrative form than previous efforts, which often feel like collected snippets of observation or thought. In its construction and phrasing it is strongly reminiscent of the work of I Build Collapsible Mountains which is absolutely no bad thing. However, the traditional singer-songwriter approach is augmented by skittering beats and a shimmer of keyboard sounds which lift the song from it's melancholy melody. Su's vocal here is defiant and strong - particularly on the half-chanted refrain of "I should try to remember, I should try to forget" - but still retains its effortlessly intoxicating quality - not unlike a luxurious yawn on first waking up.
The EP closes with a pair of songs which have been part of the Panda Su live set for some time, finally captured for posterity. "The Alphabet Song" sees Su reciting the alphabet and counting over a fragile guitar melody, against a building electronic backdrop. Letters are associated with apparently random thoughts and events, and often return later in new forms or orders. As she intones the letters - including a curiously alluring pronunciation of "J" which I find myself trying to mimic and utterly failing - the beats and bleeps shimmer and stutter. This simple concept shouldn't produce such an intriguing and enduringly fascinating song. "Facts and Figures" starts with a crunching static track and the now familiar drone of organ under the chiming guitar and glockenspiel. On this track in particular, Su's vocal soars above the music and shows what a remarkable instrument it is in itself - showing it's strength and purity while incongruously stating "...I'm finding out why I'm so weak". By far the loudest and the most overtly complex of the tracks here, this remains a highlight for me after endless listens.
The title of this EP suggests a reinvention of Panda Su and to an extent that's what it represents, however the links with the past - not least in some of the long-performed songs here - are strong. Throughout, Su's highly individual, but infectious delivery remains the trademark, and two EPs in I still feel like I'll never hear enough of this - and I remain desperate to see Panda Su perform. What is certain is that these four deceptively simple and utterly rewarding compositions show a remarkable ability to hit emotional highs and lows, and a truly incredibly talent for songwriting.

Panda Su - Facts and Figures