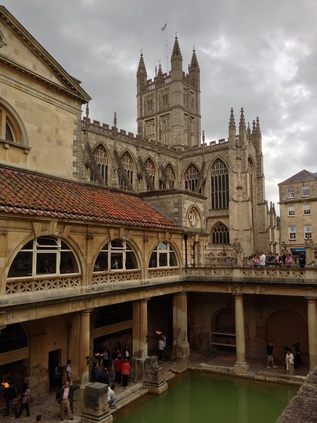 Posted in Travel on Wednesday 7th August 2013 at 12:17pm
---
Given the competing demands of work, weddings and reorganising life here, it was inevitable that our travel schedule would get a little lighter over the course of this summer. At the end of what has seemed like a month-long heatwave too, motivation has been low and the temptation has been to mostly sit out the hot weather and the uncomfortable humidity which always accompanies it here. But this weekend was a little different because once again we had some visitors from the United States - and with three days set aside to help them explore the West of England, we to were going to get to wander a little more than usual too. Our trip started with an evening train to Bristol and a brief orientation walk, followed by dinner. We'd tried to get a table on the Glass Boat, but ended up further along Welsh Back at a strange, busy and rather disappointing eatery which was also a boat - but with a huge attached building in which we were seated. As it was Saturday evening, with the rail service curtailed comparatively early, we left the Americans to sleep off their trip and catch up on some hours in a real hotel bed having spent much of the trip so far in Youth Hostels.
Day two of our excursions began with a bus journey up to Clifton for Sunday morning coffee. It was evident that the rest of Bristol had decided to do the very same thing, and it was hard to get a seat in the tiny branch of Coffee #1. We finally managed it however, and it was as ever very good coffee. Suitably fortified we headed down through the village towards the Suspension Bridge, on the way picking up pictures with a couple of Grommits which littered the route. Obligatory pictures obtained - and despite some reluctance from our youngest visitor to set foot on Brunel's great project - we headed back into the village, and onto a bus bound for Temple Meads. The next destination was Bath - a bit of a tourist magnet perhaps, and a magnet for us too in recent times. The weather wasn't being kind, but with a few errands to run first off we managed to skip between the showers mostly. It was fun to let our newest British resident take the lead here - showing her growing knowledge of the city and its geography. We covered the usual territory - into the city, around the Abbey and to Pulteney Bridge. A lunch stop, then back to the Roman Baths. It's one of those strange omissions that only a local makes that means I'd never actually been inside before. We signed up for season tickets just in case we brought future visitors here, and descended into the building, well below street level. As we explored my childhood studies of the Roman's flooded back - hypocausts and bathing routines, temples and deities. I was really impressed with the way the baths were organised, and the journey which built up to the main event - the large hot bath. Glimpses of the bath could be seen, tantalisingly close, but then the trail would lead away again. For my money, into more interesting territory too - as the springs and underground watercourses again drew my attention much more strongly than the tourist attraction. Having surfaced, and braved tasting a little of the oddly warm, sulphurous and mineral rich water, I was convinced that perhaps the Local Authority was a suitable custodian here after all. We finished our day in the city somewhere we'd wanted to go for a while - Graze. Fine Bath Ales, good food, and "Oliver Cromwell" passing unexpectedly leading a steam special back to Bristol. A fine day.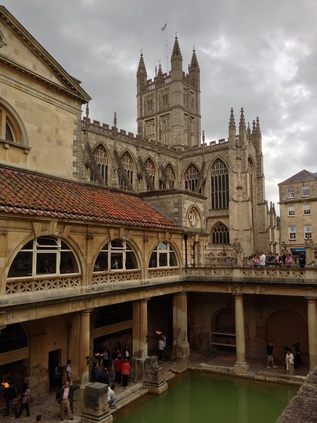 Monday dawned with dramatic clouds, and we retraced our steps to Bristol to meet the travellers at Temple Meads. After much needed coffee we boarded a busy 376 bus heading out to Wells. After escaping the rather leafy southwestern suburbs of the city - an area I rarely travel through - we climbed into the Mendips. Little villages, evidence of former railways, turns, dips and climbs took the bus onwards. Suddenly, we were descending - the misty, wide plain of the Somerset Levels spread out before us with the isolated and omnious tump of Glastonbury Tor ahead. We arrived in the centre of Wells and turned a corner to face the cathedral - as impressive as ever, perhaps even more so with the vista appearing so suddenly. Our lodgings for the night were at The Swan nearby - a beautiful old hotel nestled in the very heart of the tiny city. Once checked in, we set out for good coffee and then a trip out to Glastonbury. Old haunts for us, but good to see them with new people in tow - the Abbey was a backdrop for a photo session, and then we spent way too long drinking cider and marvelling at the awful service in the Lazy Gecko - but as ever the food was wonderful. As the weather closed in for a summery shower, we headed back to Wells and explored a little more on the way back to the hotel. Later, we got to see the Cathedral illuminated - a rather special sight indeed.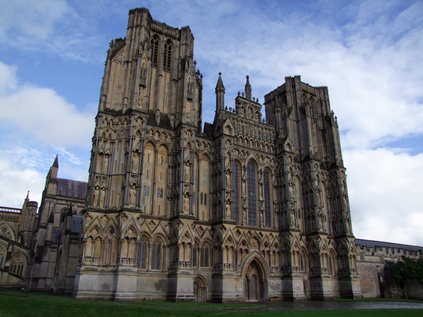 After a good breakfast the next morning, we reversed our bus journey into Bristol. The plan had been to hire a car, but this was thrown into some doubt by the slapdash nature of the rental company. However, on arriving at Temple Meads things had been sorted out, and we headed into the bowels of St.Phillip's Marsh to find the depot. A complicated transaction later and we were heading out of town on the M32, with some refreshingly good driving going on! Again we were mostly repeating our steps, but with an excited group of Americans along for the ride it was good to be back out and travelling. Leaving the motorway we headed south across Salisbury plain, and towards Stonehenge once again. It's still a wonderful sight to see it rise from the rolling hills - and it was just as strange to be close to the stones again. This time we were a little earlier, so the site was busier overall, but that also meant time to head back via Avebury where the sheer size of the circles, and the way the village is nestled among them means it's much harder to prevent access to the monoliths.
And so our whistle stop tour of the South West ended in the restaurant we'd originally hoped to visit - The Glass Boat. Good food, good company and a successful visit overall. These visits over the past few months have reawakened a sense of belonging to this part of the world which I've not had since I was a very young boy - when a trip to Somerset seemed like an adventure, and when the curious names on roadsigns seemed impossible distant. I've travelled a lot since then, but the magic has never faded. We left our three happy guests heading for their room sleepily, thence to London for a final couple of days of exploring. It's been fantastic folks - we'll head your way next time!