Posted in Railways on Saturday 21st July 2012 at 10:07pm
---
Lately, I seem to have given up a lot of things. This is a habit I have, of undertaking a huge mental tidying up. Sometimes - just like in a physically frenzied cleaning session - you throw away things you never really meant to. In the heat of this confusing, angry summer I'd managed to do just that. Letting a few doubts and externally fuelled fears get under my skin, I'd parked my music blog indefinitely. Quietly, calmly and without undue drama though - which is not the usual style around here. But already, less than a week into the situation, I was feeling bored, purposeless and dull. The only thing I was finding motivation to write about was the impending Olympics - and given vast areas of my brain to range freely around, this was in danger of becoming an obsession. The great fear was that in a few weeks time it would be gone, and the legacy was a longer term project. Granted it would deliver it's own losses and controversies - but I needed to fill my mind up. In the long term for sure, but initially - just this weekend jaunt. I'd set out when planning for this sparse summer, to do a West Midlands Day Ranger today. I'd booked the tickets to Birmingham and back, and left it at that. There was a point towards the end of the week when I scrabbled for cheap tickets to London - desperate to get to the area with no clear purpose. But sense and financial constraints prevailed and I found myself on the train to Birmingham, only a vague plan and free to listen to music for a change. It was going to be a quiet sort of day...
On arriving and booking my ranger I decided to stick to the usual plan to start with. Off to Crewe on the 09:01 - a bustling but not packed train which took an hour to scud through misty Staffordshire and Cheshire. Lots to see around Crewe's depots, having not been here for a while - and it's also apparent that I'm well out of touch with the changes in the locomotive fleets. Congestion delayed our arrival which meant a pleasantly short wait for the 10:33 - a Euston-bound train. Luckily, given that it took nearly three hours to navigate the slow lines, it wasn't a viable option because I could still have easily changed my plans. Tweets and blog posts tumbled in, resistance to the excesses of Olympics was suddenly everywhere. Adidas had backed out of their tax exemption too. The sun was shining. Things felt possible. The train began to fill, and I decided to use the time and weather to do something I'd tried to do on these trips before - the crab-wise crossing of Warwickshire, which was a mess of bad connections and infrequent trips. So, off at Nuneaton. Last week a friend had mentioned that the Boris announcements were here too, and he was right. Dire warnings to "get ahead of the games" and the voice of the Mayor, strangely out of place up here. The reason became clear on the next leg - a rattling 153 to Coventry, which passed by the Ricoh Stadium. One of the football venues, this will in fact see use in anger before the main park, with the matches beginning next week. It was festooned with pink and maroon, and surrounded by Police officers. A pang of regret for not being stalking around the marshes today passed.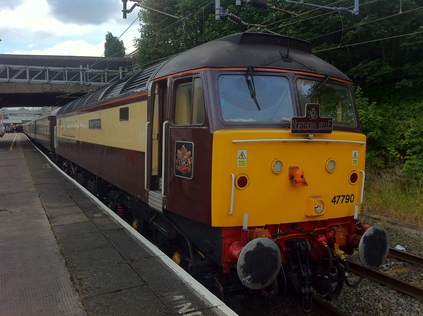 At Coventry I had a wait of about 45 minutes for one of the Crosscountry services which used the Kenilworth line to get to Leamington Spa. These used to be scarce trains, operated by Class 47s heading for Reading or Paddington, but now they're hourly with many going on to the South Coast. Minutes after arrival, a charter was announced and the Northern Belle slipped quietly in, the stewards waving to assembled enthusiasts. I managed an embarassed nod in return, before capturing both the locos for posterity. Time for coffee in the sunshine, watching a father and his enthusiastic daughter photographing trains. Managed a seat on the busy Voyager too, which was a surprise. I've always rather liked Royal Leamington Spa's station with its original Great Western features and broad views over the bridge towards the town. Having visited a couple of times in recent months, it was nice to have a little longer to spend here. It was busy, served by frequent trains and felt strangely comfortable. My own train was the 14:17 to Stratford-upon-Avon, one of a number of services which provide a practically all-stops Marylebone to Leamington service, before curving away through Hatton to the Warwickshire terminus. I'd last done this line in 2007, on the "Bard'n'Birch" railtour which suffered for following a week after one of the best tours I've ever done. On that occasion, due to signalling positions we got sort of wedged on the branch. No such problems this time, and we were soon arriving in the fine little station at Stratford-upon-Avon. A world away from the other Stratford which had been dominating my thoughts! Time for a coffee, and to watch life at this rather sparsely served end of the line. Contemplated the tracks curving away on what used to be the route to Cheltenham and thought how useful that could be nowadays. Eventually onto a cool, clean new Class 172 for the slow stop-start trip into Birmingham. A lucky signalling check at Tyseley meant a good look at the depot there, before hopping off at Moor Street. Having spent a little time here last visit, I decided to do the same and found a bench, dug out my book and watched life around the station.
The route home was strange - first the complicated roadworks outside Moor Street station, with an army of Hi-vis clad workmen employed to ask passers by if they are "aware the traffic now comes from that way?". At New Street, realised I'd a little less time than I thought, but still enough to shop and get coffee while I jotted my thoughts and watched the evening post-shopping, pre-clubbing lull appear. As ever, back on 1V65 to a surprisingly busy Bristol, with us just squeezing onto Platform 1. The Class 50 hauled charter was a little late, and my HST arrived just as it did, obscured by full platforms. Over the next fifteen minutes the train filled up - almost completely. I'd not given a second thought to the Harbour Festival, but these folks clearly had. It had been a slow, surprisingly relaxing day on the rails - which had almost taken my mind of other things.