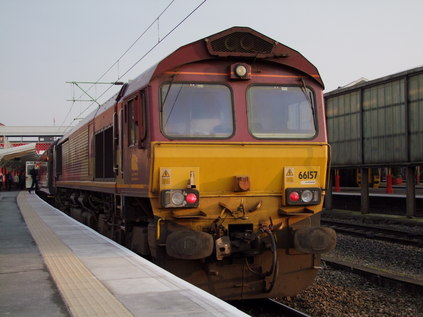 Posted in Railways on Saturday 23rd April 2011 at 9:51pm
---
The end of April is a confusing mess of Bank Holiday's this year, and to combat it I'd planned to spend most of them somewhere else. Last year, the presence of loco-hauled trains to Paignton meant that most of these breaks were spent in the fairly reliable pursuit of more mileage before the trains disappeared. This year however, a number of more ambitious plans have been made possible by railtours. Not least this weekend's BLS jaunt - two trips running out of Crewe and mostly focusing on the East Midlands and South Yorkshire. It's not been an easy passage for these two tours either - with frequent changes imposed by Network Rail who seemed to have abandoned the Possession Plan and made things up as they went along. Equally, the negotiations with third party owners for site access are never straightforward. Thus we had to bear a number of truncations, and a much earlier than usual start for BLS trips today. However, as the pair of Class 66's rolled into Platform 12 - both fairly desirable from a haulage point of view I'm informed - the air of anticipation which accompanies these always interesting runs was already apparent.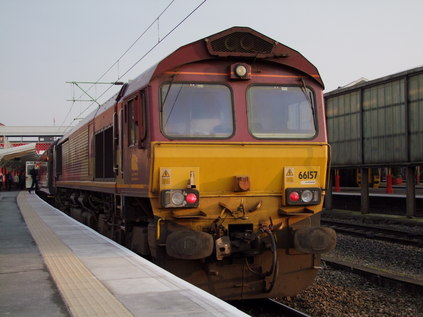 Things kicked off with a fairly straightforward run through Staffordshire to Derby, providing an opportunity to catch up with people I'd not seen for a while. Once in Derby things started to get interesting with a reversal in the middle section of Chaddesden Yard followed by a traversal of the Sinfin Branch. This latter bit of track is something I've been intrigued by for years. When I first started to think about track coverage in the mid 1990s it had just switched to become a taxi due to issues with lightweight units and track circuits. It was unclear if it would ever see another passenger train, and was indeed later closed. But not before I'd pored over each new timetable in the hope trains were back. We reached a point beyond Sinfin Central station - not quite the end of the branch, but further than a passenger train would ever have managed. Another one off the wish list then! From here we set off northwards again, taking a lazy route through loops at Bredsall, Treeton, Cadeby and Barlby to reach the Selby area. Here we deviated into the headshunt which provides a reversal into the Potter Group sidings. This logistics firm appears to specialise in using old railway installations for new purposes - hence this distribution depot on a former sugar processing plant site. A swift reversal and we heading back into the site - in fact the loco practically touched the doors of the warehouse. Another very curious bit of line managed without incident - this was shaping up to be a good trip.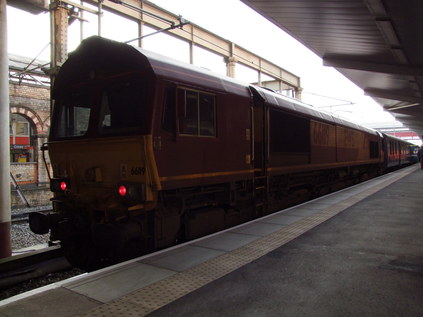 We proceeded next to the Scunthorpe area. The plans here had changed a lot over the weeks as bits of line became available, or we ruled out due to timings and possessions elsewhere. The bad news was that the Foreign Ore Branch was out, however we were able to cover nearly the entire length of the branch to Roxby Gullet. A swift reversal at Normanby Park, and we were also able to creep into the sidings at Dragonby. However, the branch to Flixborough Wharf was out of bounds, not least because of an absurdly tight curve which simply couldn't accommodate passenger trains in any way. Progress was a little slow here, and the afternoon was beginning to feel warm and lazy - in part because something had knocked the air-conditioning out in the otherwise very comfortable Tour Office FO. Vegetation strikes are a common mishap on these unusual and rarely used branches of course, and this one caused quite a sweat. However, we were soon on our way back towards Derby travelling via Lincoln and Newark. As ever, the conversation was pleasant and a constant supply of coffee kept me awake and alert, and as the afternoon cooled a little it was pleasant just to be out and about on what would otherwise for me have been a pretty dull Easter weekend.
It seems there has been a bit of criticism around this weekend's BLS extravaganza, in part because it's difficult for people to get away for two days at a time - especially during the family-unfriendly Easter Holiday time. However, from my perspective this has been an absolute boon. To escape the South West and it's influx of tourists by travelling in exactly the opposite direction is welcome. Alongside this, missing out entirely on any 'Easter' related goings on is another plus. I can see the point of those with families of course, but I hope that Gas Hill continues with these trips, even if only at less controversial times of the year.