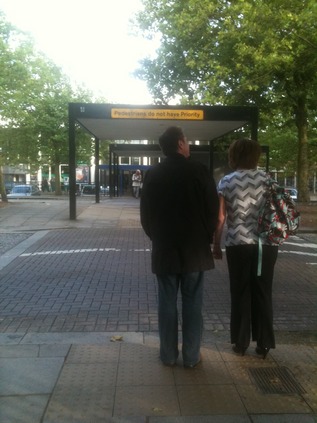 Posted in Updates on Friday 13th August 2010 at 8:29pm
---
I consider myself fairly well travelled, at least as far as Britain is considered. I've spent the last couple of decades zig-zagging across the country, discovering the spots which I was embarrassed to admit to American friends that I'd never visited. Regular readers will know that I'm not much taken with the tourist hot-spots, and that I'm probably happiest following some trail discovered in literature or music - whatever squalid alley or dejected backstreet it might take me along. It's perhaps unsurprising that none of these romantic notions have ever resulted in a visit to Milton Keynes. I've even managed to avoid it for work purposes, and can recall only one brief visit early in 2006 in order to cover a sliver of track at Hanslope Junction. On that occasion, I'd briefly stepped outside the station only to be cowed by the icy winds whipping around the huge open square outside the station.
I arrived at the very same square today, under skies just as leaden despite the season. Recalling that I was travelling light and didn't have a coat, I set off for my hotel with the chill wind seeping through my clothes and speeding up my pace. The first thing I noticed was the lack of a horizon here. Wherever the pedestrian in Milton Keynes stands, there is only the view of a straight path ahead, undulating via underpasses to avoid at-grade crossings. This makes it impossibly tricky to judge distance, and not really having any sense of how far I needed to walk I set off along Midsummer Boulevard, part of a complex of streets named after Avebury, Silbury - an attempt to link the geometry of the street to an ancient tradition perhaps? This main road sets the pattern for similar thoroughfares here - a wide dual carriageway, with brick-surfaced service roads and patches of parking alongside. A generous but badly maintained pedestrian and cycle way runs alongside, with occasional covered walkways leading onto the road. There is, however, no safe means of crossing at these points. Some bear the stark message "Pedestrians Do Not Have Priority" in black on yellow. I pressed on, cresting a subway and seeing my hotel's sign - deceptively close as it was much taller than surrounding buildings. When MK was planned - with no building "taller than the tallest tree" a series of glass and concrete blocks lined this road. Many of them survive, extended - often with inexplicable canopies covering nothing at all. Does it rain more here than elsewhere? It certainly did today, and despite the proximity of the hotel, I was forced to shelter under one of the purposeless canopies for a while.
After checking in to a comfortably faceless chain hotel, I wandered up to the shopping area. MK is zoned aggressively, and boasts the longest 'covered High Street in Europe'. I can understand why, because this concept of shopping is bizarre. Once inside the listed shopping building, via a new glass atrium filled with food chains, one is drawn endlessly along a high-ceilinged greenhouse with shops lining one or both sides. Occasionally portals open onto the street, and nearby shops over the seemingly impassable road can be glimpsed. What you want is always 'over there' and the signs point hopefully towards the destination, with no disclaimer based on the high-speed traffic between you and your goal. Among the usual high street names, rather poignantly, small independent retailers remain. Their shopfronts harking back to the 1960s when this zone was built - oddly out of place in the modernist enclosure of the shopping building. It's uncomfortable, and they seem lost and decaying here. A sports shop, crammed with goods, sits off the main line of shops with a wooden shopfront and a joyfully retro plastic sign. I'd have taken a picture, but I was already beginning to attract the attention of the bored security guards, particularly when I snapped the infamous Concrete Cows, temporarily at home in the shopping area. I realised I was browsing - the rest of the visitors, a small stream at this time of day, were trudging by without looking. I must seem like I was casing the joint! Dodged out through a strange, grubby marketplace. The alley between the stalls a dark, menacing and stinking slot. Opted instead for an ill-advised road crossing to get to a supermarket. Even this felt odd, and I was chastised for walking around the aisles the wrong way. Around now I realised I was being followed. Not by security, but by a small group of teenagers. They laughed and pointed - and this I'm used to, as I am of somewhat novel appearance I suppose. But the continued to do so, over the road, into the supermarket. I felt more disturbed than threatened. Was this the most interesting thing to do here?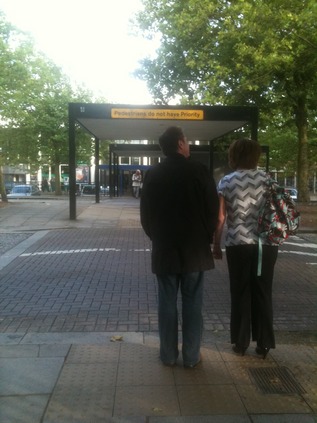 What appears a uniform - or even simply possible - walk from the air is different from the ground - the long straight boulevards are just as disturbingly linear as they appear, but the undulations as the path snakes under bridges and around parking zones makes walking Milton Keynes difficult. For that reason, as a confirmed pedestrian, I could only skirt the fringe of some parts of the place. There was a bus service - seemingly frequent and connecting all the aspirationally named suburbs to the hub - but even this was a little tired. No modern, rapid vehicles to suit a modern town here - lots of tiny operators running clapped out minibuses alongside some ageing single deckers. The whole service seemingly designed to be be frequent enough to make crossing the road impossible.
Back at the hotel, I looked out over the wet vista. The dome of Christ the Cornerstone - even the church wilfully earthbound in its allusion to the building process - dominated the skyline. Beyond, lines of trees announced the border of the housing zones - tiny communities defined by a grid and self-contained. The roof of the leisure building also zoomed high above the offices. I hadn't got that far, and didn't intend to. I'd seen enough of Milton Keynes for now. Contemplated a very early morning departure, but realised a check out would be difficult. I was condemned to a full night here, aching from my walk and sleepless from my over active mind.
I should have liked Milton Keynes. I like the thrill of modernism, and the regularity of planned spaces. I've deliberately sought out the model suburbs elsewhere, and this planned community on a grand scale should have been the ultimate in the line. However, it has aged poorly. An old building left to decay has stately dilapidation to look forward to, whilst a modern building has none of the glamour. The buildings here are tired, often pointless, usually poorly accessible. The car was king when MK was planned, and now it is emperor - rendering the place as unfriendly to pedestrians as many US cities, despite it's efforts to provide for the foot passenger. The lack of scale, of distance and of horizon is uncomfortable, cloying and ultimately disorienting. I don't think it's possible to be truly at ease here.