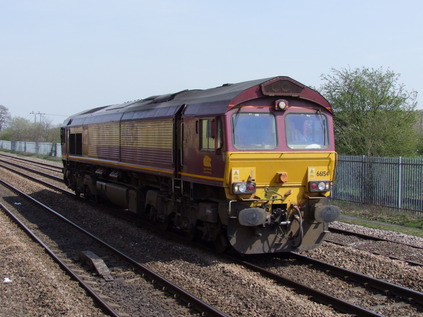 Posted in Railways on Saturday 17th April 2010 at 9:13pm
---
A cursory read back over the past few entries here seem to involve me whining increasingly about cancellations, poor sleep or other trivia. In some respects, this one won't begin any differently - partly because the Comfort Inn had assigned me one of their least comfortable rooms for the weekend on the dreaded fourth floor. In some respects, this wasn't all bad as it kept me away from the other guests. On trying to leave the hotel to get food last night I found myself needing to negotiate a huge group of Germans who had colonised the stairs and reception to hold some sort of presentation to a friend or colleague. Arriving at the top of the last flight of stairs I was confronted by a bearded man in expensive ski-wear who hissed "You will be quiet!" at me. With the stairs clogged with bodies, I turned for the lift - but before I could hit the call button the same man's gloved hand covered it "No!" he commanded. I resigned myself to listening, recalling bits of my schoolboy German. The woman in question thanked a lot of people before I finally got to leave...
This morning presented no such difficulties, and at a relatively sensible hour I wandered over to New Street to prepare for the day ahead. There were a lot of charters running, and it was a struggle to get the information on which platform I needed from the Information Desk. However, later the announcer and displays all updated this - uncharacteristically helpful for this location. Likewise, there were no reports on the tours progress up from Swindon. Again, I could have picked the train up further south - but I liked the fact I could have breakfast and a relatively leisurely start to my day. Eventually, 66154 rumbled in on time. Soon away towards Aston, noting that since descending into New Street's depths, the sun had fully risen above ground and the weather promised to be good. There was a slight bloom of frost on the waste ground as we headed north through Bescot and Portobello Junction, and a pleasant breeze through the windows. I settled back for the ride up to Crewe.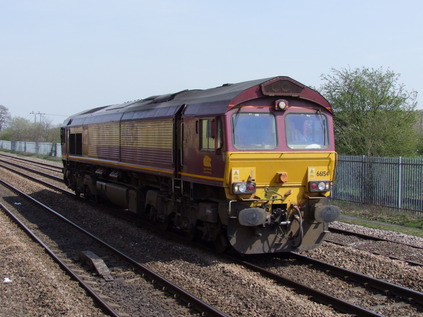 Hopped off quickly at Crewe and made a dash for the front. As ever the crowd had beaten me, and there was quite a crush at the end of Platform 12 to watch 70003 gently backing on to the train. The Class 70 had been waiting for our arrival here, with a small bunch of excited Americans in GE jackets pacing the platform. The 66 needed to stay on too, to prevent any unwanted contact between the rugged front-end of the Class 70 and the vestibule connections on the Mk II coaches. We noted that the multiple working cables were joined despite the 66 being switched off. They were taking no chances with this one it seemed! Soon back on board, and we were off - a gentle departure and onto the WCML - the first passenger working of a Class 70, and a favourite bit of line for me. Sat back and contentedly enjoyed the trip as we passed north through Warrington, Wigan and Preston. Noted a fair number of line-siders out to see us too!
After passing Lancaster, and the ever stunning glimpse of Morecambe Bay at Hest Bank, we headed through the platforms at Carnforth before taking the sharp, right-hand curve onto the Little North Western line. This rarely travelled line is surprisingly scenic, and is so much more pleasant on a proper train in fantastic weather than on a packed Pacer! We passed 6201 'Princess Elizabeth' steaming at Hellifield on a light engine movement from Carnforth, before joining the busy West Yorkshire commuter network at Skipton, where a number of passengers got off to explore the town. Pressing on through Keighley and Saltaire, we finally arrived in Leeds. Lots of activity as people disembarked, boarded for the mini-tour or just milled around trying to get a picture of the celebrity locomotive.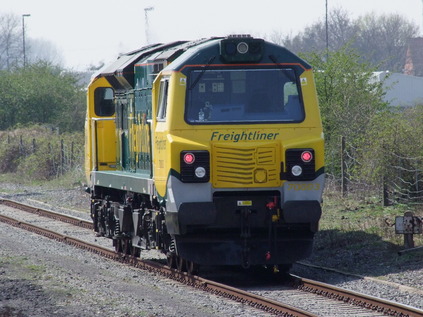 The minitour was of course originally a spin around the Harrogate loop which has been a bit of a bad luck line for tours lately - dropped from last years' Jorvic Growler due to late running, and now not cleared for Class 70 operation. Instead we had a rather less scenic spin out to Hatfield & Stainforth - out via the fairly rare west to south curve at Selby Canal followed by a swift dash down the ECML to Joan Croft Junction. The run around at Hatfield seemed to take forever, but it was pleasant enough to hang out of the window and watch events unfold. Finally coupled up once again we set off, and unexpectedly retraced out steps towards the ECML. Cue a rather surprised announcement from Mr Watts that we were "going the wrong way". It seems in fact that Network Rail had slipped a VSTP re-routing under the radar and we were now heading fairly directly back to Leeds via Hambleton. This meant missing the northern curve at Adwick which was the one other bit of rare track on this. Not a great moment - but possibly not unexpected on what must be one of the most retimed, altered itineraries of recent years.
A break at Leeds for a decent coffee and a wander around the pleasantly cool station. Finally managed to get some shots of the engine with some loon using it as a bench, or in the case of one particularly loyal crank, refusing to let go of the handrail. People even tried to tempt him away with food and money, but still he held on. He obviously really liked Class 70s! They eventually let him have a look around the cab - and I imagine he's probably still in there somewhere! Soon back on board and heading back along the Little North Western towards Carnforth. Quite a delay here waiting to cross back onto the mainline, which left us a little behind all the way to Crewe. Here, no time was wasted in getting the Class 70 off the front, and it was last seen ambling off towards Basford Hall having made a little bit of history today. Off Crewe almost on time, and some more swift running from 66154 to get us back into New Street on time. A tour which almost did everything it was supposed to, and scored that all important "World's first Class 70" tag!
As we trundled back, a Pathfinder person with their new 'customer feedback sheet' occupied the seat across from me and asked me how my day had been and what I wanted from tours. I told him that this was the sensible way forward - drop the normals somewhere nice and whip the cranks off for a spin somewhere unusual. No long wet layovers in Llandrindod, or three hour stops in bone-crackingly cold Buxton. He nodded sage agreement, and said "I think you're right". As he passed down the coach I heard people giving him lists of 66s they needed for haulage or rare crossovers that should be included in a tour shortly. I don't disagree with some of their wants and needs - but thinking back to the young lad gripping hard onto the hand rail of 70003 earlier, if we want these trips to continue we've got to loosen the hold a bit and think about new ways of doing them.