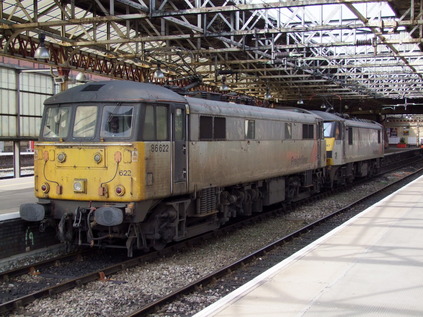 Posted in Railways on Saturday 10th April 2010 at 10:02pm
---
Last week I speculated on how today's trip could all go wrong if 1M21 didn't perform. Its always been a reliable, useful train in the past and despite it's unplanned meander via Bescot last week, it generally delivers. Then again, so main things which normally work out didn't today! It was always going to be a bit of a shaky start - after stumbling back to the station about five hours after arriving home from the ASIWYFA show in Bristol. Still, resolved to have a relaxing ride up to Manchester for starters and maybe sleep a little too. The unit to Bristol gave cause for concern at one point - after a long stand at Uphill Junction the guard asked if anyone was headed for Weston. So it seemed they were planning to use the mainline - which would have probably mopped up any lateness. In the event, the broken down train which was blocking the platform was restarted and we continued our journey about 10 late. No big problem, and still plenty of time to get breakfast and settle into my seat on the 07:00. The day was shaping up to be warm and sunny, and the train was on time. I had a niggling doubt about getting across Piccadilly to the far-flung platform 14 in time, but that wasn't yet a big worry.
Then it all went wrong... As we cruised up the Lickey, the guard announced we'd be terminating at Birmingham as there were no staff for the onward service to Manchester. Everyone going that way should use the 08:57 service. So, with plans in tatters I made a quick dash for the Customer Reception at New Street - they were sure to help I thought, with only a two-hourly service from Manchester to Carlisle I was hoping they'd pass me on a Virgin service northwards which would get the day back on track. However, I was met with utter confusion:
XC Person: Why would you go that way?
Me: Well - it was cheaper and the connections were easier from my home station.
XC Person: But why?
Me: ...explained the route in a bit more detail.
XC Person: But it's not our fault you can't get a direct train from Manchester to Carlisle!
Me: Indeed not, but it is your fault I can't get to Manchester as booked.
There was plenty more - and then another XC person, who barely stopped short of accusing me of some sort of terrible fraud in trying to get a cheap ticket on a Virgin service! I pointed out that the whole situation stemmed from Crosscountry terminating their train in fact. He retracted his rather strange view, but stressed how they had to be so careful with these Advance Purchase tickets, and that I really shouldn't expect to be able to travel a different way using them. Again I pointed out, trying to stay calm, that in fact I'd tried to travel on exactly the trains my tickets were valid for but that his company had failed to operate the trains as advertised. He changed tack a bit, and suggested I travel two hours later - I pointed out a couple of issues - firstly, I had advance purchase tickets going home too and I'd not then make the trains I was booked on. "Hmm" he said "I can't really stamp those for travel on a different service". OK, and even if you could - there won't be a connection to my home station two hours later as I'll miss the last train. "Not our job to get you home in those circumstance Sir". I reassured him I didn't think it was and clarified the position - he'd stamp my tickets and I could get to Manchester on a later train. Then I could hope that Transpennine Express would let me travel on the next Carlisle service in two hours. However, I'd then miss my return trains and not get home. So I could either not travel and wait until the 17:06 Manchester-Bristol train as he wouldn't stamp my homeward tickets, or shell out for a new Birmingham-Carlisle or Birmingham-Bristol single.
XC Person: um, well, yes. That's it really. But you could write in and they might give you a refund.
There is a lot of oddness here. Firstly, Virgin have never had any qualms about doing the opposite if things go wrong - they seem to focus on getting people to their destination first and the politics later. Yes, my tickets were routed unusually, but it's the advance fares culture which Crosscountry participate so willingly in which pushes people into choosing these combinations. It was a valid, reasonable and perfectly achievable route without the delays - where does the passengers charter suggest that choosing to travel on a cheaper ticket gets the company out of having to provide a service? Finally, there is the fact that for years I've told people not to worry about inter-TOC politics - they'll get you home. Now I can't say that with any sort of certainty. It was a dark day indeed for the railway.
And not a bright one for me, despite the sunshine. With trespassers lurking at Birmingham International, the 08:57 rumbled in 37 minutes late. Still in wonderful weather, snoozed and seethed my way to Manchester. No hope of an onward journey to Carlisle as planned now, so contented myself with people-watching and coffee in the station. Brooded on things, money, railways, work stuff. Decided I needed to keep moving to stave off the gloom so headed out to Crewe on a packed Pendolino. It was getting hot, and the first hints of hayfever seemed to be appearing. Crewe was quiet - unusually so, but eventually some light engine moves produced some interest in the form of a parade of electric locos reversing in the bay platforms.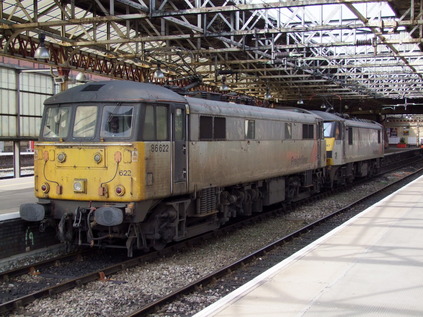 Decided to head back to Piccadilly after a further wander around Crewe, and watching a strange modelling session where a dreadlocked girl stood at the end of the platform and her goth boyfriend took pictures of her looking like some sort of cyberpunk gricer. Admittedly she was a lot easier on the eye than the usual platform-end vegetation at Crewe! Another, somewhat quieter, Pendolino took me back to Manchester. Snoozed a bit on the way - the late night catching up with me and reminding me that despite feeling like a teenager thanks to the music, I definitely wasn't one anymore. Settled for a very un-rock'n'roll coffee and watched some more people, including a would-be barrister with an impressive, booming voice who unfortunately resembled a fairly bedraggled tramp. Wandered out to find my seat on 1V65 and settled in for a carefree and pleasant journey homewards. This time everything worked as planned, but it didn't make up for the irritation and dismay I felt, which to my shame I characteristically managed to take out on entirely the wrong people.
Things don't always go to plan on the railway - sometimes too, it's no-one's fault at all. I've learned to be fairly stoic and relaxed in such situations. When things go wrong like today though, I get irritated - embarrassed that those who travel less often will form their opinion based on how things went wrong, but also on how hard people worked to put them right. I've normally got my own back up plan too - so I don't trouble the staff when they're needed by others. But on this one occasion where it just wasn't going to work out without their intervention, they left me high and dry. It might seem like a cancelled train and a cancelled day trip (which plenty would see as pointless anyway) but its actually a very sad outcome in a number of ways. Let's hope next week's railtour will restore the balance a bit...