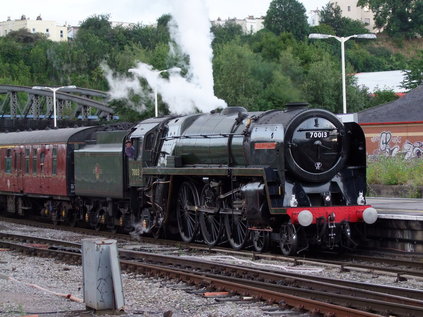 Posted in Railways on Saturday 25th July 2009 at 10:34pm
---
I dislike Blackpool. Please don't think this is some sort of snobbish response to the traditional British seaside resort - after all I've spent much of my life in and around them, and have always enjoyed visiting them on my jaunts around the country. No, this is something special that I reserve for Blackpool. I've been there three times, and each visit has exceeded the previous one in it's unpleasantness for me. So why would I visit again? A fair question, and one answered in the usual vein around here - because there is track to be done. It was announced recently that the iconic Blackpool Tramway is to close for renewals between Cleveleys and Fleetwood for no less than three years and that some of the southern sections might also close whilst a new depot is constructed. With this closure likely after the end of the illumination season in 2009, there wasn't much time to waste. Ideally, I'd not be heading for Blackpool in the middle of July - but there seemed few realistic options in the calendar within the deadline.
The journey itself was pleasant enough to begin with. A quiet and rather lazy trip up to Bristol, then onto a Manchester train. Concerned I might have a brief scuffle regarding my reserved seat with a local character who makes a beeline for the one I was allocated and gets very anxious and abusive when challenged, but today he didn't get beyond muttering and gurning at me. A pleasant run, leaving the wet weather behind in the South West as I headed for Manchester. The plan here was to change for a TransPennine Express service direct to Blackpool. I knew this would be busy - and had booked a cheap advance first class ticket for this very reason - but I wasn't prepared for the vast numbers of people crowded precariously onto the narrow platform 14! Fought my way to the first class carriage and after another brief disagreement, to my reserved seat. At this point, in typical TransPennine Express style the train was declassified and the hordes swept in. Spent a very uncomfortable trip with people leaning over me and at one point practically sitting on me!
Arrival at Blackpool North was no less eventful. The holidaymakers were as surprised as I to see new ticket gates. However, they seemed to struggle with the general concept and despite four gates being available, formed two queues which straggled across the concourse preventing access to all of them. One of these queues was also for a gate far too narrow for the big wheeled suitcases people insist on tugging around these days, so this led to plenty of fractious lane-switching at the crucial moment. People were getting testy, not least a large, rather elderly man who was getting redder and redder as he shouted at a rather frail old woman and a pair of younger girls. At first I thought they were all related, but it became apparent that whilst the apologetic looking older lady was indeed his wife, the others were totally unrelated and just unfortunate to be in front of him in the queue. As one of these younger women managed inevitably to get her vast luggage trapped in the gate, he stepped forward to be assailed with cries of "don't you DARE try to help me after what you've said". I spotted my moment and slipped through the gates in the middle to freedom. As I left, a hitherto absent young man had stepped in and it seemed that fists were flying.
Welcome to Blackpool.
I reckoned I had just enough time to make a full circuit of the tramway, and trudged down a greasy, congested Talbot Road towards North Pier. The place was even more run down, even less friendly and far far dirtier than I remembered. For the first time in a long time some building work had appeared and improvements were happening - but in this interim stage, this just made the place less accessible and more crowded. The trams were no less confusing - with extra trams out there was congestion and chaos on the busiest parts of the route, and this led to a huge gap in the service. Made my way along the inside of the long bus shelter which serves as a tramstop only at the very last moment, to avoid waiting in this dirty, urine sodden tunnel any longer than strictly necessary. Finally onto a southbound tram and making very slow progress towards Starr Gate, the driver hooting at the hapless holidaymakers who frequently strayed into our path.
The service itself is rather good. Conductors are friendly, knowledgeable and professional - and its far from the heritage tourist service I expected. Once at the southern terminus, failed to make a dash for a Fleetwood-bound tram in front of us, so stepped back and caught the next northbound tram to Cleveleys. Given the low speeds, I was worried about the schedule and would review things as I went along. Turning back before the end of the line and needing to do this trip all over again was a depressing, but realistic prospect! The trams themselves were interesting, but photographing them was fraught with difficulty unless you had time to hang about one of the busier bits of the system. Stuck to my main priority and ended up being the only passenger for much of the journey due to a bunching up of trams in the central section. Took the opportunity to chat to the staff and we were soon out of town and onto a faster paced section through Bispham. Thought about turning back at Cleveleys, but noted a Fleetwood service just behind us. Boarded this and settled in to finish the circuit again as practically the only passenger. Very concerned now that my time before the train back was very limited, and the journey north seemed to have taken a very long time indeed.
The tracks eventually left the road and became a more conventional railway type alignment as we approached Fleetwood. This place, regarded as much more depressing than Blackpool by the conductor, actually seemed to have a little life about it. Ignored the tongue-in-cheek remarks about the suicide rate in the local park related to the presence of a large Social Security office in the town. Not long to wait here though, as once we'd reached the harbourside terminus, I was able to make a dash for the large blue tram I'd missed at Starr Gate, and get an early departure back towards town. Much busier this time, but made fairly swift progress, eventually arriving back at North Pier with around twenty minutes to return to the station and catch my train. This, thankfully limited my further exposure to Blackpool, and despite a telling off for daring to wander onto the platform (I thought that the new ticket gates might have relaxed the draconian 'wait inside the building' policy here) I had a fairly uneventful time before departure.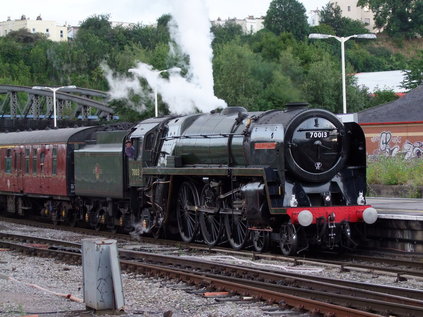 The trip back, on a pleasantly cool and rather quiet service to Birmingham follwed by a near empty connecting service to Bristol was relaxing and for me, rather sleepy. Not sorry to be out of Blackpool, and to have finally managed to cover the tram lines. On arrival at Bristol, noted 47760 awaiting the return of a steam hauled charter it was due to take forward. Took some snaps, then found myself in just the right spot to get a shot of 70013 'Oliver Cromwell' as the steam service arrived, before hopping onto my local service home. It had been a trying day which reminded me just why I don't like Blackpool - but the journey, as ever, had been enjoyable and cathartic. In theory, it should be at least three years before I need to go back!