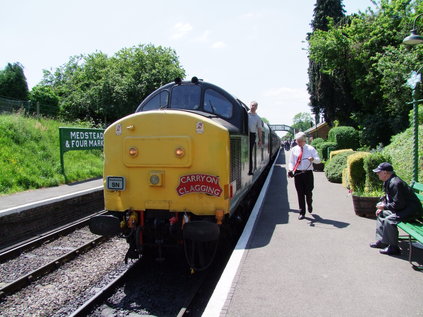 Posted in Railways on Saturday 30th May 2009 at 10:05pm
---
Following some fairly well-documented issues, the Mid-Hants Railways stopped having diesel galas around four years ago. It was encouraging to see then, an announcement that an event would be held this weekend. Having watched a fair amount of commentary on the web over the last few weeks, it was fair to say that some doubted the sincerity and the commitment of the line's management to a diesel based event, given an outspoken preference not to get involved in such things in the past. The lack of involvement of those in the industry who had previous supported the organisation of diesel events was also notable. However, having not been to the line since a brief end-to-end trip in 2006, I was keen to visit and to see how things worked out for myself. In particular, the reported presence of both 56098 and 37905 from Shackerstone were a huge bonus, having been elsewhere during the Battlefield Line's own gala earlier in the year. So, set out on the early train, connecting at Weston into the 06:24 in the time-honoured fashion and travelled as far as Reading, unusually via Filton Bank and Hullavington. A quick leap here onto a Gatwick-bound 166 as far as North Camp where we made the short walk to Ash Vale and a 450 into Alton.
As we arrived it was clear that the Mid-Hants organisation had likely underestimated the patronage. Already, there were queues building for tickets, and notably the glossy and well-produced programme and timetable had been reduced from £5 to a more reasonable £3. Even more surprisingly, the first train off Alton's platform 3 was to be formed of the line's single car Class 122 bubblecar! We crammed in, but others decided to flag this for the following departure. They displayed some foresight in doing so, as on arrival at Medstead & Four Marks our train was declared a failure with an air leak. Off the train with some difficult due to the number of out-of-use doors on the unit, and time for a coffee in the bright sunshine while we awaited 56098 and 33053 which were following.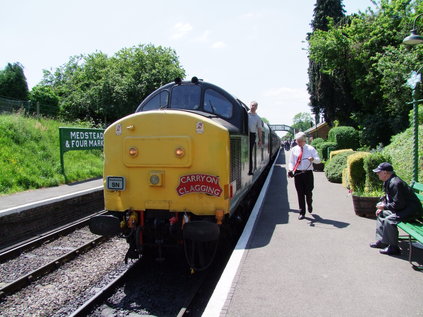 Things seemed to go awry here, and to be honest never really recovered. Our plan had been simple - try to get some haulage behind each of the locomotives on offer, and ensure that we managed to end up on a service using the rare track into the Cattle Dock at Alresford along the way. In the event, just finding trains to run up and down the line on became an exercise in itself. Stayed on the 56 hauled set for a full run back to Alton, then via a solo run with 33053 managed a switch onto the impressively noisy 37905 somewhere along the way. With mounting delays, the timetable and roster were apparently discarded in favour of letting people watch the various demonstration freight trains passing by. Frustratingly, we spent more time on platforms at the admittedly well-kept stations with their very good facilities, than we did on trains. Spotting one of the DMUs lurking outside Ropley station we bailed and soon found ourselves onboard the now working bubblecar once again, which managed the required track into the Cattle Dock. Time for a few pictures of an impressive departure from 37905 too.
Perhaps watching this departure rather than hopping on board wasn't the correct plan however, as it soon became apparent that there was no hope of anything hauled by the two Class 73s from this end of the line now. A long, but not unpleasant wait eating ice-cream and drinking ginger beer followed, before 33053 crept out of the sidings with the stock of the 15:20, delayed by well over an hour. We boarded as a desperate move to get back to Alton, literally not knowing when the next train might arrive if we didn't!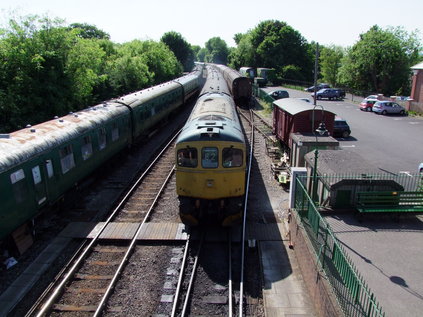 Finally back at Alton to find 73201 arriving suspiciously quickly after us. No hope of a complete round trip now before the close of the event, and a risky change at Medstead didn't feel at all sensible. Instead, flagged the train for a wander into Alton, and eventually the 17:44 train back to Ash Vale which seemed to be conveying mostly expectant-eyed young clubbers heading for Waterloo! Another quick move on foot to North Camp for a relaxing run into Reading. From here, another diverted HST home, this time via the Berks & Hants and Hawkeridge Junction to reach Bristol.
Despite things not going to plan, today was a decent day out - helped of course by some fine guest locomotives, stunning weather and the pleasant surroundings of the Watercress Line. However the organisation, and some of the staff with their clear anti-diesel sentiments, let down the MHR badly. The proliferation of non-passenger workings, the lack of contingencies when failures occurred and the quite oddly constructed timetable made for a frustrating day which just wasn't good value - even when compared to more expensive events elsewhere. It's a 'must try harder' from me for this weekend - but I sincerely hope they do, and that there are future diesel events worth visiting on this otherwise interesting preserved line.