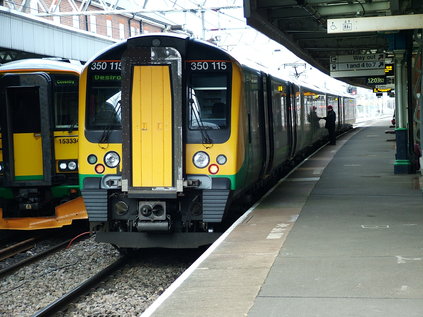 Posted in Railways on Saturday 27th December 2008 at 6:18pm
---
It was probably madness to attempt a journey of any significance on the Saturday between Christmas and New Year. Booking late after a week or two of general disorganisation also meant missing out on cheap first class fares, which was always going to lead to needing to squash into some already busy trains. It was also proving hard to get around the country - there were pockets of engineering almost everywhere I'd planned to head. Nevertheless, a plan was hatched, albeit with a fairly low new track quotient! The plan was to cover the lines affected by the recently completed Trent Valley Four Tracking project (TV4 as it became known). Stopping services had resumed on this stretch of the West Coast Mainline only last week with the new timetable, and I was keen to revisit. Mr Spinks also came along for the ride, braving the freezing Highbridge morning to set off on the 06:20 which was the first train of today's revised service.
Plenty of time to change at Bristol, as the connections with CrossCountry services are sparse early on Saturday mornings. Eventaully, a pair of Voyagers rolled in and once detached, the front unit was announced as our service to Stoke-on-Trent. Glad to get into the warm and enjoy breakfast as we headed north in fine but freezing weather. As we curved away from the Camp Hill line at St Andrews Junction, we passed one of Fastline's new Class 66 coal services heading for Avonmouth - a first sighting for me. Despite being heavily reserved, no major problems with overcrowding, even after a major influx of customers at New Street. Good not to have to change here today, staying in the warm as we headed north for Stoke, passing another newcomer to these shores in the form of 350236 at Wolverhampton. It was turning into an interesting day. Ground to a halt just outside Stafford, seemingly due to reduced capacity in the station as a couple of lines were closed. A late arrival at Stoke followed, but no great problem as we had a fair margin. Time in fact for Mr Spinks to attempt to win the jackpot on a vending machine, to no avail!
Not long to wait for our 350 to Nuneaton, which today was to be the terminus for these services due to engineering work. An original plan had been to cover the 'Blockade Buster' services which were operating to get around these works once again, since they were booked on a slightly different routing near London, but I abandoned this in the face of dire warnings about busy trains and a lack of cheap fares. Soon off, and retracing our steps as via Stone where services have recently resumed after five years following the WCML upgrade. The impressive station building in the angle of the junction with the line to Colwich sporting new London Midland signage. Onwards to Stafford, noting that timings seemed slack with some fairly long waits at stations. Took the Trent Valley lines here, calling at Atherstone, Rugeley and Lichfield on route to Nuneaton. The line was quiet given the closure, which provided plenty of opportunity to look at the work done here - some fairly major engineering in fact, especially with the number of bridges and covered ways for farm access which needed to be extended to span the four tracks. Soon into Nuneaton, always a rather windy station but today very, very cold indeed. Headed straight for the near-legendary tea shop for welcome warm refreshments.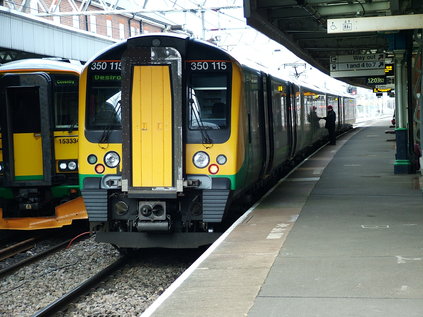 Watched a late-running CrossCountry unit to New Street arrive and depart from the Leicester line platforms very full. This didn't bode well, and indeed our train was also pretty well-loaded on arrival. Skulked in the vestibule for the fairly short journey to avoid scrambling for a seat. Grateful just to be warm, and in any case this provided a much better view of Washwood Heath and Lawley Street - not that much was happening on this very quiet holiday weekend. Stumbled into scenes of confusion at New Street, with 'congestion on the network' being blamed for some very late trains. Watched one of CrossCountry's recently refurbished HST sets arrive on a Plymouth bound service, solidly wedged and with some very tetchy looking people pushing their way on. Must get a ride on one of these sets soon, as they look rather comfortable inside - perhaps not on such a busy weekend though. Our own train, heading for Cardiff arrived soon after, and we enjoyed a quiet and picturesque run along the Severn estuary in wonderfully wintry sunshine. Newport was also busy, and after watching people squeezing angrily into a packed Manchester-bound Class 175 we waited with some trepidation for what First Great Western would provide for the final leg of our trip. In the event, a generous three-car Class 158 arrived, and we had an easy ride directly back to Highbridge.
So, the year ends with a shorter day out than usual, but a productive and pleasant one despite travelling at a time when people are advised it's probably best not to! Good to get out and explore in this otherwise rather miserable bit between Christmas and new year.