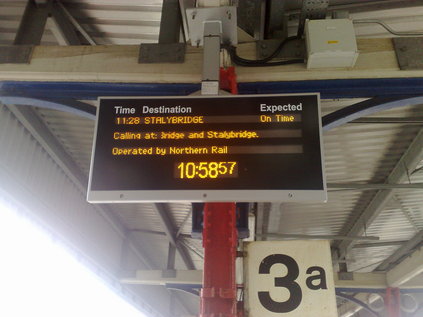 Posted in Railways on Saturday 19th April 2008 at 9:28pm
---
I can't seem to sit still this month. Sandwiched between two potentially rather tricky days at work, this weekend was likely to be the one when I didn't have anywhere in particular to be. There were a couple of events around the country, but none of great interest or easy to reach - so, having spoken with Mr Spinks earlier in the week I hatched a plan to revisit some old ground and get out and about after all. Getting tickets proved challenging initially, but pretty soon - and after only one disasterous booking error which needed to be sorted with a phonecall or two - the trip was sorted. A visit to Liverpool, travelling via the Stockport to Stalybridge 'ghost train' once again. Or from my perspective, a bloody long way to go for a pint!
A nice easy start to the day - off Highbridge on time, and to Weston where the useful 07:00 would take us directly to Stockport. Breakfast after Weston, and a fairly lazy trip up via Camp Hill. Things got a little busier on the train at Birmingham, but progress was good and we made consistently early arrivals at our stopping points. I almost hate to jinx things here, but my recent experiences with Crosscountry have been very good in terms of timekeeping. I hate to say it because the lack of South West to North West services seems nuts, but perhaps the work to resolve conflicts at New Street is paying off? At a cold and windy, but most importantly dry Stockport there was time to get coffee and add some tickets to Mr Spinks collection - including a few fairly bizarre CDRs to stations on the 'ghost train' route which it was impossible to return to! A fair gathering seemed to be assembling for the trip which has over the years developed something of a cult status, and happily noted a few normals also using the service to avoid the change at Piccadilly. Chatted and snapped a few pictures while we waited for 150223 to depart for Stalybridge.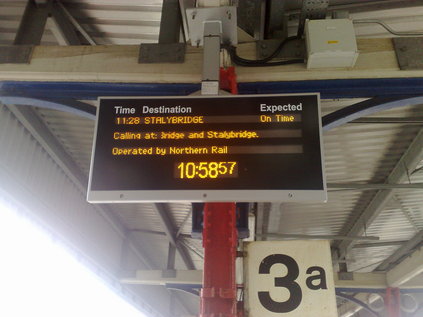 On arrival, the small horde disembarked and lingered around the unit, safely tucked into the bay platform awaiting it's departure back to Newton Heath having completed it's purpose of keeping a practically closed line legally open. Some local gricers lined up for a group shot and others took snaps of the unit on the buffers. Most had the same idea as we did, and despite my injured knee slowing me down a bit, made the dash under the subway and into the near-legendary Station Buffet to see no less than nine real ales on offer and an already busy bar. Settled on Howard Town's 'Hope' for starters, as I'd enjoyed a pint of their 'Wren's Nest' here on a previous visit. Badgered Mr Spinks into considering the addition of the famous black peas to his chosen lunch. Credit to him for trying them out, and I think quite enjoying them too. They certainly had an interesting effect on him, as moments later he was seen enjoying a half of my next choice, Phoenix Brewery's 'Darth Vader'!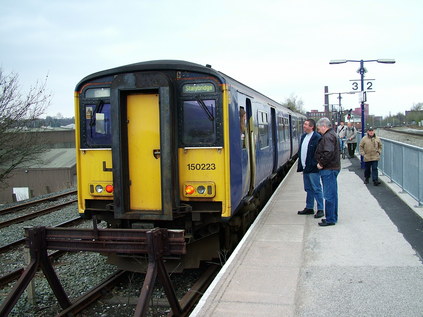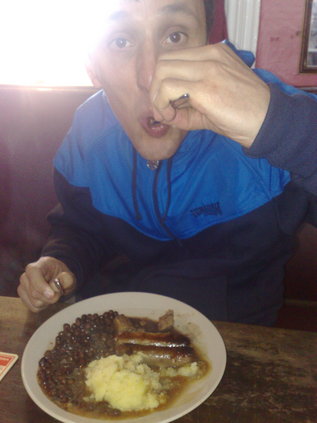 Leaving reluctantly, caught the next Transpennine Express service to Liverpool. Despite being very busy, the spacious Class 185 didn't feel cramped and we had a reasonably comfortable journey via Manchester Piccadilly and the former CLC lines via Warrington Central. Passed a few notable locations, but struck by just how quiet the formerly hectic depot and sidings at Allerton and Edge Hill were. A lone shunter poised above the mainline and some dumped wagons were just about all that indicated the presence of a railway installation at all. Arrival at Lime Street was, as ever, a pleasure. I always feel like I'm at a real, old fashioned, busy station and today was no exception. Wandered a little way into the City, dodging the saturday shoppers. Mr Spinks headed down into Liverpool Central to score some more track, while mindful of my leg I stayed above and found some food having missed lunch in favour of sampling a second beer!
Back to the station in time for the 15:37, a reliveried London Midland Class 350 which looked smart and tidy. We were joined by a group of local girls heading for Birmingham, who despite being rumbled for an attempted ticket scam (and forced to pay up by the patient but firm guard) managed to be quite entertaining most of the way back. They also had a very strange idea of where Coventry was located in relation to our route - and seemed genuinely concerned when it wasn't the next station! A short wait at New Street for another timely and uneventful Crosscountry service back to Bristol. As we sped south, the weather turned first gloomy and then very wet indeed. As we waited for our final connection of the day into a Taunton train, a convoy of locomotives sped through Temple Meads causing Mr Spinks to break into a spirited platform-length sprint! I've always told him that real ale was good for you, and this demonstrates this admirably. All in all, a cracking day out covering lots of old ground and many miles with no problems or delays at all.