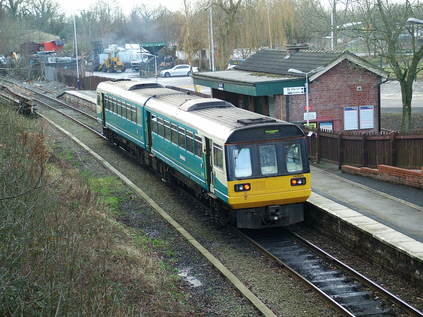 Posted in Railways on Saturday 5th January 2008 at 11:55pm
---
Since the disappointment of the Glasgow trip, I've been sick and felt pretty dejected. Somewhere this past week I decided I'd check to see if there were any cheap tickets left which would get me out and about to blow away both my persistent cough and the attack of the drabs which seemed to have descended. The first journey I tried was one which popped up in my browser history having been attempted before, and gave some encouragingly low fares I suspect because of the high profile news stories about delays and overrunning engineering works. So once again I would attempt to cover the branch to Rose Hill Marple, for the sake of 1m 2ch of new track!
So today I found myself doing something I'd not done for awhile in struggling down to the station for an early train on a Saturday morning. Last year, with it's challenges, meant less frequent and more carefully thought out trips. It was good to get back to the 'book and go' culture of times gone by, and to just head for some curious destination. While I waited for the train I tested my voice - still weak and strained and my cough still barking furiously if a little less often now. Decided to explore a map of my destination via GPS. Not inspiring - a small suburban terminus at the end of a tiny branch. To me though, it was new track and therefore a goal worth seeking out. Also noted that the 07:00 from Weston was in a confused state - in one entry in the departure list it was cancelled to Leeds, and it then reappeared as running to Manchester Piccadilly. Decided to check at Weston and set off hopefully. On arriving, checked the boards to see the train (definitely Leeds bound now) delayed by around 50 minutes. A quick check of Crosscountry's website revealed this was due to lineside equipment failure delaying the ECS to Exeter. Hopped back on the unit which luckily waited a few minutes for a passing down service, with the intention of trying my luck at Bristol.
Arrived at a dark and cold Temple Meads to find it stuffed with locomotives - a pair of Class 31s top and tailing a test train in the through siding, 66726 lurking in the loco spur and a bunch of Freightliner 66s huddled on the edge of the station. No alternatives here in terms of getting northwards - remembered that all XC services were via Newport and Gloucester, and that the service seemed much reduced. Got coffee and waited at a near deserted platform 7 for 50 minutes or so whilst our train slogged along behind local units. Amazed at how few people appeared to be travelling today. On arrival, found myself a seat in the Quiet Carriage and dozed through the Severn Tunnel. A little after we reappeared from the darkness, a passenger a few seats back leapt from his seat and cursed loudly. It seemed he'd spotted the 'Croeso y Cymru' sign and thought he'd caught the wrong train. Sorted him out and all was again quiet for the pleasant ride alongside the estuary to Gloucester, where again many locos were evident - if not immediately identifiable.
Arrived at Birmingham having made up a fair bit of our lost time, but far too late for my connection to Manchester. Out to customer reception where my request to travel on the 10:48 Pendolino seemed to cause a fair bit of trouble. The Crosscountry representative didn't seem concerned at all, and the Virgin chap decided to grill me thoroughly about my journey. I tried to spell it out simply - 9S49 was delayed by 50 minutes, in fact most services from the South West were late, and I'd missed the 10:20 to Manchester. At this point the Crosscountry uniformed individual awoke and pointed out that these were XC services and the 10:48 was a Virgin service. Cue much slapstick silliness as they jostled to decide which stamp should be applied to validate my ticket, then to find the stamp pad. Throughout this, the Virgin person (who was now quite friendly as it was all XC's fault) was yelling "quick, or this gent will lose his train". It would have been pretty funny, had it not been so indicative of much which is wrong with the railway. Made the 10:48 by the skin of my teeth, and spent an interesting journey listening to a travelling soap opera being conducted by mobile phone a few seats back.
Arrived at Piccadilly with minutes to spare. I'd feared that I'd not make Rose Hill again due to the delays, and I'd almost resigned myself to a couple of hours in Manchester instead which is never unpleasant. However, managed to reach the unit in time and set off for a bumpy ride through the suburbs. Familiar track to Woodley from last year's Branchline Society tour which reversed at Bredbury waste terminal. Then, immediately after crossing the River Goyt on the impressive Marple Viaduct we took the branch to Rose Hill - and finally after several attempts, I scratched one of the few tiny bits of track I still need in this part of the world.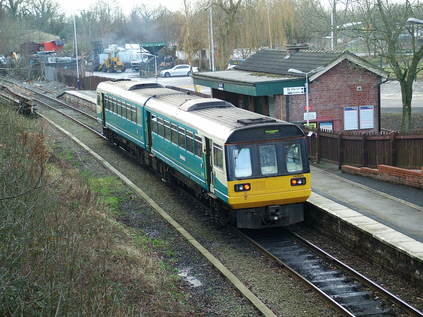 Had a wander around the immediate environs and made a quick 'phone call. Not much here, but there was a reasonable looking Robinsons' pub which I managed to avoid for fear of getting too comfortable in the warm. Tried to figure out instead, why this branch merited a double lead at the junction trailing into a single line? Suspected it was to avoid a crossover on the viaduct. Made mental notes to research where this branch went before it was cruelly curtailed in this rather quiet cul-de-sac. Soon time to board for the trip back to Piccadilly. Again very little time in Manchester, enough to buy provisions for the trip back and to find a comfortable seat. Decided to upgrade to First Class since I had a fairly long trip ahead of me. Some confusion, and my tickets were taken back to be discussed with the small group of train managers onboard. The TM returned to tell me that upgrades to Value tickets were no longer allowed but I could have an upgrade today because the changes were not known to all XC staff yet. I pointed out that they were also not made clear in the announcement that upgrades were available, which the TM conceded was the case. I asked if it was all about generating revenue, and he politely declined to disagree. I pointed out that with overcrowded trains, an empty First Class carriage was wasteful. Again he shrugged his frustrated agreement. Settled in for a quiet ride back to Bristol which reminded me of the old days of catching Manchester-Paignton Class 47 hauled services for the fun of the exotic route via Camp Hill and the 5mph creep around St Andrews Junction.
It was good to get out today, and to exorcise some of the ill-feeling from last week. As we passed Wolverhampton this morning, almost a week to the minute we learned the tour was cancelled I think I gave up feeling angry about it! The urge to get out and do these little trips is strong again, and provided the finances hold out and the cheap tickets stay available, I think I'll try a few more this year.