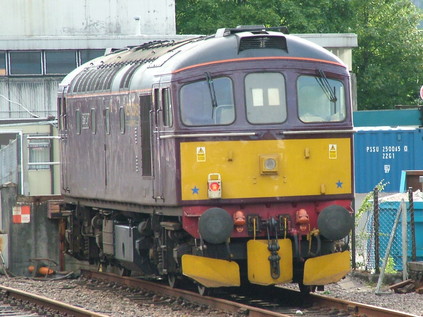 Posted in Railways on Thursday 14th June 2007 at 9:41pm
---
A couple of years back I arrived at Fort William, and having travelled for hours without a break somehow lost my nerve. The remainder of the trip to Mallaig seemed to take me impossibly far out of civilisation, and the sight of shops and supermarkets and the silent class 37 awaiting is journey back to the known world persuaded me to abandon my plan. I've regretted this decision ever since, and particularly as I've crossed off more and more Scottish railway, this short but inaccessible length of track has become a very obvious omission. Today I planned to correct that.
My plans changed early - waking to the same sheets of rain which had been falling over Bradford last night, I eschewed the walk to Interchange station, and made the quick dash to Forster Square for the single GNER service which starts here. Not many passengers, but plenty reserved from Leeds it seems. A quick run, with a pick-up only stop at Shipley our single call - a few more takers here for this convenient service into London, and the chance for the guard to argue with an errant cyclist for loading his bicycle into the wrong carriage. Off at Leeds and over the bridge for the 0710 HST to Edinburgh. Again, fairly lightly loaded - but since this called almost everywhere up the East Coast Main Line, we were sure to get busier. Settled in for some familiar ground this week, as we headed for York, Newcastle and then Edinburgh. Breakfast served, and working wifi made for a rather more luxurious trip than I'd experienced over the past couple of days. Most importantly, my changed plans meant an earlier arrival in Glasgow Queen Street as I'd have a fairly good choice of trains from Waverley. This took the pressure off for the connection into the West Highland Line too.
Arrived at Edinburgh and after getting my bearings in the changing station, did some shopping and headed for one of the few terminal platforms at the west end of the station which wasn't still a building site. Quick, easy run into Queen Street via Falkirk in much brighter conditions than further south. With a longer stopover in Queen Street than originally planned, popped into Avalanche Records and purchased a couple of CDs I'd been reading about in the 13th Note just the other night. Strange buying music in a real live record shop again after a very long time! The assistant also gave me a tip on how to 'unlock' the PIN on one of my cards I'd stupidly entered the wrong number for in Crewe earlier in the week, so a fruitful visit all round! Back to the platform to find a total of three units making up the Oban/Mallaig train today - one would split off at Crianlarich and head for Oban as usual, and the other two would part at Fort William with the rear cars heading on to Mallaig. Found a comfortable seat in the through portion for Mallaig and settled in for the epic trek into the Highlands.
I've known people who have travelled all over the planet seeking the greatest sights and most stunning vistas who say that there is nothing here in the UK to compare, but I can truly say when I first made this trip I was awestruck by the scale and remote beauty of this line. I thought that a second visit and some familiarity would diminish my view, but it didn't at all - and interestingly on the trip I spoke to a number of people who said they repeatedly made the journey because they never tired of the experience. After the climb from Helensburgh Upper through fiercely guarded MOD territory around Gareloch, and then rounding the northern tip of Loch Lomond, paused for the customary leg-stretch at Crianlarich whilst the Oban train was detached and made its way west. Too early for the log train, operated strangely by a Virgin Class 57, which arrives here in the evening and travels south to Chirk overnight. Back on board, and as we rounded the Horseshoe Curve at Tyndrum Upper, while crossing Glen Coralan, caught sight of the Oban train glinting in the sunlight in the valley below.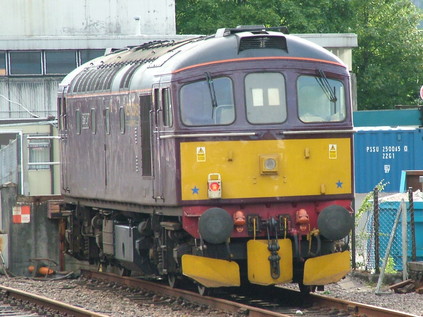 Once over the vast emptiness of Rannoch Moor and having skirted the Monessie Gorge, we arrived at Fort William. The return to civilisation always seems sudden and unexpected here. Noted 67004 awaiting sleeper duties, and sitting in the sidings was 33029 which has followed me around Scotland this week. A brief wait here for our unit to be uncoupled and a school party and a fair few locals to board. Realised that this was a commuter train of sorts! On departure, we turned west once again, over the Lochy Viaduct and passed Banavie where the Radio Signalling Centre controls trains over much of the remote north of Scotland. The line was a bit of a surprise - less of the awe-inspiring emptiness and more stops at little villages which seemed to be busy in their own small way. It reminds me of how the Kyle line changes as it nears the coast, where I suppose life was a little less harsh and resources more plentiful in times gone by. Naturally a stunning feature of the trip is the majestic sweep of Glenfinnan Viaduct - which has been in all sorts of films I've not seen! The train paused briefly mid-crossing with one of the school party exclaiming "Aw! I dinna lake et!" at the top of her voice! The descent into Mallaig in early evening sunshine will surely become one of my favourite memories of this trip. Wandered the small harbour village for a while in the brief layover. A number of fellow passengers seemed to be returning too, stopping only for fish and chips which are naturally a local delicacy.
The return trip to Fort William was a little quieter, but equally pleasant. Spent some of it speaking with a lady whose nephew travels the world in pursuit of his railway enthusiasm. On arrival, made the short walk to the Alexandra Hotel finding my room had a stunning view. Down to the restaurant where I'd stopped in on my last trip to sample to local food and beer. I'd love people who don't understand why I travel by train to have been here today - it was full of perfect examples.