Posted in Railways on Saturday 4th November 2006 at 8:16pm
---
There's a lot going on in November as usual, and despite trying to cram in journeys before the three week long closure at Highbridge on 20th, I decided to stay fairly local today and take advantage of some special trains running as reliefs to accommodate passengers heading for the Wales vs. Australia rugby match at the Millennium Stadium in Cardiff. Having fiddled around with the journey planner a bit, figured that getting an early train from Gloucester wasn't an option. Instead, planned to get on the first train out and spend a little time at Newport before heading up to Gloucester and back on the top and tailed Class 37 hauled service. Realising the the Class 50 shuttles were running empty back to Newport each trip made this idea more attractive. So, set out for the station in the freezing darkness, and met up with some locals heading the same way. Arrived to the promising scene of a convoy of locomotives awaiting departure towards East Usk.
A fair showing of cranks at Newport for the day's various festivities. Rewarded with some interesting freight activity include 59201 heading west among other things. The 37 hauled service passed us heading for Cardiff a little late, but sounding fine with 37410 at the front and 37406 behind. An experiment in embedding YouTube video is below. Listen in particular for the three bursts of thrash as 37410 accelerates away from the platform. Pure mechanical poetry!

37410 and 37406 leave Newport for Cardiff
It's return working had made up some time, and after further freight watching, and trying to warm up with hot tea, we finally left a minute or so down. A storming start for a non-stop run to Gloucester along the Severn estuary. Some very impressive running saw us arriving early into Gloucester, to find a fairly sizable crowd of Wales fans waiting for the service back down. Held on to our seats rather than risk an uncomfortable trip back. This turned out to be a wise move, as stops at Lydney and Caldicot saw the train fill to bursting point. No way we could have struggled off at Newport, so pressed on to Cardiff where we paused for lunch before heading back to Newport.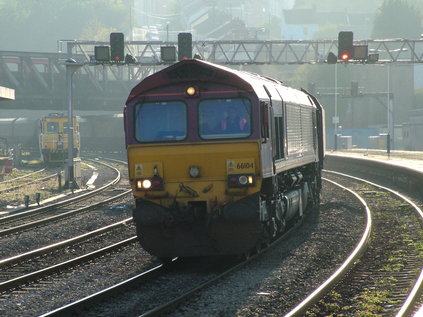 Even on the home straight things stayed fairly interesting with a sudden burst of activity including 66104 emerging from a now very misty scene beyond the station. 59201 also reappeared on it's return working. Set off early on the 14:43 to get back to Bristol before the end of the Rugby match. A fairly short but busying and interesting day. Entertainment on the way back provided by some fairly unsuccessful fare dodgers antics.
Lost::MikeGTN
I've had a home on the web for more years than I care to remember, and a few kind souls persuade me it's worth persisting with keeping it updated. This current incarnation of the site is centred around the blog posts which began back in 1999 as 'the daylog' and continued through my travels and tribulations during the following years.
I don't get out and about nearly as much these days, but I do try to record significant events and trips for posterity. You may also have arrived here by following the trail to my former music blog Songs Heard On Fast Trains. That content is preserved here too.
Navigate Lost::MikeGTN Find articles by category
Search Lost::MikeGTN
Other Places...