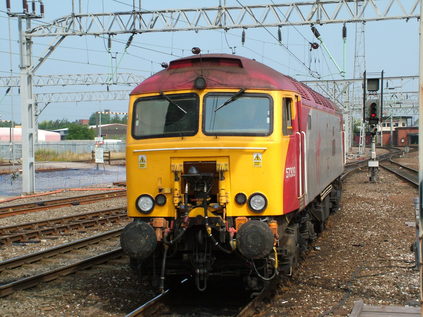 Posted in Railways on Saturday 22nd July 2006 at 8:51pm
---
Last week's trip to Greenwich having taken it's toll financially, it was probably not advisable to plan a long distance journey this week. However, the lure of getting away and covering new track was too much. The problem of course being that it becomes increasingly expensive to get to the tiny bits of uncovered track that remain. Since I hadn't been north-westwards for a couple of weeks, decided to head for Buxton via Crewe and Stockport. I could have almost done the routine on autopilot - onto 2M02, where I bumped into the local crew of trainspotters heading for Bristol to see a tour featuring two Class 37s - and then a swift change for 1S42 at Bristol Temple Meads. Relieved to find air-conditioning working and buffet open after recent Voyager journeys! Enjoyed a lazy journey as far as Crewe.
Next leg was to Stockport, a route which has been closed for resignalling work for what seems like an age. Had a fairly long wait so wandered around Crewe station in the sun and watched a driver and fitter struggle with a Class 57. Eventually they gave up, but another was soon found to haul the Holyhead service with 57309 heading in from the north.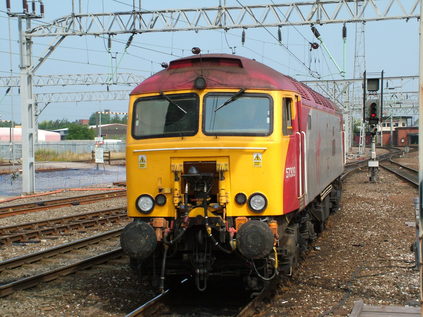 I can't remember when I last travelled between Crewe and Stockport via Wilmslow. Noted much of the new signalling still out of commission along the route. Pretty swift change required at Stockport to get over to Platform 1 for the Buxton service. A minor delay due to congestion, and soon off on 150136 which was in pretty poor shape internally. The train was fairly busy as far as New Mills Newtown and Disley, but soon thinned out so only a few of us remained as we climbed into the Peak District. Amazing scenery and fine weather on arrival at the impressive Buxton station. This former LNWR structure hints at former glorys with its imposing fan-shaped window and extensive buildings. The closed motive power depot and the imposing Spring Gardens Viaduct are testament to former glories - when the High Peak route ran south and east of here.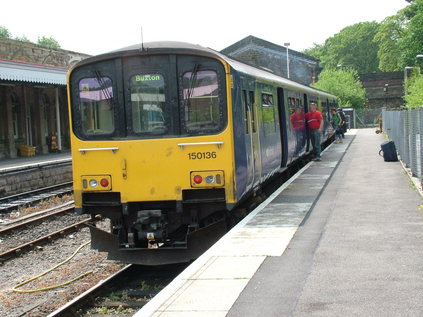 Wandered into town and enjoyed an hour or so of exploring this curious Victoria spa. The impressive baths and opera house face down a rather quaint village High Street. Followed this down to the Viaduct and found a Hardy's & Hanson's pub called 'The Railway'. A pretty awful place to be honest, but the chance to sample 'Olde Trip' was again welcome. The midday sun was blazing relentlessly down on Buxton now. Returned to the station for my train back to Manchester.
Spent the journey back trying to fathom the railway geography of the Peak District. Vaguely aware of the Peak Forest freight lines to the east, but noted the Hope Valley line closing in on us too. Realised this was the location of the Hazel Grove chord which had confused me in a magazine article recently! Good to be back at Picadilly however briefly. Wandered around, grabbing a bite to eat and watching people before boarding the 1454 Brighton train. Settled into a very cool and empty First Class carriage as far as Birmingham. Surprisingly smooth change at New Street too, with no delays to the usually tardy 17:12 service. The return journey was almost as routine as the outward trip, with the customary platform swap at Weston for the short ride home. Another branch line marked off in the atlas!
Lost::MikeGTN
I've had a home on the web for more years than I care to remember, and a few kind souls persuade me it's worth persisting with keeping it updated. This current incarnation of the site is centred around the blog posts which began back in 1999 as 'the daylog' and continued through my travels and tribulations during the following years.
I don't get out and about nearly as much these days, but I do try to record significant events and trips for posterity. You may also have arrived here by following the trail to my former music blog Songs Heard On Fast Trains. That content is preserved here too.
Navigate Lost::MikeGTN Find articles by category
Search Lost::MikeGTN
Other Places...