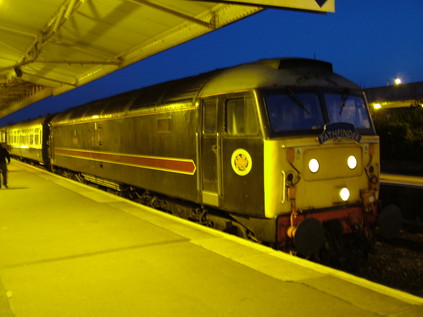 Posted in Railways on Saturday 29th April 2006 at 11:41pm
---
Despite today's entertainment starting fairly locally, I got up at the unreasonable hour of 3:30am. Packed my bag and set off for Taunton in time to find the stock already in Platform 2 and incredibly warm. Set about turning off the heating in Coach F before anyone else boarded. Following yesterdays problems with the brace of Class 33s which should have been hauling our tour throughout the day, we had FM Rail's trusty 47703 'Hermes' on the front, at least until Birmingham where the pair of Cromptons were to meet us, all being well. Spent some time wandering around, getting some shaky and low quality pictures of 47703 in the half-light and preparing for the day ahead.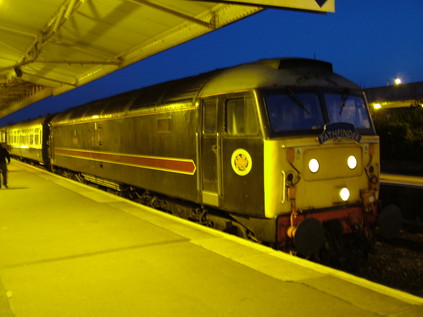 Pretty soon after 05:35 it was confirmed we had a problem in the form of a missing staff member. Eventually we learned that a drunken driver had crashed in the guard's car whilst he was heading for the station from his home just a short distance away. The need to file Police reports etc. delayed things. We finally set off at a little after 06:10, and once disentagled from the path of the 05:40 Exeter-Bristol stopper at Uphill Junction, made fair progress.
At Birmingham, the promised locomotive swap happened, and despite delaying us a little more there were some happier enthusiasts on board. We were soon heading out towards Wolverhampton in what promised to be a bright morning. Little make-up time was included in the itinerary, since much of the Cambrian line is single track, and placement at passing loops is critical. By the time we reached Abbey Foregate the sun was out, we were pressing ahead with no news of cancellation or shortening of the tour, and the real ale was going down extremely well!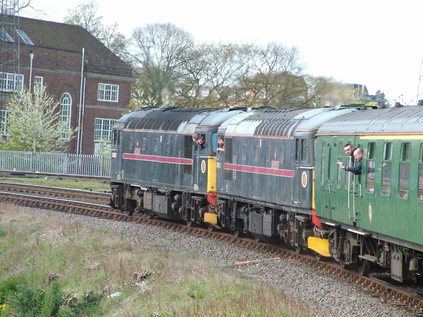 At Sutton Bridge Junction we headed west, and for me, on to new track. Through the suburbs of Shrewsbury and past a number of closed stations to Welshpool, where a need to divert the railway around a road scheme has left the track separated from its impressive Victorian buildings, whilst today's punters make do with an island platform and a bus shelter. From Welshpool, into increasingly rugged terrain with far less sign of habitation. A few crossings of the fledgling River Severn, finally turning north and seeing it for the last time at Caersws. Next stop was Machynlleth - a place I've wanted to visit for as long as I've known it existed! The pure unpronouncability of the name alone is reason enough, but it's just become one of those 'one day I'll get there' locations. Today I did, as here we swapped one of our doubled-headed locos onto the back of the train to distribute the weight fairly on the refurbished but still fragile Barmouth Bridge. A fine little station here, and signs of a pleasant town. No time to explore however, as the swap was conducted in incredibly quick time meaning we were only a few minutes down on departure.
The remainder of our journey took place in blazing sunshine over breathtaking scenery. Out onto the marshes around the Dyfi estuary and through the isolated station at Dovey Junction which has no road or foot access! Turning north we took a trecherous course along a ledge carved into the cliffs, curving high above Penhelig and Aberdyfi, and plunging into a deep cutting through the rocks. We skirted the seashore for the remainder of the journey, below the cliffs at Friog and swinging a little inland at Fairbourne, which was packed with trippers and tourists enjoying the weather. Here, the incredible span of the timber built Barmouth Bridge appeared, striding out across the Mawddach estuary towards Barmouth.
We crawled slowly over the structure, to the surprise and to some extent concern of passing walkers!
I didn't really know what to expect of Barmouth - indeed, I'd originally tried to plan an onward journey to Pwllheli at the line's end, but been stalled by poor connections. In the event, it turned out to be a pleasant little seaside town, nestled under the rocky cliffs which border Snowdonia to the north and east. Lots to do for families, plenty of small shops and little streets to explore, and a fair number of busy eateries and pubs. Found one - 'The Last Inn' - and settled down for refreshment. Not long to explore the town, but long enough to realise that they were doing something right here which my own local area could learn lessons from. All too soon it was time to leave.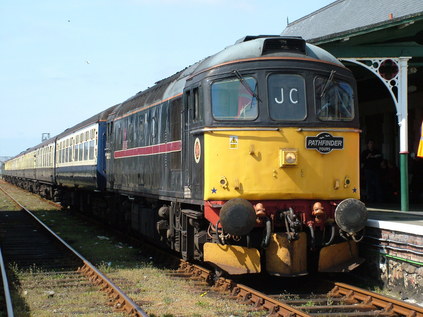 The route back was a direct reverse of the outward trip (except for leaving Birmingham via Camp Hill). Once over the bridge at Barmouth the driver coaxed the locomotives into some fine performances, regularly arriving early at crossing points. This meant a couple of long waits for delayed local services at Machynlleth and Welshpool. From Machynlleth we were double-headed once again, all the way back to Taunton. A chance to see a spectacular sunset over the shadows of the distant Malvern Hills as we thundered back towards home. Finally arrived, tired but happy at 22:37 - just a little earlier than booked. Another excellent day out with Pathfinder, despite the early problems.