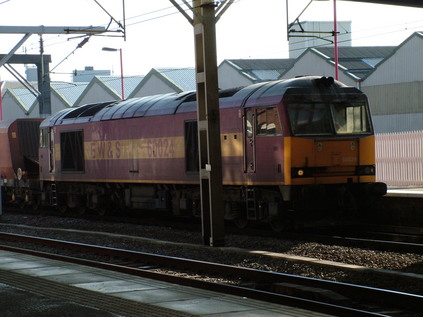 Posted in Railways on Saturday 18th February 2006 at 10:47pm
---
The difficult middle week of the three week closure between Taunton and Bristol. No plan for this week, but a strangely tiring half-term week at work left me wanting to escape, but certainly not relishing the thought of a 95 minute bus ride to Bristol. As late as this morning I looked at possibilities of heading south just to minimise the bus mileage, but I couldn't settle on anything. An urge to continue to pick off bits of new track led me to my Baker, and I settled on the annoying stretch between Crewe and Stoke-on-Trent which I'd missed out somewhere around 1998 when I made a round trip to Uttoxeter. Calculated that it could be done reasonably simply, and set off for the 07:00 bus to Bristol.
As bus rides go, it was I suppose reasonable. It ran to time, and didn't wait pointlessly around at empty stations like it seemed to on previous occasions. Caught a glimpse of a distant Class 66 at Yatton where work on the crossovers continues, but the bus managed to turn in the main carpark, so we didn't quite go far enough to find out what the locomotive was. Arrived at a rather quiet and cold Temple Meads and booked for Crewe whilst waiting for the signaller to decide which platform the 08:58 service was going to occupy. Watched the stock at platform 5 get switched off and locked up, then 220029 fly down through the middle road, before returning on platform 4, with the other set presumably declared a failure.
Somewhere south of Gloucester, a mist descended and stayed around for the rest of the journey to Birmingham. A quick change onto a relatively lightly loaded Pendolino, and off into the mist once again. Somewhere around Norton Bridge we rocketed out of the mist into blazing sunshine. Arrived at Crewe and had lunch on the waiting 12:07 to Derby. Noted a lot more visible locomotives on the Diesel Depot site, and on a more flexible day would have wandered over to platform 12 for a look. Decided to stick with the plan though, and soon left heading east at Crewe South Junction and onto new track via Alsager and Kidsgrove to Stoke, the only way out of Crewe I'd never taken before.
I've passed through Stoke-on-Trent on many occasions, and even changed trains here back in 1998, but I've never visited the City. So, with an hour or so to spare, decided to wander out of the station. Immediately confronted with a statue of Josiah Wedgewood, leaving me in little doubt of the importance of Stoke in terms of industrial history. The station buildings themselves are impressive and imposing. Under the railway, over the dual-carriageway and the Trent and Mersey Canal, and the next landmark is the huge Civic Centre complex. This seat of local government is impressive in its scale, and an art-deco war memorial adds to the feeling of civic importance. However, from here on the city centre declines in grandeur. Stoke is of course, chief among six towns which make up the city. Without seeing them all its hard to judge, but there is little here to inspire. I wandered rather aimlessly around the depressing market building, Little to recommend here, despite the remains of some impressive commercial architecture, and some of the locals appeared truly fearsome! Beyond a drab looking Wetherspoons, no obvious place to sample local ales, so back to the station.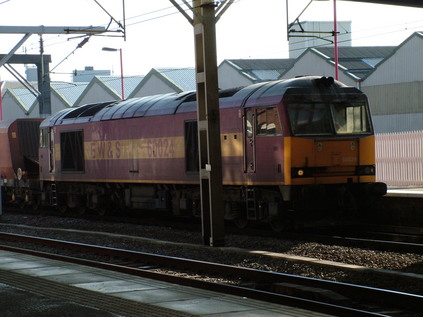 Following 60024's appearance on a stone train, our Voyager home rolled in a little early and very full. Squeezed into the front coach and enjoyed the antics of a couple of children who were playing very surreal wordgames in the seat opposite. Thought about waiting for the 15:12 off New Street and trying to travel on to Taunton for a shorter bus journey up to Highbridge, but given the loading on Cross Country services today, and the possibility of my ticket causing problems, decided to go for the 14:42 and an earlier change at Bristol. Once out of the suburbs of Birmingham, plunged into mists again which south of Cheltenham turned into a good old fashioned pea-souper.
The bus journey back from Bristol was just as tiresome as the outward leg - enlivened to some degree by the driver not really knowing where he was going, and the loud mobile telephone conversations of a young woman in the front seat which were like hearing one side of an epsiode of 'Jerry Springer' or similar. The 66 at Yatton didn't appear to have moved much all day, but I still didn't find out which one it was!