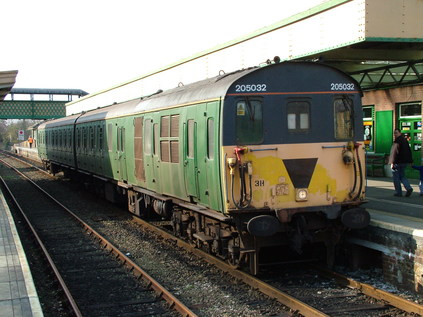 Posted in Railways on Saturday 11th February 2006 at 6:49pm
---
The first day of engineering works around here, but a cunning plan was devised to get out and about. I managed to summon the small gang of us who end up hanging around the railway together. It's been a while since we were all in the same place at the same time, so there was something of a nostalgic atmosphere as we set off by road for Okehampton in amazing weather. The target was the Dartmoor Railway, and eventually Meldon Quarry. This was a little bit of new track for me, and the opportunity to see the stored locomotives at Meldon.
After a simple enough journey along the M5 and A30 we arrived at Okehampton Station to find the 11:00 departure for Meldon waiting in the form of thumper 205032. We'd watched this unit being hauled through Exeter on its way here in January 2005, so it was good to see it in action, now in all-over Southern Railway green. As the only passengers on board, we left the attractive little market town of Okehampton and thumped our way west for a couple of miles, into the fringes of Dartmoor. The guard gave us useful instructions on how to see almost everything at in the sidings.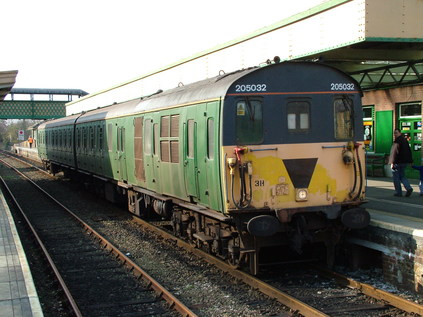 First off, we explored the immediate environs of the station. The Dartmoor Railway has an intersting set up here, with a static display and a buffet in a Mk 3 sleeper coach - not open yet as we were the first train of the day on a winter Saturday! From the buffet and picnic area, there are panoramic views over Dartmoor and in particular the spectacular viaduct. Walked over the viaduct and along the former railway line for a little way, before returning to see what was stored.
Followed a cycleway from the viaduct, behind the DR station and soon found ourselves alongside a row of stored locomotives. Lots of photography going on now! Spent a pleasant hour wandering along the path, looking at the rather forlorn parade of rusting metal, before heading back to the station where the thumper had returned, this time with a few more passengers on board. After the short trip back to Okehampton, took the opportunity for a few pictures of 205032 before exploring the station, then heading into town for refreshments at the Red Rooster Cafe and the Plymouth Inn. Okehampton seems like a busy little place - my one visit back in around 1998 when Wessex began the summer Sunday only service here is a bit hazy now.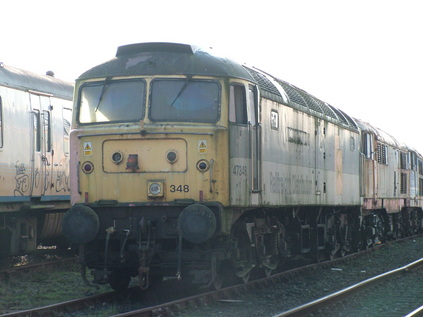 Decided on diversion on the drive back, heading roughly alongside the railway to Sampford Courtenay, North Tawton, Bow and Crediton before turning north to Bickleigh, home of the Devon Railway Centre. Not open, but possibly worth a future visit. Investigated the water mill, before pressing on homeward. Disappointed to see Fairwater Yard empty as we passed through Taunton.