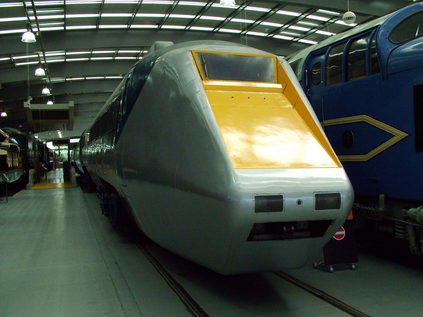 Posted in Railways on Sunday 22nd July 2007 at 10:06pm
---
Should have been doing some fairly unusual track today, but in a very unlucky summer of tours, today's was of course cancelled due to low bookings. Thinking philosophically, it's fairly likely that today's tour would have been abandoned anyway given the rain down south where yesterday's trip which provided our stock would have been impossible. So for today, the plan was simple: cover as much of the passenger track that Pathfinder's Cleveland Cleric tour was meant to cover, quite a bit of which was new to me.
This meant an early start, and unfortunately that I missed what promised to be a pretty good breakfast. Made up for this on arrival at the station, and pretty soon was able to board the 08:36 service for Middlesborough which arrived incredibly early. Found a seat with no trouble and made myself comfortable. Being a fan of high-backed, firm chairs I just don't see the problem with the Class 185's seating arrangements which seem to trouble others! Soon off, and I was pleased to see the weather at least getting no worse as we headed north. The Journey Planner adviser a change at Thornaby for the following Saltburn service, though it would have been just as easy to head on to Middlesborough - except for a likely platofrm change. The Saltburn train was running a little late, but soon enough a rather battered 142 arrived and I found an appropriate seat for a good look at Tees Yard as we passed by. Seemed only a short time since I'd last been here on my trip to Whitby, but took the northernmost fork at Guisborough Junction and carried on through rather bleak industrial landscapes, catching brief glimpses of railway impedimentia and innumerable private sidings branching away into the various facilities. A little before arrival in Saltburn, noted the steeply graded branch to Crag Hall and Boulby climbing away. Disappointed I wouldn't be going that way today at least.
Saltburn itself is a curious town. The impressive and sizeable former railway station building dominates a square with a more modern devlopment behind, including a sizeable supermarket. A car boot sale was in full swing beside the store. A pleasant market square gave way to a wide boulevard lined with local shops which lead up hill and out of town. Even fairly early on a Sunday it was beginning to become busy, and a little cafe near the station was doing roaring trade. Pottered around and brought a drink in the supermarket. Watched my incoming train leave for Darlington, and waited in improving conditions for the next arrival which would form one of a handful of Sunday services through to Bishop Auckland.
Retraced my steps to Middlesborough and Thornaby, this time heading north west at Eaglescliffe South Junction, and passing the poorly used station at Teeside Airport. Familiar track here to Darlington, where we rested for a brief moment or two under the vast trainshed's roof before squealing away and taking the branch for Bishop Auckland shortly outside the station. By now the sun was shining, and I was looking forward to my plans for later. Stuck with the train all the way to it's rather uninspiring terminus, which was a pretty disgusting station seemingly miles from civillisation. Noted the link with the preserved Weardale Railway running away into the distance. The bonus was a decent cup of coffee at the attached station cafe, though the service was a little glum. Back one stop through the seemingly endless tunnel to reach Shildon. Alighted and packed my coat away for the first time this trip, and headed along the footpath to find Locomotion.
I was surprised to note how comprehensive this site is - a long straggling walk beside the tracks, learning the story of rail travel as your progress, and in particular it's local links, as you go. Much of the early story linked with the work of the former Shildon resident Timothy Hackworth, a pioneer of the railway age. Lots to see and do for younger children too - and I think my nephew would have loved it. For me, the highlights were the more recent machines - the prototype Deltic and the APT-E being two which I'd seen many years ago at the National Railway Museum prior to their move here.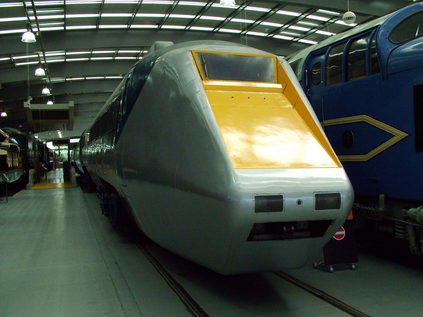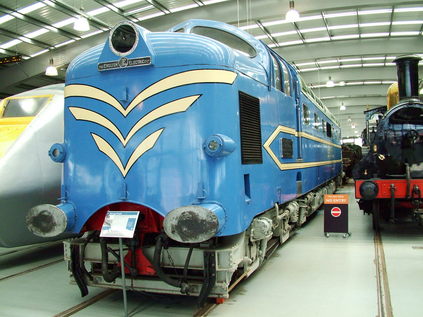 A tremendous array of wagons, carriages and track machinery on display too which told the story of the everyday life of the railway perhaps a little better than the NRM's main site, although of course Locomotion lacks the prestige of having celebrity engines on site. Its good to see that the National Collection goes far beyond Flying Scotsman and Mallard. Flagged the useful 'Ecobus' which potters back and forth along the site and walked back to the station in now blazing sunshine. Enjoyed a peaceful few minutes before the squealing of a 142 approaching heralded my departure for Darlington!
Arrived to find the station busy with a few delays, but nothing too drastic unless of course you were heading for the South West which was still pretty much closed from all angles. Hopped aboard a well loaded 185 heading for Manchester Airport, and enjoyed a smooth and uneventful journey back to York. Pottered around the station for a while, watching trains and people passing through before deciding to head for some food and a pint. Not quite the day I'd planned when I booked this weekend away, but with new track under the belt and a visit to Locomotion into the bargain, I can't complain.