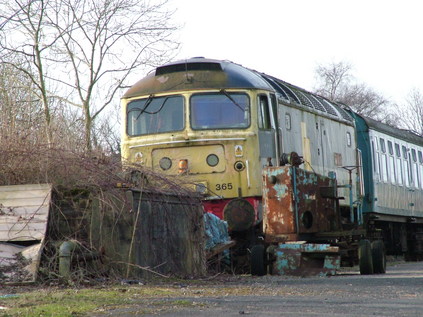 Posted in Railways on Saturday 25th February 2006 at 9:33pm
---
The final Saturday of the engineering possesion which has made Highbridge a railway no mans land for the past three weeks. We had planned a trip for last week, which hadn't happened for a number of reasons. So today, struggling to wake up after a very late night, the party began to assemble here at my flat for a trip to the Mid Hants Railway. Started out well, noting 59204 on 6W20 at Highbridge station as we left. Relying on GPS to get us across country, we noted we were passing through Cranmore in Mendip quarry country. Stopped off to look at the terminus of the East Somerset Railway which was being whipped by an icy wind. Not much to see this early in the day, but tried to get an angle on 47365 which was stored near to the road entrance to the site.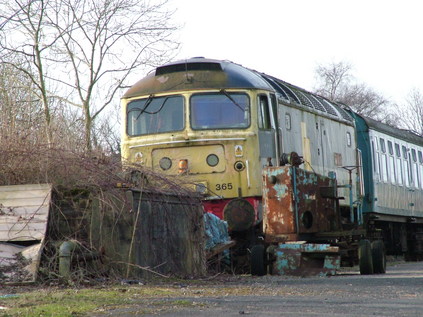 Pressed on, and arrived at Alresford around 11:00. A pretty little market town, which I'd have liked very much to explore further, and hope to at some point. Since we were eager to get onto the railway, visited the shop in the ex-goods shed, and booked tickets for the journey up to Alton. Quite soon after, a Pressed Steel 'bubble car' in pristine Southern Railway green livery arrived. Boarded in a prime seat for the driver's eye view which I remember from the times these operated the Cross City Line in my former home area. Soon off, with some quite lively running along the ten mile line!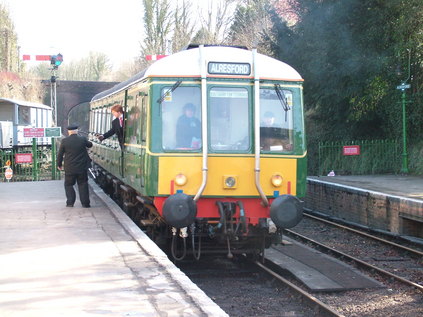 Particularly intersting was Ropley where much of the MHR stock is stabled for engineering and preservation activities. Lots to see here including the mighty 'Bodmin' and a number of diesel locos. Strange topiary in evidence too, which I later noted in some very old photographs of the station also!
Arrived at Alton to find a 450 in the station awaiting departure for Waterloo. We had a number of possible plans now, but finally decided to complete the original route by travelling on to London. Rebooked and boarded the 12:44 departure. Exciting journey, especially since one of the party had never been to the capital before, and several had not been to the LSWR terminus at Waterloo. Some quite frantic EMU spotting went on along the way, much to the horror of some of the normals on board!
Not much time at Waterloo if we were to make it back for the last MHR train to Alresford. Wandered up to the Eurostar platforms, then stocked up on provisions for our journey back to Alton. Considering it was a first trip, I think at least two more members of the party left wanting to visit the city again and to explore more thoroughly. More frantic number gathering on the return journey.
Arrived back into Alton in bright evening sunshine and watched 73096 run around it's stock ready for departure as the 15:55 to Alresford. Boarded and found comfortable seats for the journey back.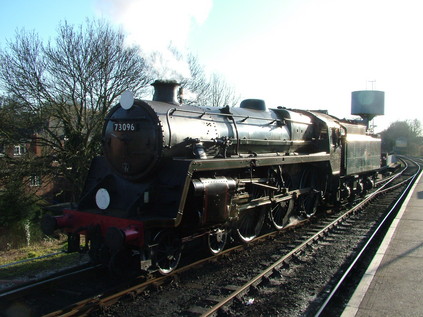 Back at Alton we set off home via a less 'bendy' route at the request of our driver. Another eventful and entertaining trip, with more ideas for future jaunts thrown around during the day. Arrived back at Highbridge a little after 19:00 and waited in Arctic winds with some of the group for the bus back to Bridgwater. With them finally tucked up on the warm bus, retreated to the Cooper's Arms for a well-earned pint.