Posted in Railways on Saturday 24th September 2011 at 10:42pm
---
There are a whole range of preserved railways I used to consider impossible targets. The idea of integrating infrequent rail and bus services, and spending the entire visit worrying about getting back on time used to paralyse and attempt to go in the first place, unless of course they decided to put on a bus service of their own - which Barrow Hill and The Churnet Valley Railway both should claim some credit here for doing this admirably and reliably, which is of course a whole other challenge! One of these targets written off as impossible for many years was the Llangollen Railway - a very sparse service between Shrewsbury and Wrexham, meeting a two-hourly bus was just not going to get me there. But with a diesel day announced for today and knowing the service was much better these days I decided to have a look at my options.
And the good news is, it's incredibly simple and quick to get to Llangollen by public transport now. A quick, early morning run up to Wolverhampton via CrossCountry where I switched to the Arriva Trains service to Holyhead, taking me all the way to Ruabon. Out into the yard near the attractive station building which is no longer in railway use, and yards away was a bus stop, with a digital "next bus" display on the flag. Every 15 minutes, a service runs from Wrexham to Llangollen, with some heading out further to serve the villages along the valley. Bang on time it arrived. I settled in for the short run through rather stunning countryside to Llangollen, with the bus delivering me to a stop beside the river, just feet from the Town Centre station site. The station itself bears some exploration - snugly squeezed into a site beside the River Dee, the additional arch of the Mediaeval Town Bridge which brought the line in from Ruabon is now stopped up. The station is long and curving, with attractive stone walls along its approach and some fine buildings. Both platforms remain in use, with a very substantial footbridge linking them, and a sizeable refreshment room near the foot. Purchased a ticket and made a dash over the bridge to catch the DMU service up the valley. I'd made some very rough plans to ensure I travelled with most of the locos out today, but I wasn't entirely confident of the crossing points, so my first run was as far as Glyndyfrdwy, where I took some pictures as the trains crossed, then explored the site with its manually operated crossing. The valley was peaceful, and despite a few spots of rain it was pleasant to just sit and relaxed in the station. Access across the platform was via the crossing, as the footbridge awaits restoration, currently having no flooring. Took the next train up the valley to the current terminus at Carrog - another substantial station with an excellent little cafe - and watch the process of running around and attaching locos while the DMU left once again on the intensive service.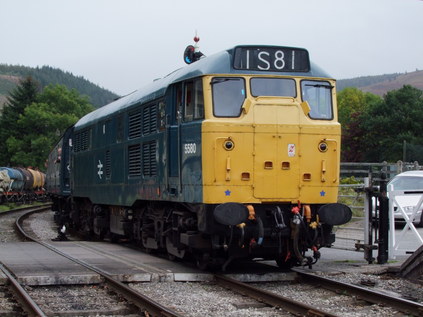 Figuring that it will of course be necessary to revisit once the railway manages to complete it's extension to Corwen, I spent a very happy couple of hours shuttling back and forth to Glyndyfrdwy and taking pictures of the crossing trains, before settling on a Class 37 hauled run back down to Llangollen. Enjoyed the splendid views over the river near the Chainbridge Hotel with its curious modern architecture alongside an older building. The bridge itself is currently unsafe I was sad to see. On arrival, wandered over the bridge towards town. The weather had brightened and Llangollen was busy with trippers and locals. I shopped a little before heading for the bus stop and back to Ruabon, arriving a little earlier than planned which allowed some wandering there too. I then retraced my steps home via a change at Wolverhampton onto a surprisingly quiet Voyager heading for Bristol.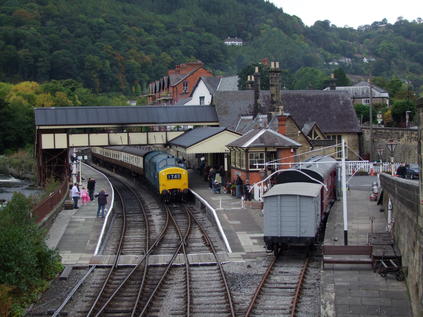 Today was just the easy day out I needed, and I was incredibly impressed with how well the transport worked. So, its now clear that a day trip to Llangollen is entirely possible. Ironically, having visited the town, I can't help but feel an overnight stay might be needed to fully appreciate this fine little railway and indeed the town itself. The Dee Valley is a curious spot, full of mysteries and oddities. It's almost no wonder they didn't like to make it too easy to get here in the past perhaps...
Movebook Link
---
Posted in Railways on Saturday 17th September 2011 at 9:47pm
---
Today was always going to be a little odd. Finding myself ensconced in a curious little Premier Inn just outside Kenton Station, I wondered exactly how much of the booked route we'd actually manage today? Over the last week, the trip had been subject to all kinds of alterations - timings which had included the elusive East Putney section had appeared, and then been superseded by new plans which featured virtually none of the planned route. There was a sense of disarray, and that perhaps someone at Pathfinder had dropped the ball on this one? In any case, headed over rather early to the station to get the Overground as far as Watford. This allowed time to get coffee, run an errand to pick up newspapers for some Crewe-joiners who had been on board since 5am, and to drink coffee and chat on the platform. It soon became apparent though that something was up. Firstly, nothing came south trhough Watford Junction for quite a while. Next our train was announced as delayed due to "additional safety checks". Finally I got a call from the train, it seemed that pressure in a single-bore tunnel near Berkhamstead had pushed the windscreen of 37510 into the cab striking the driver. A pretty serious and sobering situation all round.
We waited, watching as 66232 sped north from Wembley to rescue the train, which was just a few minutes away from us by the time it limped into Berkhamstead. We even joked that if you had to have a failure, this was probably one of the better locations of the network in terms of depot access or alternative locos. However it took a long time to get moving, and then we went only as far as Wembley Yard. It had been planned to effect a run around here to have the locos in top and tail mode in any case, and doing so meant that the damaged end of 37510 was tucked against the stock for the rest of the day. Finally we were off, almost two hours late but assured that we would be doing almost all of the route as planned. However, the tour booklet which was quickly issued contained an amendment sheet - we wouldn't be doing quite the route which had been published at all.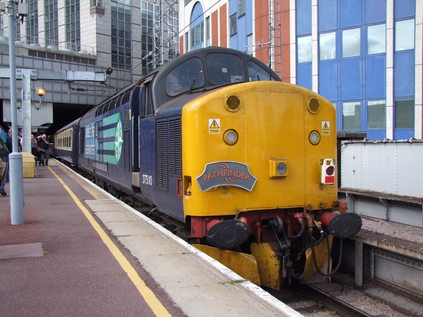 So, there followed a series disappointments - some the unfortunate consequences of late running, but many others the results of odd decisions on the train or by signallers. After a trundle around North London and a reversal at Hornsey we proceeded to Barking, and passed through East Ham depot on one of the roads beside the very much locked down EMU Depot. This was about the limit of new track in the event, as we then headed into Fenchurch Street for a break. While I recognise the Crewe contingent had been on the train for a while at this point, I was surprised that the break was of the planned length more or less. When we set off again via Gas Factory to Bow Junction, then towards Stratford, it became apparent that a means of reducing delays was to omit track here - with Orient Way Sidings once again off the list, Temple Mills Loop was also removed and we sailed through completing a circle around the Channelsea Junction area before once again joining the North London line to head for Acton Wells and the link onto the Southern. There followed a rather dull spin out to Aldershot - rare track for a loco perhaps, but given the purpose of these tours it felt like much had been sacrificed already and that this part was the less interesting section where time could have been saved. The highlight though, was a storming high speed run back into London along the South West mainline. The high point of a very odd, irritating day indeed.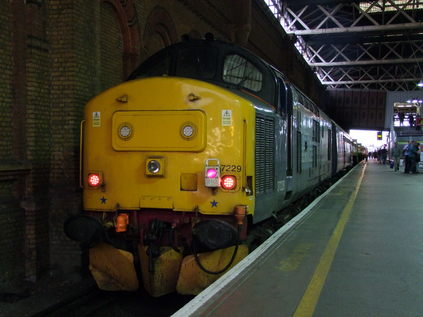 Back at London Bridge we took yet another full length break. Got some pictures and wandered around the station, much opened up by the changes to the gateline in the terminal platforms. The one consolation now was the spin around Selhurst depot to come - not new track for me, but interesting and diverting. However, just as we left it was announced that it wasn't going to happen. A defeated sounding Pathfinder employee explained that the whole visit was predicated on "someone knowing someone who was going to keep the place open" or something similarly intangible. Well, as we were still around an hour late despite the speedy run earlier and partly because of maintaining the breaks, "someone" had gone home. We reversed at East Croydon before taking the route back through to North London. The atmosphere on board was sombre - some making the best of having done new loco-hauled track, others trying hard not to blame the operator and feeling worried about the driver injured earlier - who it later transpired was fine, thankfully. But as I waited to disembark at Watford Junction a steward chirped "Had a good day?". I raised an eyebrow and he responded "Yes, but that poor driver - we did our best". I agreed to an extent, but pointed out a fair bit of the route had fallen out before the trip even turned a wheel. "Ah yes!" he exclaimed "But if you come on the next Buffer Puffer maybe we'll do Orient Way at last!".
I left the train feeling pretty angry. Would Pathfinder treat its dining customers on Easter Landcruises like this? Are rail enthusiasts expected to waive their consumer rights on the basis of the win-some-lose-some nature of tours? I think we treat it a bit like fishing - sometimes you get a bite, other times you don't - and mostly, this is part of the fun. However, when it starts to feel like trips are consistently advertised big, but deliver little it stops being fun. Thanks to that steward, and a set of circumstances which though unfortunate, were handled pretty poorly, I've lost confidence entirely in a company I've supported for years. Not a good day.
Movebook Link
---
Posted in Railways on Saturday 10th September 2011 at 10:09pm
---
Loosely continuing the theme, I was off to see some more controversial development today. Not the deletion and absence of Margate, or the sinister shift from private to public in Liverpool this time. No, today I was going to see changes which were real, were happening - but were costing a huge amount of money. This firstly entailed the early train to London. A lack of coffee saw me leaving the house feeling quite literally sick and tired. It had been a strange week - a mix of busy interesting times, and wastefully long commutes. I'd not slept a lot, and the routine of shopping and getting things done at home had been turned on it's head. So it was good to sink into my seat at Weston and just watch the world go by as the sun rose. No breakfast available on board, but that was a minor issue today. Once in the capital, I made a quick dash around the Circle Line to Kings Cross. Grabbed a much needed coffee and noted I could get to Cambridge earlier. This didn't help with my plans when I arrived, but it meant less of a rush - so I boarded the 09:15 Cambridge Express and had a very swift journey in surprisingly decent weather given the forecast. Arrived to find the station chaotically busy as ever. Lots of people milling around the single platform trying to understand the layout, many of them students who are new to the town - and a large number from overseas too. Noted the work to construct a new island platform was pretty advanced. It really is needed here.
But my objective here had little to do with trains. Leaving the station and picking my way along the stretch of roadworks, I found the temporary stop for the Guided Busway. My interest in this stems from it's use of the trackbed of the former St.Ives's branch line. The project opened in August - around £50 million overbudget and several years late due to complications with contracts and some flooding issues. There's still work to be done too - the area outside the railway station is to be a multi-stand 'station' for the various routes, but is currently a single cone-lined traffic-light controlled track between unfinished stops. A small crowd waited for the 10:40 "Go Whippet" service to St.Ives and beyond, which turned up on time and reversed clumsily to reach the stop. The new buses were purchased for the proposed 2009 opening by Whippet and Stagecoach who at one point switched their prospective message "I'll be on the busway soon, will you?" to a new slogan of "Will I be on the busway soon?" as the delays mounted. Both operators buses are a little more comfortable than usual urban vehicles, with Stagecoach offering leather seats - a train-like feel perhaps? The journey set off just like other bus journeys - wedged in city traffic. Buses in Cambridge suffer from sharing priority with cyclists who outnumber them hugely. Several areas are gated and restricted, which speeds things up a little, but time is also lost at the rather odd little bus station - a tiny, provisional affair which is congested and confusing. From here, it's back on to the busy Milton Road which is the main route out of the city towards the A14 trunk route. Progress was slow, but eventually at a rather inauspicious looking left turn bedecked with No Entry signs and dire warnings to motorists and cyclists, we turned onto what is currently the longest guided busway in the world.
In essence, the guideway is a run of concrete beams, held a fixed distance apart by concrete 'sleepers'. The guided buses have additional small horizontal wheels which run against these kerbs, meaning the driver doesn't need to steer. At the entrance to each guided section, for example after a junction with a non-guided road, metal guide rails taper into the concrete track to 'nudge' the bus into position. Between the tracks, nature is returning with a green swathe developing along the length. Of course the ubiquitous cycleway runs along most of the length of the line too, but this is also unfinished in places. My first impression was pretty positive - we certainly achieved speeds which I've never experienced on an urban bus before! This had its issues however, as a strange swaying began at speed. The alarming shudder as we entered sections was equally unsettling, but it did seem to do what it was supposed to. The drivers have a party piece - instead of the time-honoured single raised hand of recognition as they pass each other, they go for a more flamboyant 'jazz hands' gesture made possible by the guideway - much to the delight of passengers. The 'stations' along the route are rudimentary 'tram stop' affairs, but often sit close by the original railway buildings, with a fair number of platforms remaining. The railway past here is evident in the almost dead-straight formation for most of the journey, and the raised solum through the fens.
Near Oakington we noticed an odd vehicle approaching on the opposite track - a recovery truck which had been removing a stricken Stagecoach service. "Fifth time this week they've failed" the Whippet driver loudly exclaimed - partly disgusted, partly triumphant perhaps? Soon after we reached the Park and Ride site near St.Ives. Here the roadway broadens into a mixture of station and depot, with buses ready to form the next services ranked along the road. Noted how busy the stop for services back to Cambridge was, especially given the failure earlier. Here, our bus returned to the roads and very soon entered St.Ives tiny bus station. Thanked the really pleasant, professional driver who clearly loved the attention the Busway was bringing, and wandered around the market square for a while before heading back. The journey back was very, very busy. There are supposed to be around seven buses per hour on the route, but they're just not enough. There is no signalling as such, with the majority of the route operated on 'line of sight' so capacity isn't perhaps as restricted as it might be - but I just couldn't help thinking how three or four coach trains would be so much more effective than single buses.
Back at the station I pondered the busway. It works in some ways - it provides a quick, traffic-free run on the inter-urban section which would otherwise be at the mercy of busy roads in the peaks. However, at the very point where things get messy - in the city - it returns to the congested ancient streets of Cambridge. Capacity is an issue, and if the failure rate is as it seems, things are far from well-operated. As I set-off on a southbound service towards Stansted Airport, I noted the southern section of guideway which takes the route towards Addenbrooks Hospital - it will be interesting to see how the network expands, and what further former railway infrastructure is used on the old Varsity Line too. But ultimately, I remain unconvinced that light or heavy rail wouldn't have moved more people, more speedily. I hope it works out because, given none of the developer contributions have been paid, the public will be funding this for many years to come.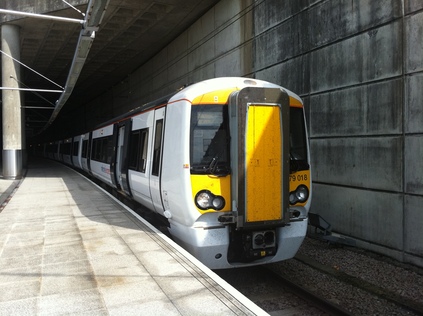 I seem to find myself at Stansted fairly often, despite never actually flying from here and generally finding it an oddly chaotic airport. Didn't hang around today though, as my sole purpose was to get a ride on one of Bombardier's new Class 379 units. A pair were ready to leave on the 14:00 Stansted Express to Liverpool Street, so I hopped on. They're tidy, spacious and comfortable inside with all the usual features expected of airport transit - good luggage space, wi-fi onboard etc. Didn't spot any catering, which is a step back as they had a pretty good trolley service previously - but perhaps Saturday afternoon isn't the best time to experience the service? Noted a majority of services we passed seem to be Class 379 operated now, with a couple on duty in Cambridge for Liverpool Street services too. So, a pleasant ride down to London managing a bit more snoozing on route too! Once at Liverpool Street, I decided not to hang around drinking coffee which had been my original plan. Instead, I headed directly back out to Stratford on a comparatively shabby Class 321. The hulk of Westfield, due to open next week, is nearly complete on the fringe of the still fairly disconnected Olympic Park. The station has seen some changes too, and seemed a little tidier than my last few visits - although the confusing platform numbering was clearly still troubling unfamiliar passengers. My goal though, was the freshly opened DLR extension on part of the abandoned North London Line. This line's duty has been slowly replaced by the DLR around here, with the branch to Woolwich Arsenal taking over the role of the abandoned stretch through Silvertown. This part uses the former low-level platforms which bisect the concourse at Stratford, tracing the route of the Jubilee line as far as Canning Town where a new set of DLR plaforms sit alongside the current double-deck station. A complex junction here connects the extension with the rest of the network, with services currently running either on to Beckton or Woolwich. Covered the junction and hopped off at Royal Victoria. Crossed the line by way of the huge footbridge, and noted I was now on ExCeL's property, via a poster asserting their right to close the area.
Back on the next DLR train to head north, and in the front seat coveted by children and big kids alike. I retraced my steps to Stratford, realising that there were three similarly named stations here now - including Stratford High Street and Stratford International. After passing through the mainline station once again, the line dives into the cut and cover tunnel which once linked it back to the North London Line, but which has changed a lot to meet DLR standards. The line takes a new route too, curving close to the lines it once connected with near the Olympic Aquatic Centre, then turning east and diving into a subterranean station at Stratford International. Ascending the lift found me in an isolated, empty spot. To my left were a bunch of service buildings for the shopping centre, to my right the huge glass and concrete International Station with just one tiny coffee stand in it's vast concourse. Silent now, but how much busier when Westfield finally opens? Noted the bus linking to the regional station was still running despite the DLR opening. Headed into the station, and bought a ticket back to London before descending to the rather chilly concrete box below. A short wait for a Class 395 which zipped me back to St.Pancras in about six minutes - still impressive.
Over coffee at one of my favourite spots in the busy St. Pancras International concourse, I contemplated the new developments I'd experienced today. Both the Busway and the DLR worked after their fashion - but both were the result of pre-recession investment in the main. Schemes like this, linked sadly but perhaps inevitably to projects like the Olympics or Westfield are probably the only way our network will develop for a long while. I still think the Busway would have been better had it been more like the DLR in nature, frequency and capacity. But the point is, I can get to St.Ives quickly and easily now - something I still can't do with my own workplace. Strange times indeed.
Movebook Link
---
Posted in Railways on Saturday 3rd September 2011 at 10:00pm
---
It's six weeks now since I did an organised railtour, and I've fallen into a pattern of revisiting places rather like I did a couple of years back. This way, I still get my beloved rail journeys but end up somewhere I visited some time ago, with the intention of looking at the place through fresh eyes. Over the last few weeks I've gravitated to the southern end of the West Coast Main Line - not least because the range of cheap London Midland tickets has made some interesting journeys possible. Today again I used these to build a trip over familiar territory - an early start as ever, though delayed a little by signalling problems close to home. Still time for my customary refreshment at Bristol before boarding the 07:00 to Birmingham. Indifferent weather, but good just to be out and about. A change here for a Nuneaton train which was a little busier, and something of a wait once I arrived. Busied myself with a trip to the nearby supermarket which I'd discovered a couple of years back, getting back to the platform in time to see celebrity Pendolino 390054 pass by, a little before a tour using 50044 on the WB64 Virgin rake. Didn't mind the minor delay this caused to proceedings at all, and we were soon off and heading up the Trent Valley to Stafford. A quick switch here, as I've become used to making, and onto a Liverpool-bound unit for the rest of the trip.
Arriving at Liverpool remains a familiar experience, though the station is a much open and lighter proposition since the area immediately outside the trainshed was cleared. The concourse still feels oddly squashed at it's northern end by the 1980s retail and gateline block, but the exit to the south is impressive. Got my legs working with a wander down the steps and into the city - familiar enough territory, and I've got this far on recent trips. Noted though how Liverpool is built of layers of redevelopment - the recent work near the station gives way to the 1970s entrance to the City Centre - brick underpasses and a confusing hotel/shopping centre complex. Then, in the city itself, I began to encounter Liverpool ONE. I'm not sure what, or indeed where this is - its a sort of pervasive mall which has commandeered the street-pattern for it's own ends. I can't find a map of it either, and that causes me unease. Suffice to say, there is an area of what appears to be normal, if tidy and well-maintained, city streets into which the Big Issue sellers won't stray.
I decided to walk towards the docks - where I hadn't been for maybe ten years. Here another layer of development becomes apparent. Between the city and the dockside there had been an uneasy strip of former warehouses. Some had just begun to enter new use when I was last here - as loft apartments and clubs - but much remained derelict despite being on the route to that much championed resort at Albert Dock. Now though, one side of the street is a shining curve of modern hotels and boutiques. The other side retains it's old buildings, but they are all in use now. I pass a giant Tesco store, discretely fitted into the streetscape and realise something rather frightening - the local transformation has even subdued the massive retail giant which is Tesco, the much-defended brand being forced to share a sign here - "Tesco Liverpool ONE". The curve of the street delivers me to the new Bus Station, already moving from it's position near the railway when I visited years back. Beginning to feel like I was in some comic-horror film, I noted that here too things had changed - even at the "Liverpool ONE Bus Station"!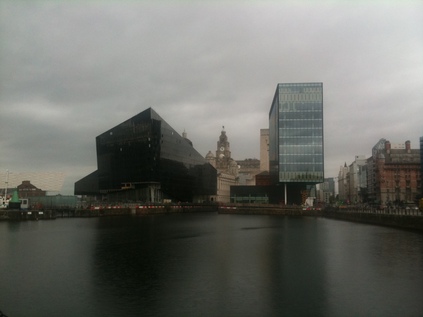 It becomes apparent here from an uneasily sourced map, that I've walked the edge of the development. Hanover Street, formerly a mildly menace-laced plunge into dereliction is now the edge of Liverpool ONE. Here I decided to brave the six-lane highway which Wapping has become to get to the original development zone - Albert Dock. Little has changed here since it's late 1980s transformation into a cultural hub. The Tate still busy with punters, though looking a little tired in it's design now. No giant weather map floating in the dock since "Richard and Judy" defected to evening TV and minor scandalmongering. What is interesting is how the area to the north of the Dock is changing. Stumbling over the mock-antique cobbles - currently being replaced it seems with exact replicas of replicas - and the restored bridges takes me into the Canning Wharfs area. What is most immediately apparent is how a black shard of a building has obliterated the skyline. The Liver Building cowers behind this obsidian monster - which in other circumstances could be rather dramatic. Here though, it just subtracts from the city. I edge around it, noting signs which describe how "government cuts" have called a halt to development of the docks. Making the point, a semi-permanent ring of metal fencing makes you walk the long route around. The signs, amusingly, built with funding from the Dept. for Culture Media and Sport. Enough in the bank for the testy politicians of Liverpool to declare their independence as per tradition then, with some sort of Recession-based Theme Park. Rounding the black glass office with camera out, a security guard takes an interest. He's bored, alone and is ignoring all the Japanese tourists with cameras. I don't want a repeat of last week, but he settles for walking a few paces behind me, pretending to peer into the empty offices. He need not really pace the circuit, you can see straight through the building anyway.
Back into the city, and the heart of Liverpool ONE. It's teeming with shoppers, it's spaces managed carefully to exclude the undesirable. On the fringe, a small protest about the impending release of Jon Venables was taking place. A single angry woman barking into a megaphone, while her friends offer a petition to bystanders. None of this inside the unofficial cordon though, and my walk back to the station unravels the layers of development, while dodging retail-blinded shoppers who seem to come at me without seeing me - an achievement in itself perhaps.
The journey home is sleepy and thoughtful. I'm not sure what to make of Liverpool now. It had always felt a hopeful, developing place - but now the work is done, it has lost something of it's character perhaps. It has also lost the 'Beatles as a Brand' mentality to some extent too, which is probably a good thing. Fewer businesses seem to stake their unsteady survival on the legend of the Fab Four. I wonder, if I'll encounter similar changes elsewhere as I re-explore other cities? It's an interesting if rather alarming journey.
Movebook Link
---